---
news
Published:
21 September 2022
Full house for 'Romeo and Juliet' at the latest University of Surrey Orchestra Day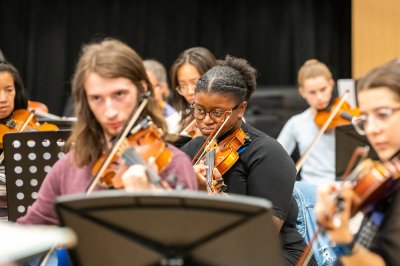 Prokofiev's Romeo and Juliet resounded throughout the building, the star-crossed lovers' tale being played by a record number of musicians  who formed the University of Surrey's latest Community Orchestra.
One hundred and forty players signed up to take part in a day of rehearsals, before performing to a live audience in PATS Studio 1, with almost all tickets reserved in advance and every seat occupied by the start of the performance.
Russell said "For the tenth Orchestra Day we chose Romeo and Juliet, as Prokofiev was a master of orchestration, drawing together small groups of instruments to depict the tension, anger and passion between the Montague and Capulet families. Happily, no such tension was evident in the Studio, just a passion for us all to come together to produce spine-chilling music. And we did!".
Anyone of grade seven standard and above is welcome to join rehearsals. This time, the orchestra was made up of current Surrey students, alumni, staff. professional musicians, and young and lapsed players who hadn't picked up an instrument in 20 years.
Sophie, who participated on bassoon, said: "Having not played regularly for the past ten years after having children and moving area, this has been a great way to reconnect and rediscover my passion. An incredibly well-organised event!"
The University holds Orchestra Days twice a year on campus, to bring the local community together and offer a chance to experience the University's music facilities. Details about the next day will be released soon.
See the latest events from the Department of Music and Media, here.