---
news
Published:
12 August 2020
Meet the academic: Jackie McBride
Jackie McBride, Senior Teaching Fellow in Integrated Care, explains why adult nursing is important today, reveals what Surrey is looking for in an adult nursing student and what you can expect when you qualify.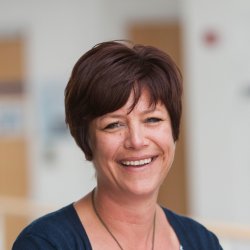 What's your background in adult nursing?
My name is Jackie McBride and I'm Head of Professional Preparatory Programmes. I teach simulated practice, cancer care and communication skills across all our nursing courses. I'm incredibly passionate about improving patient care in the acutely ill, developing critical care outreach services, and ensuring early warning systems are in use, where possible.
Since qualifying as an adult nurse, I've worked in a variety of roles and settings, including critical care, as a ward sister (managing a large oncology and haematology unit), and for Macmillan Cancer Support.
As a Surrey lecturer, I'm privileged to work with students like you, watching you develop and grow in confidence, throughout your healthcare journey.
Why's adult nursing important?
We're all likely to become ill during our lifetimes. As a nurse, you can make a difference to the lives of your patients and their families, during their most vulnerable moments.
At Surrey, we're developing innovative ways of educating the next generation of healthcare professionals. We'll prepare you to meet the needs of future nursing practice and advocating for your patients, ensuring they get the best care management possible.
What are you looking for in an adult nursing student?
We want you to be personable, understanding that sometimes a smile can make all the difference. You'll demonstrate self-awareness and kindness in your care and you'll be willing to learn.
Care, compassion, honesty, candour and understanding are core values that run throughout our teaching, exemplified by our new building which commemorates the memory of Kate Granger. Kate was a Consultant in Medicine for Older People and she started the #hellomynameis campaign, designed to get healthcare professionals to introduce themselves to their patients more. We're looking for students who embrace this approach and want to build a rapport with individuals in their care.
What can I expect as a adult nurse?
As an adult nurse, you'll have access to a wide range of career options, great variety and many different specialisms. You'll get the opportunity to meet people from all backgrounds, and their stories will stay with you for your entire career.
If you want to be part of something bigger, with a common goal to make care the best it can be, then nursing is for you.
Do you have any final advice?
Always see the learning in life's experiences, keep growing and always ask for help when you need it.
Find out more about our adult nursing courses