---
news
Published:
06 January 2021
PhD student wins second place in global cybersecurity challenge
Ksenia Budykho was part of an international team which claimed second prize in the Country-to-Country (C2C) Capture The Flag competition – a global challenge to find the next generation of cybersecurity defenders.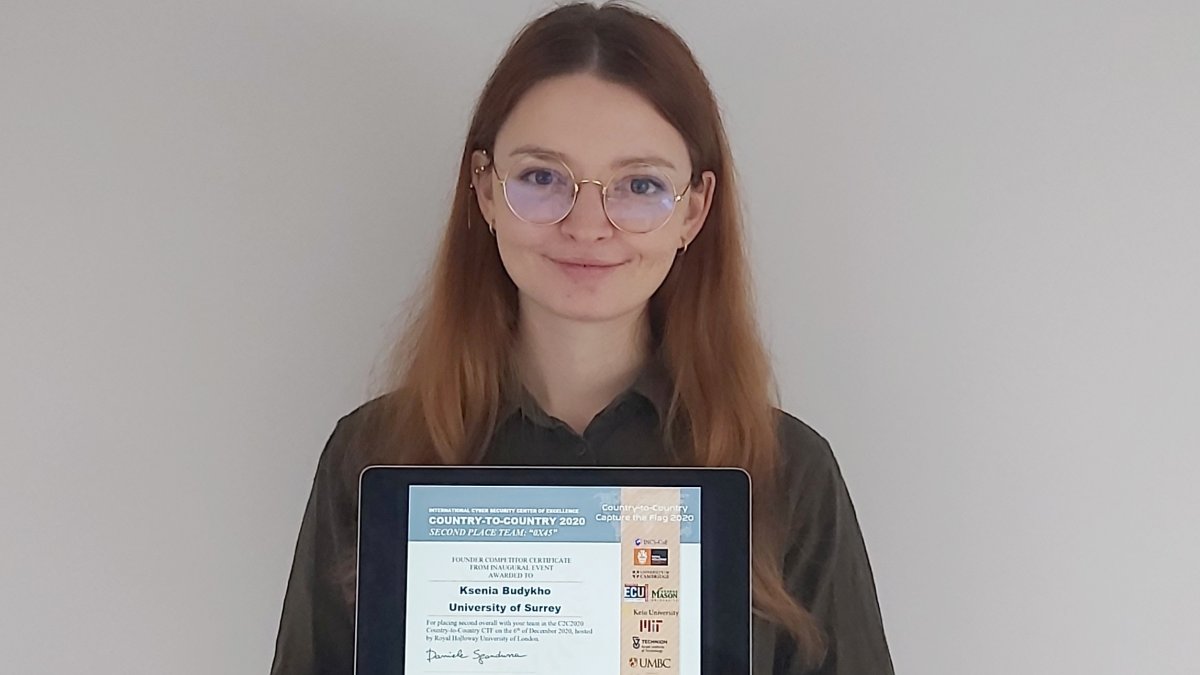 Ksenia, who is studying for a PhD in privacy verification in the Department of Computer Science, collaborated with four students from other universities around the world to come up with a solution to a complex cybersecurity problem.
The C2C Capture The Flag competition, which is organised by the International Cyber Security – Centre of Excellence (INCS-CoE), took place online on 6 December 2020, with 200 students selected to participate. It was the second time that Ksenia, who studied for her undergraduate degree at Surrey before her PhD, has taken part in the competition, having already won third place in the 2017 challenge.
She said: "C2C always provide very interesting challenges and I was excited to represent the University. During the competition I worked mainly on the forensics challenges. We communicated over Discord which was slightly strange as usually we are all sitting around the same table, but I think we did a good job working together.
"I am very happy to have had this opportunity and very pleased with how well our team did. I'm excited to go back next year and battle for first place!"
Dr Ioana Boureanu, Senior Lecturer in Secure Systems, commented: "Ksenia has always been very sharp when it comes to cybersecurity and this has shone through here. The second place in this C2C is no mean feat, and I'm very happy for her achievement."
The C2C challenge aims to bring together motivated, resourceful participants who enjoy a tough intellectual challenge in a collaborative international context. Following the inaugural event in 2020, there are plans to hold future C2C competitions in Israel, USA, Japan and Australia.
Discover our courses in computer science, including our Computer Science PhD.