---
press release
Published:
17 November 2022
Professor Lu inducted into ANCEFN in Buenos Aires
Professor G Q Max Lu was honoured to be inducted into the Argentina National Academy of Exact, Physical and Natural Sciences (ANCEFN) as a Corresponding Member in a ceremony in Buenos Aires on Friday, 29 October.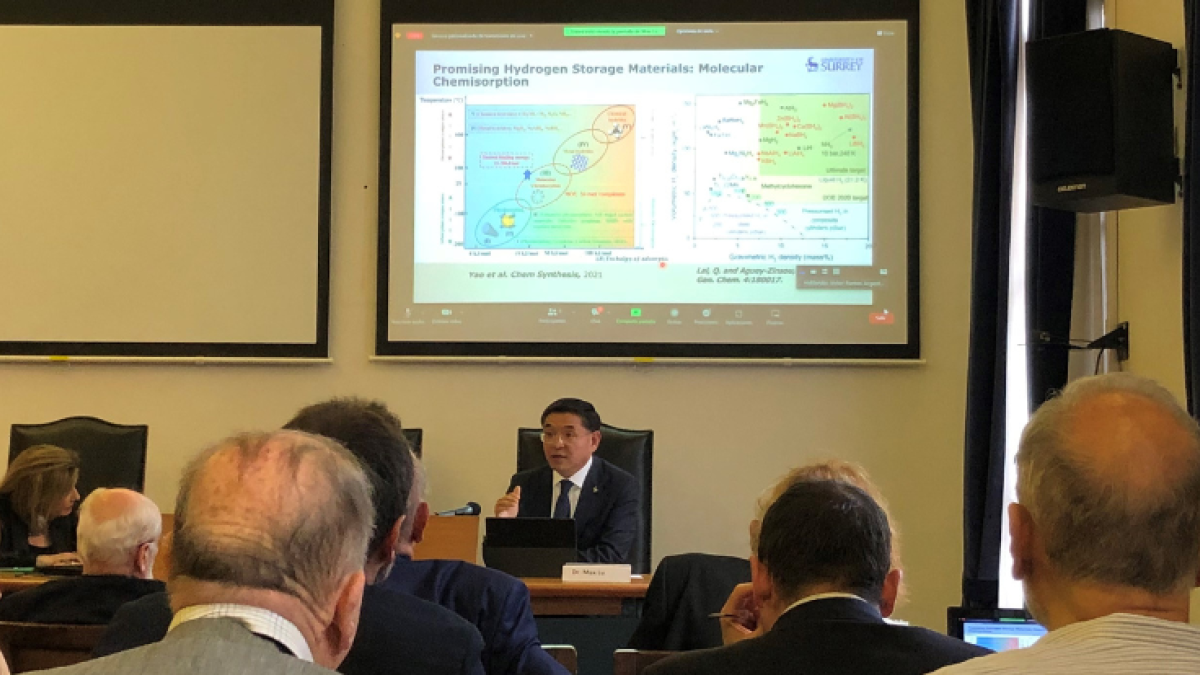 The prestigious Academy counts three Nobel Prize winners in its ranks and is one of the oldest institutions of this kind in Latin America, dating back to 1874. It is organised into three 'sections': Maths, Physics and Astronomy; Engineering Sciences and Technology; and Chemical, Earth and Biological Sciences.
President Dr. Victor Ramos chaired a special meeting of the Academy to mark the induction of Professor Max Lu, presenting Professor Lu with the ceremonial diploma awarded to new members of the Academy.
The University of Surrey already has a member of the Academy, Professor Angela Danil de Namor, who gave an introduction to Professor Lu's exceptional academic career.
A pre-eminent chemical engineer and nanotechnologist, Professor Lu is a highly cited academic in Chemistry. He has published over 500 journal papers (h=133, and over 78,000 citations). He is a co-inventor of more than 20 granted international patents.
Professor Lu gave his inaugural lecture on 'Green Hydrogen Production and Storage: Materials Innovation'. The lecture gave an overview of the latest innovations in Green Hydrogen production and storage: key technologies necessary for transition to net zero targets.
Professor Lu highlighted the critical factors necessary in order to drive forward these critical technologies and pave the way for a cleaner, greener future free from carbon fuels.
Professor Lu said: "I am truly honoured to join the esteemed ranks of the Argentina National Academy of Exact, Physical and Natural Sciences and am grateful to President Dr Victor Ramos for his kind words and warm introductions to my fellow members at the event in Buenos Aires. I look forward to engaging with the Academy on critical scientific issues in the region and worldwide."
Professor Lu is also a fellow of the Royal Academy of Engineering, Institution of Chemical Engineers, Australian Academy of Science, Australian Academy of Technology and Engineering, World Academy of Science, National Academy of Inventors, and a Foreign Fellow of the Chinese Academy of Sciences.
Featured Academics
---
Media Contacts
---
External Communications and PR team
Phone: +44 (0)1483 684380 / 688914 / 684378
Email: mediarelations@surrey.ac.uk
Out of hours: +44 (0)7773 479911