---
press release
School of Law academic appointed member of EU Expert Group
Ryan Abbott, Professor of Law and Health Sciences at the University of Surrey, has been appointed as a member of the European Commission's EU Expert Group on Liability and New Technologies.
The Expert Group was set up by the European Commission (EC) to provide it with advice and expertise related to the development of new technologies. It will help the EC in technically sophisticated areas and will aid in the development of European policies.
Although the EC has considerable in-house expertise, it looks for specialist advice from outside experts as a basis for sound policymaking.
Professor Abbott has conducted pioneering research on the laws and regulations governing new technologies at the University of Surrey's School of Law, where he is a world-recognised expert in liability issues related to autonomous technologies and AI. He recently gave his inaugural lecture at the University, "The Reasonable Robot: Autonomous Machines and the Law", which focused on this topic.
According to Professor Abbott: "New and disruptive technologies are creating a host of novel challenges for policy makers. It is important that we have appropriate legal frameworks to ensure these advances benefit society as a whole. I'm very honoured to be part of this group, which will help shape Europe's future policies in this growing and important field."
The first meeting of the Expert Group for New Technologies Formation will take place on the 26 and 27 June 2018.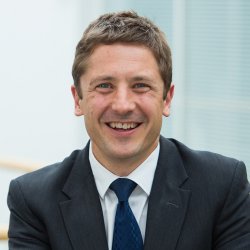 Professor Graham Miller
Professor Graham Miller, Executive Dean of the Faculty of Arts and Social Sciences, said: "There is no question that understanding the ethics of how we use technology will become a greater challenge than the creation of the technology itself. I am delighted that Professor Abbott has been appointed to this expert group to lead thinking across Europe on how new technologies can be a force for good."
The European Commission is the European Union body that proposes legislation, implements decisions, upholds EU treaties and manages the EU's daily business.Find out more about the European Commission's Expert Groups.
Featured Academics
---
Media Contacts
---
External Communications and PR team
Phone: +44 (0)1483 684380 / 688914 / 684378
Email: mediarelations@surrey.ac.uk
Out of hours: +44 (0)7773 479911