---
news
Published:
02 December 2022
Sociology's Robyn Muir and Thi Bogossian Porto Recognised in VC Awards
Sociology's Robyn Muir has been awarded the prestigious University of Surrey Vice Chancellor's Award for Early Career Teacher of the Year, while Thi Bogossian Porto won the Faculty of Social Sciences nomination for Post Graduate Researcher of the Year.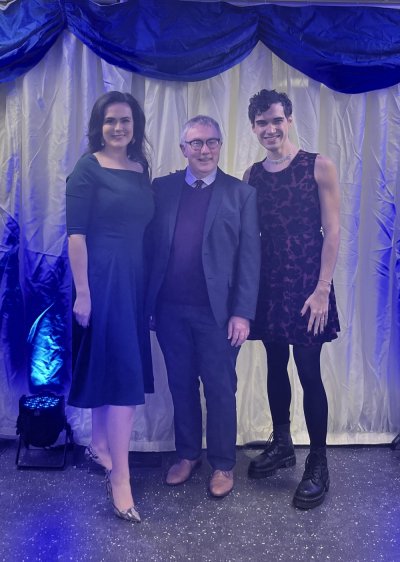 The annual University of Surrey Vice Chancellor's Awards for Staff Excellence, which took place on Wednesday 30th November, celebrates staff successes and recognises exceptional performance across a number of specific categories. The awards each involve a nomination from each of the university's three faculties, prior to a final university-wide award.
Robyn Muir's Early Career Teacher Award follows a highly successful 15 months in the Department of Sociology, where she has led and developed modules in Current Issues in Digital Societies, Public Relations in the Digital Age, Living Sociology, Current Sociology and Contemporary Issues in Sociology. As part of her teaching Robyn has been particularly innovative in introducing learning technologies and embedding employability in her curriculum and assessment. On receipt of the university award, Robyn said:
"I am absolutely delighted to have been awarded the university's Vice Chancellor's award for Early Career Teacher of the Year. My first year of teaching at Surrey has been so rewarding, and I have loved collaborating with students and colleagues on creating an innovative and engaging learning environment. From employability exercises to research and practitioner panels, I have loved embedding a range of activities in my modules to enhance learning opportunities for our amazing students."
Thi Bogossian Porto is researching the experiences and perceptions of Polish pupils attending a school in England, focusing on their negotiation of immigrant and ethnic identity amidst the social and political context of post-Brexit Britain. Thi has also made extensive contributions as a graduate tutor, as well as being an excellent PGR Academic Representative for Sociology and, subsequently, President of the University's Post-Graduate Society. On hearing the news of the Faculty award, they said:
"I was so pleased to know about the award. In these times when PGRs are asking for more recognition, it's lovely to see this gesture coming from the university. The last few years have been challenging for many of us so I'm delighted to see that the university values resilience and dedication."