---
news
Published:
26 November 2019
Students get unique insight into Arup redevelopments
First year civil engineering students were hosted by Surrey alumni for a fascinating site visit to landmark developments by multinational engineering company Arup.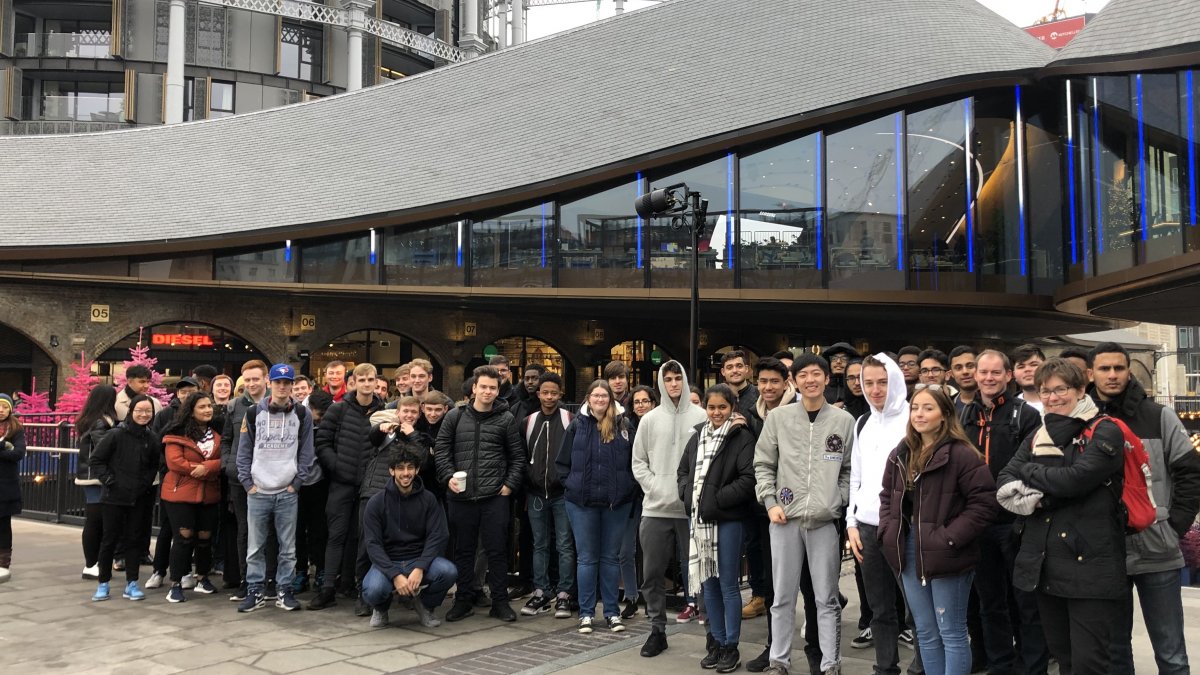 The students travelled to central London on 21 November as part of their Civil Engineering Practice module for an informative tour of two of Arup's highest profile projects – the King's Cross station extension, and the redevelopment of nearby Coal Drops Yard. The visit was guided by two Surrey alumni now working for Arup: Associate Director Richard Hill and Senior Structural Engineer Tilly Langley.
At King's Cross, students learned about the complex design of the diagrid roof of the extension and the challenges Arup faced in constructing so close to the existing Victorian Grade-1 listed building. To avoid damage to the 1852 building, the new roof is totally structurally independent.
The visit then moved on to Coal Drops Yard, a massive redevelopment of a 9,290 square meter area of former Victorian rail activity, which has been transformed into a commercial shopping and dining space, with the main focus on two former coal deposit warehouses. Students admired the main feature, a stunning 35m span 'kissing roof' which is supported from above using two leaning arches in order to realise Thomas Heatherwick's ambitious design without imposing any force on the original Victorian structure.
Undergraduate Ben Pugh-Cook said: "It was a very informative morning, and a great opportunity to witness first-hand the products of such a major engineering firm. Speaking to the engineers who worked on the projects themselves made the day all the more interesting as we were given information that would not otherwise be known to the public, and further developed our interests in this industry."
Discover our courses in civil and environmental engineering, including our BEng (Hons)/MEng Civil Engineering.