---
news
Published:
11 October 2023
Summer School at the Verona Shakespeare Fringe Festival
This summer students from the Guildford School of Acting (GSA) participated in the third annual Verona Summer School, organised by the Skene Research Centre at the University of Verona. The summer school is a highly selective programme open to actors from across the UK and Europe.   
A total of 22 undergraduate and postgraduate students joined 16 other actors from Belgrade's Faculty of Dramatic Art (FDU), Serbia's foremost conservatoire, and actors from a number of theatres in Italy. Together they spent one week devising an original, multilingual adaptation of Shakespeare's Antony and Cleopatra, directed by GSA's Jaq Bessell and Andrea Coppone, the renowned Italian actor based at the Piccolo Teatro Milano. 
I loved the opportunity to work with students from other countries and learn from the different ways in which we approached acting and Shakespeare. The movement work throughout the course was extremely liberating as I found a new sense of freedom and connection to others in such a short space of time.
GSA student on summer school, 2023
Prior to arriving in Verona all of the actors collaborated on a series of online verse/text classes, supported by Collaborative Online International Learing (COIL) funding from the University of Surrey, and led by Jaq Bessell.  
During their time in Verona, students rehearsed in a large gym on the University of Verona campus, attended all performances at the Shakespeare Fringe Festival, and participated in a masterclass with Janet Suzman at the historic Caserma Santa Marta.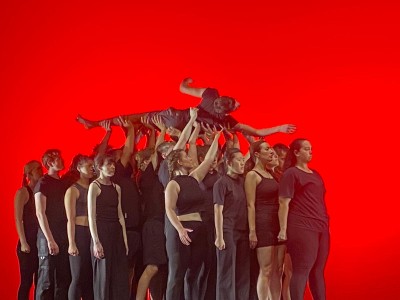 The result - "Antony and Cleopatra: a work in progress" – was staged at Verona's Teatro Camploy, on the last day of the Verona Shakespeare Fringe Festival, to a very appreciative audience.  
Jaq said: "The Verona Summer School is a unique opportunity for our students to develop cultural intelligence, enhance collaborative strategies and acquire professional skills, in an experience which is undeniably transformative."
FDU fully funds its students, and next year we hope to attract some financial support so that this unique and transformative experience can be open to even more GSA students. If you would like further information about how you can help, please contact Jaq Bessell.
Short video of students performing "Antony and Cleopatra: a work in progress"