---
press release
Published:
06 September 2023
Surrey wins Cannes World Film Festival award with sustainability animation  
A thought-provoking animated film made at the University of Surrey, which encourages its viewers to Remember the Future, has achieved the accolade of 'Best Environmental Film' at the Cannes World Film Festival.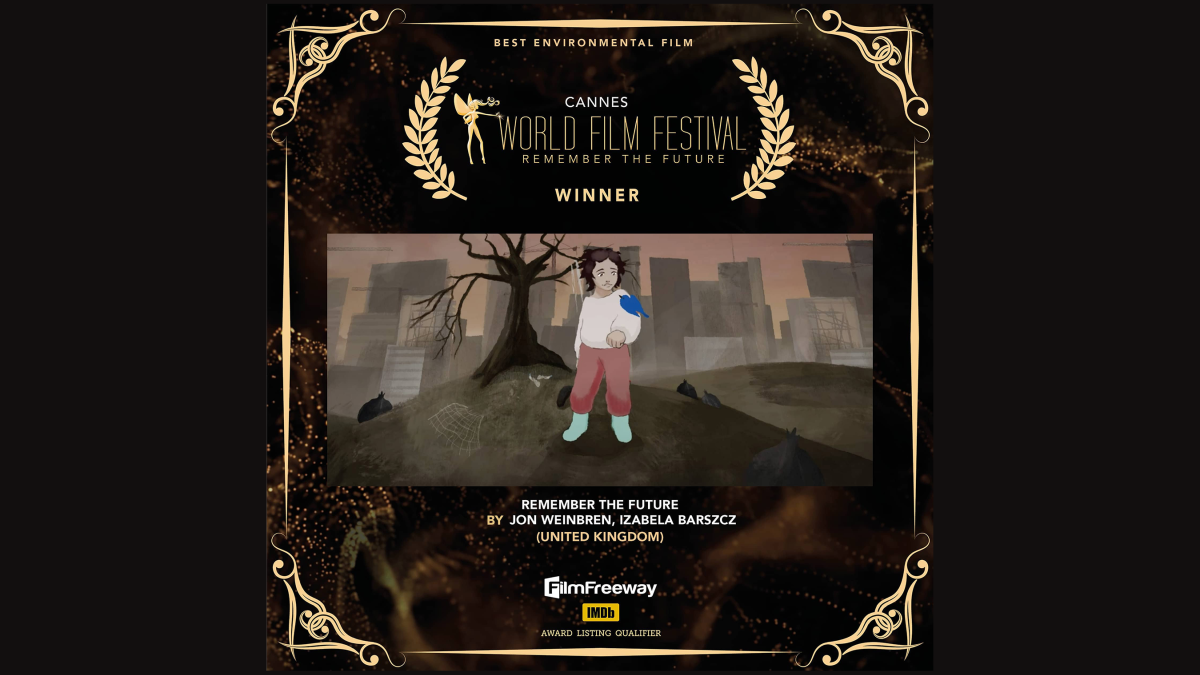 Co-created by the University's Institute for Sustainability to support its vision of a world where everyone can live fulfilling and healthy lives within the limits of the planet, the film seeks to draw in viewers emotionally and win hearts and minds to the need to collaborate and act. 
Remember the Future was produced and directed by Jon Weinbren, who is the Programme Director for Surrey's MA in Film, Animation and Digital Arts within the University's Department of Music and Media. The film shows a tree that is ailing because of environmental damage. The tree is saved from destruction by cooperation between an optimistic, visionary child and a songbird, delivering an upbeat, hopeful way forward. 
Professor Lorenzo Fioramonti, Founding Director of the University of Surrey's Institute for Sustainability, said: 
"A tree is a symbolic and almost permanent thing. We see it through the seasons and ages, with a child dreaming of a future which rubs out the climate emergency. We see the solutions which are within our reach. We hope this film plants the seed and encourages people to work with each other and be connected." 
Co-written by Tom Hill and brought to life by a team of artists led by animation director Izzy Barszcz, the film was crafted using digital natural media techniques to create an evocative water-colour feel. It also features an original song composed and performed by Surrey alumna Alice Mills. 
Jon Weinbren said: 
"We experimented with using some of the latest AI-based image generation and style transfer techniques, but the quality we were achieving wasn't high enough. Instead, our team of animators resorted to 'traditional' digital painting techniques to create the hand-crafted look and feel which, along with a beautifully arresting, specially composed song, helps the film engage on a powerful emotional level." 
Nathalie Hinds, Head of Operations and Partnerships at the Institute for Sustainability, said: 
"Achieving a sustainable world takes cooperation and inspiration, as well as technology and regulation. At Surrey, we're working on all of these, with the Institute for Sustainability taking an active, leading role. Strategic partners of the Institute, who were lucky to have an exclusive preview of the film, gave feedback how the film not only creates a sense of urgency, but is a true beacon of hope. They hope to use it within their organisations to inspire staff and suppliers."  
Remember the Future has been entered for other film festivals and will also screen at the Electric Theatre as part of Guildford's Car Free Day on Sunday 24 September. Find out more about Car Free Day, watch a trailer or see how the film was made on YouTube. 
For information about the MA in Film, Animation and Digital Arts, visit the website. 
### 
Notes to editors 
Professor Lorenzo Fioramonti, Jon Weinbren and Nathalie Hinds are available for interview on request 
For more information, please contact the University of Surrey's press office via mediarelations@surrey.ac.uk  
Media Contacts
---
External Communications and PR team
Phone: +44 (0)1483 684380 / 688914 / 684378
Email: mediarelations@surrey.ac.uk
Out of hours: +44 (0)7773 479911