Institute for Sustainability
The creation of a pan-university Institute for Sustainability demonstrates the University of Surrey's commitment to be at the forefront of interdisciplinary sustainability research. This Institute will increase the scale and enhance the excellence of the University's research and innovation in priority areas. Through cross-faculty, interdisciplinary collaborations, and business and external partner engagement, we will break new ground, producing world-class research and effecting significant change.
Our vision
Our vision is a world where everyone can live fulfilling and healthy lives within the limits of the planet, facilitated by the deep engraining of environmental protection and social equity in the basic values of people and organisations.
Our mission
Our mission is to be a critical player in the global transition to sustainable living for all through interdisciplinary research and innovation, in partnership with national and international organisations, and through education and civic engagement.
We must use our best expertise and passion to build a more sustainable and just society. It is the imperative of our generation. The Surrey Institute for Sustainability will be at the forefront of this endeavour bringing together all scientific disciplines, from the natural to the social sciences, developing technologies for sustainable prosperity and wellbeing, and working closely with innovators, policy makers and business leaders, both in the Global North and the Global South.
Professor Lorenzo Fioramonti, Director of the Institute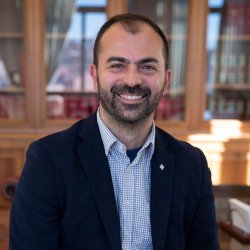 Study sustainability
The University of Surrey offers a wide range of postgraduate courses in sustainability which encompass taught modules and project work. The University has also launched its first undergraduate degree in sustainability, focusing on addressing the challenges facing sustainable development from an interdisciplinary perspective.