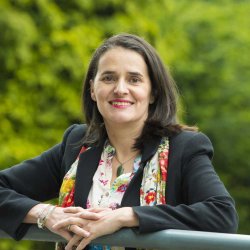 Nathalie Hinds
---
Head of Operations and Partnerships
About
Nathalie Hinds leads the Operations and Partnerships for the Institute for Sustainability. She played a key role in developing the business case which was presented to found the Institute as a pan-university synthesis centre for Sustainability Research. Her responsibilities are the strategic development of the Institute's Innovation programme, focusing on the development of strategic external collaborations and  the operational management of all non-academic activities. She is a member of the Institute Senior Leadership Team. Other projects include driving the University's performance in THE Impact Rankings, contributing as a member of the Surrey Research Park Sustainability Group, collaborating with the Student Enterprise to advance innovation in Sustainability. Nathalie has an extensive portfolio of strategic partners including local government, industry organisations and NGOs, built from her experience as partnership manager within the Research and Innovation portfolio.
News
Sustainable Transformation
In this article, Nathalie presents her plan to launch the Sustainability Innovation Hub, to support organisations innovate and adopt sustainable practices.