---
press release
University of Surrey's extraordinary social impact provides vital support in a year of crisis
From more than 100 Covid-related research projects, focused on prevention, treatment and tackling the consequences of the coronavirus, to front-line volunteer efforts from over 3,500 students supporting local communities, the University of Surrey's annual social impact report reveals its substantial positive contributions in a time of global pandemic.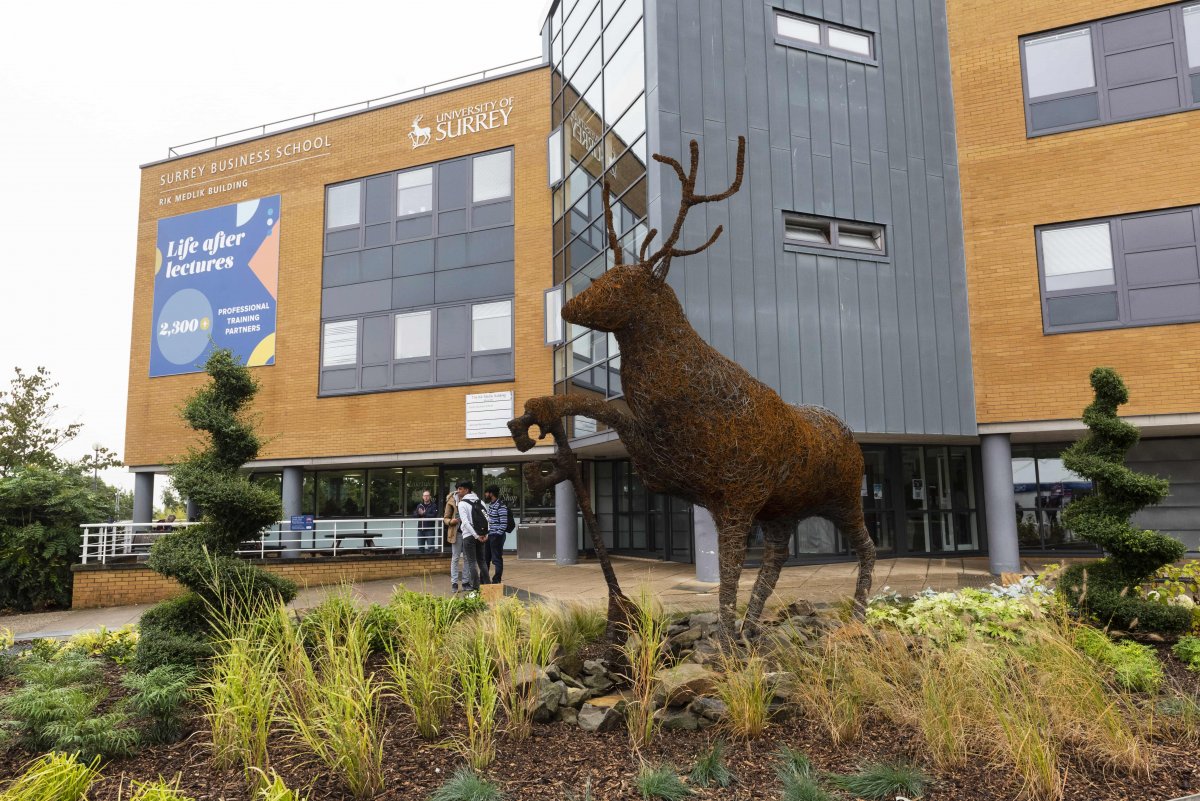 The Measuring Up 2019-20 report has a natural focus on health, exploring how the University has leveraged its research and innovation, outreach, community activity and everyday practice to actively address some of society's greatest challenges, and to improve lives around the world.
Reflecting on a year of crisis, the report specifically highlights the many ways in which its staff and students have been working locally, nationally and internationally to support communities during the Covid-19 pandemic.
Patrick Degg, Vice-President (External Engagement) at the University of Surrey, said: "2020 was an extraordinary year; few would have predicted the impact the emergence of Covid-19 would have on our lives, both personally and professionally. The past year has reminded us that the health and safety of our community and those closest to us is of paramount importance. The University has worked hard to play its part in the fight against the pandemic and to adapt almost overnight to the dramatic and necessary changes the crisis brought about. It is very gratifying to have been able to support our wider community in so many ways."
During the pandemic the University focused on more than 100 Covid-19 research projects, furthering the world's knowledge of the disease, supporting the diagnosis and treatment of patients and communities, and aiding in the search for a vaccine.
250 of the University's own final-year nursing, midwifery and healthcare students joined the extraordinary efforts of NHS staff on the front line, alongside our student paramedics and staff and students who volunteered in hospitals.
The University of Surrey also produced, sourced and donated more than 120,000 items of desperately needed PPE to local hospitals.
The University's strong links with the local community also saw staff members contribute to over 100 community-focused projects and initiatives; further, there were 3,517 active student volunteers doing their part, with Raising and Giving collecting over £22,267 for local charities.
Other key findings in the report include:
£1.84bn Gross Value Added (GVA) generated in 2018-19
Work with over 11,000 primary, secondary school and college students through widening participation and outreach activities
1,284 students on formal placements across the globe
19,430 jobs supported, including 12,230 in the Borough of Guildford
In January 2020, the University agreed to a 2030 Net Zero carbon target. Since then, the University has achieved a 6 per cent reduction in water and carbon emissions amongst other environmental initiatives.
Patrick Degg adds: "The University of Surrey is an integral part of Guildford's life, culture and economy. We will continue to make valuable contributions to the wider local and regional community, working with residents, community groups, businesses and schools and responding to their ideas and concerns.
"I am extremely proud of all our staff and students, particularly in the resilience they have shown over recent months. Their tireless efforts and compassionate spirit have demonstrated once more how, above all, Surrey's strength is our people."
Featured Academics
---
Media Contacts
---
External Communications and PR team
Phone: +44 (0)1483 684380 / 688914 / 684378
Email: mediarelations@surrey.ac.uk
Out of hours: +44 (0)7773 479911