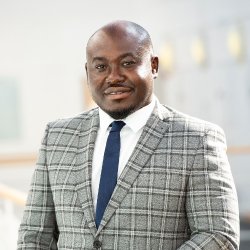 Dr Abdul-Razak Alhassan
---
Senior Lecturer in Strategy and International Business
About
Biography
Dr Abdul-Razak Alhassan is a Senior Lecturer in Strategy and International Business at the Department of Strategy and International Business, University of Surrey. Prior to joining the university, he was previously a Senior Lecturer and Programme Director of the MSc Management Suite Programme at Birmingham City University and Course Director, MSc International Business, Coventry University.
He is an international business, development and management academic and consultant with expertise in organisational growth and development; business strategy and growth; Business Ethics and Corporate Political Activity; strategic leadership and organisational transformation; corporate governance among others. He has over 10 years experience managing projects at senior levels both in academia and business working in countries including the UK, Malaysia, Ghana, Tanzania and India.
Razak is an active researcher and a Senior Fellow of the UK Higher Education Academy (SFHEA). He has previously studied at the University of Manchester, University of Westminster and the University for Development Studies (UDS, Ghana). He holds a PhD in Development Policy and Management (University of Manchester); an MA in International Development Management (University of Westminster); and a BSc in Agricultural Technology majoring in Economics and Extension Education (UDS, Ghana). 
Areas of specialism
International Business, Development and Management (Change);
Business Management and Strategy with emphasis on emerging markets;
Business Ethics and Corporate Political Activity;
Agribusiness and Supply Chain Management;
Development Finance (Microfinance)
University roles and responsibilities
Academic Integrity Officer
My qualifications
PhD in Development Policy and Management
University of Manchester
MA in Development Policy and Management
University of Westminster
BSc in Agricultural Technology (Economics and Extension Education)
University for Development Studies
Postgraduate Certificate in Academic Practice in Higher Education (PgCAPHE)
Coventry University
Community of Practice (CoP) around Research Supervision
Birmingham City University
Previous roles
Programme Director, MSc Management Suite
Birmingham City University
Course Director, MSc International Business
Coventry University
Course Advisor and Academic Link Tutor (Coventry University and IAA Tanzania)
Coventry University
Research Ethics Lead, School of Strategy and Leadership
Coventry University
Affiliations and memberships
British Academy of Management (BAM)
Higher Education Academy (Senior Fellow)
Staff and Educational Development Association (SEDA)
External Examiner, University of Manchester
External Examiner, University of Hertfordshire and INTI, Malaysia
Research

Research interests

International Business, Development and Management
Business Management and Strategy with emphasis on emerging markets
Strategic Leadership and Organisational Development
Cross-Cultural Management (Change)
Business Ethics and Corporate Political Activity
Agribusiness and Supply Chain Management
Performance Management 
Internationalisation of SMEs
Development Finance (Microfinance)
Supervision
Postgraduate research supervision
Dr Abdul-Razak Alhassan is currently supervising two PhD students at Birmingham City University. These supervisions are in the following areas:
Corporate Governance and Microfinance Institutional Performance
Entrepreneurial Universities and the approaches for knowledge and technology transfer
Teaching
Teaching Full Time IBM and MSc Students on the following:
International Trade
International Business Strategy
Business Reporting Techniques
Publications
Highlights
Selected Publications
Authored Book 
Atosina Akuriba M., Abunga Akudugu M., Alhassan AR. (2021). Agribusiness for Economic Growth in Africa. Palgrave Advances in Bioeconomy: Economics and Policies. Palgrave Macmillan, Cham. https://link.springer.com/book/10.1007/978-3-030-88759-9
Alhassan, A-R., and Akudugu M.A., (2020). Supply Chain Management in African Agriculture. Innovative Approaches to Commodity Value Chains. Palgrave Macmillan. ISBN 978-3-030-54208-5 (ISBN 978-3-030-54209-2 eBook). https://doi.org/10.1007/978-3-030-54209-2  
Articles in Refereed Academic Journals 
Mamman, A., Bawole, J. N., Agbebi, M., Alhassan, A-R. (2018). SME policy formulation and implementation in Africa: Unpacking assumptions as opportunity for research direction, Journal of Business Research. https://doi.org/10.1016/j.jbusres.2018.01.044  
Akudugu, M.A., and Alhassan, A-R. (2013) 'The Climate Change Menace, Food Security, Livelihoods and Social Safety in Northern Ghana'. International Journal of Sustainable Development and World Policy 1 (3), 80-95 
Alhassan, A-R., and Akudugu, M.A. (2012) 'Impact of Microcredit on Income Generation Capacity of Women in the Tamale Metropolitan Area of Ghana'. Journal of Economics and Sustainable Development 3 (5), 41-48  
Book Chapters 
Atosina Akuriba M., Abunga Akudugu M., Alhassan AR., (2021). Contextual Issues on Agribusiness. In: Agribusiness for Economic Growth in Africa. Palgrave Advances in Bioeconomy: Economics and Policies. Palgrave Macmillan, Cham. https://doi.org/10.1007/978-3-030-88759-9_1
Atosina Akuriba M., Abunga Akudugu M., Alhassan AR., (2021). Agri-food and Agribusiness Systems. In: Agribusiness for Economic Growth in Africa. Palgrave Advances in Bioeconomy: Economics and Policies. Palgrave Macmillan, Cham. https://doi.org/10.1007/978-3-030-88759-9_2
Atosina Akuriba M., Abunga Akudugu M., Alhassan AR., (2021). Farming as a Business. In: Agribusiness for Economic Growth in Africa. Palgrave Advances in Bioeconomy: Economics and Policies. Palgrave Macmillan, Cham. https://doi.org/10.1007/978-3-030-88759-9_3
Atosina Akuriba M., Abunga Akudugu M., Alhassan AR., (2021). Unpacking Supply and Value Chains in Agriculture. In: Agribusiness for Economic Growth in Africa. Palgrave Advances in Bioeconomy: Economics and Policies. Palgrave Macmillan, Cham. https://doi.org/10.1007/978-3-030-88759-9_4
Atosina Akuriba M., Abunga Akudugu M., Alhassan AR., (2021). Agro-industries as Anchors of Agribusiness. In: Agribusiness for Economic Growth in Africa. Palgrave Advances in Bioeconomy: Economics and Policies. Palgrave Macmillan, Cham. https://doi.org/10.1007/978-3-030-88759-9_5
Atosina Akuriba M., Abunga Akudugu M., Alhassan AR., (2021). Agribusiness Sustainability for Inclusive Growth. In: Agribusiness for Economic Growth in Africa. Palgrave Advances in Bioeconomy: Economics and Policies. Palgrave Macmillan, Cham. https://doi.org/10.1007/978-3-030-88759-9_6
Atosina Akuriba M., Abunga Akudugu M., Alhassan AR., (2021). Financing Agri-food Systems and Agribusinesses. In: Agribusiness for Economic Growth in Africa. Palgrave Advances in Bioeconomy: Economics and Policies. Palgrave Macmillan, Cham. https://doi.org/10.1007/978-3-030-88759-9_7
Atosina Akuriba M., Abunga Akudugu M., Alhassan AR., (2021). Ethical Issues in Agribusiness. In: Agribusiness for Economic Growth in Africa. Palgrave Advances in Bioeconomy: Economics and Policies. Palgrave Macmillan, Cham. https://doi.org/10.1007/978-3-030-88759-9_8
Alhassan A-R., and Akudugu M.A., (2020). Background Issues in Supply Chain Management in African Agriculture. In Alhassan A-R., and Akudugu M.A., (Eds), Supply Chain Management in African Agriculture: Innovative Approaches to Commodity Value Chains – Chapter 1. Palgrave Macmillan. https://doi.org/10.1007/978-3-030-54209-2 
Alhassan A-R., and Akudugu M.A., (2020). Commodity Value Chain Structures. In Alhassan A-R., and Akudugu M.A., (Eds), Supply Chain Management in African Agriculture: Innovative Approaches to Commodity Value Chains – Chapter 2. Palgrave Macmillan. https://doi.org/10.1007/978-3-030-54209-2 
Alhassan A-R., and Akudugu M.A., (2020). Commodity Clusters, Arenas, Linkages and Business Models. In Alhassan A-R., and Akudugu M.A., (Eds), Supply Chain Management in African Agriculture: Innovative Approaches to Commodity Value Chains – Chapter 3. Palgrave Macmillan. https://doi.org/10.1007/978-3-030-54209-2 
Alhassan A-R., and Akudugu M.A., (2020). Priority Products, Supporting Services and Institutions in African Agriculture. In Alhassan A-R., and Akudugu M.A., (Eds), Supply Chain Management in African Agriculture: Innovative Approaches to Commodity Value Chains – Chapter 4. Palgrave Macmillan. https://doi.org/10.1007/978-3-030-54209-2 
Alhassan A-R., and Akudugu M.A., (2020). Systematic Constraints Within Commodity Value Chains. In Alhassan A-R., and Akudugu M.A., (Eds), Supply Chain Management in African Agriculture: Innovative Approaches to Commodity Value Chains – Chapter 5. Palgrave Macmillan. https://doi.org/10.1007/978-3-030-54209-2 
Alhassan A-R., and Akudugu M.A., (2020). Benchmarking and Recommended Production Practices in African Agriculture. In Alhassan A-R., and Akudugu M.A., (Eds), Supply Chain Management in African Agriculture: Innovative Approaches to Commodity Value Chains – Chapter 6. Palgrave Macmillan. https://doi.org/10.1007/978-3-030-54209-2 
Alhassan A-R., and Akudugu M.A., (2020). Market Opportunities and Upgrading Needs. In Alhassan A-R., and Akudugu M.A., (Eds), Supply Chain Management in African Agriculture: Innovative Approaches to Commodity Value Chains – Chapter 7. Palgrave Macmillan. https://doi.org/10.1007/978-3-030-54209-2 
Alhassan A-R., and Akudugu M.A., (2020). Value Chain Profiling in Practice – A Case Study. In Alhassan A-R., and Akudugu M.A., (Eds), Supply Chain Management in African Agriculture: Innovative Approaches to Commodity Value Chains – Chapter 8. Palgrave Macmillan. https://doi.org/10.1007/978-3-030-54209-2