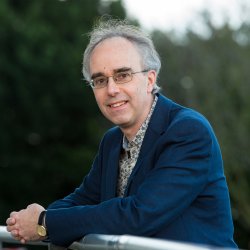 Alan Haigh
---
Senior Lecturer in audio and video.
BMus (Hons)(Tonmeister), FHEA
About
Biography
Alan Haigh has over 20 years international experience of professional audio consultancy and engineering. He graduated from the Tonmeister course in 1990 and has since worked at several of the UK's top recording studios including CTS, Westside and Pink Floyd's Britannia Row. He went freelance in 1997 and has since been responsible for technical support at some of the worlds largest film premieres such as 'Spiderman', 'Casino Royale', several 'Harry Potter's and 'Mamma Mia'.
He has acted as a quality assurance consultant for Sony and Universal pictures in film labs and more recently digital cinema mastering.
In 2008 he completed a ground breaking new sound system installation at the Norwegian Film Institute using a Yamaha DME64N processor. This unit has since become the standard in Norway. In 2011 he aligned every cinema screen in and around Oslo as part of their digital upgrade programme.
He has installed many studios as diverse as David Arch (Strictly Come Dancing), Colin Towns (Midsomer Murders), ʺWixʺ Wickens (Paul McCartney), and Technicolor Lab's optical transfer suite, plus, of course, the studios of the University of Surrey's world renowned Institute of Sound Recording.
Since joining the teaching team full time in 2011, Alan has seen one of his priorities as bringing the industry into the University. He has run the excellent Tonmeister visiting talks series, with speakers from all parts of the wider audio industry, including producers Ben Hiller and Grammy winner Jim Abbiss, dubbing mixers -  Bafta winner Howard Bargroff and Kath Pollard, audio manufacturers Prism and Focusrite, and musician Thomas Dolby.
Alan has recently developed the new degree in Film Production and Broadcast Engineering, which produced its first graduates in 2020. The degree attained IET partial CEng accreditation in 2021
Teaching
Alan teaches Audio Fundamentals, Sound in Film and Televesion, Advanced Colour Science, Video Engineering and final year Recording Techniques Seminars.