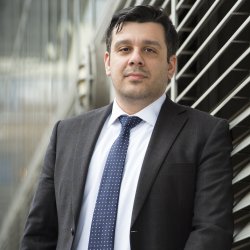 Dr Anastasios Siampos
---
Executive Director of Undergraduate Studies / Senior Teaching Fellow in Marketing
PhD Marketing (Strathclyde Business School), MSc Marketing Management (Aston Business School), BSc Business Administration (Athens University of Economics and Business), Fellow of Higher Education Academy
Biography
Anastasios joined the University of Surrey in September 2015 as a Teaching Fellow in Marketing. Before that, and during his PhD studies, he was a senior tutor and also graduate teaching assistant in a number of Marketing Programmes. 
Apart from teaching, he is also research-oriented, since research largely facilitates knowledge creation, and is an essential tool for enriching learning experiences of the students through research-led teaching. His research is focused on strategic marketing, comprising the notions of market orientation and entrepreneurial orientation. The objective is to evaluate their impact on organisational performance through a specific set of adaptive marketing capabilities.
University roles and responsibilities
Executive Director of Undergraduate Programmes
Research
Research interests
Anastasios' research interests lie on Strategic Marketing, with a focus on market orientation, entrepreneurial orientation and adaptive marketing capabilities.
My publications
Additional publications
Boukis, A. ; Kaminakis, K.; Siampos, A. & Kostopoulos, I. (2015). 'Linking Internal Marketing with Customer Outcomes', Market Intelligence and Planning, 33 (3), 394-413.
Siampos, A. & Gounaris S. 'Market and entrepreneurial orientation's effect on organisational performance through marketing capabilities'. The Academy of Marketing Conference 2015, June 7-9 July, 2015, Limerick, Ireland
Siampos, A. 'The Effects of Competitor Orientation on Employees' and Market Performance'. 43rd EMAC, June 3-6, 2014, Valencia, Spain
Boukis, A. & Siampos, A. 'Identifying key enablers of employee brand-supporting behavior'. International Research Conference in Marketing. University of Edinburgh Business School. September 19-20, 2013, Edinburgh, UK
Siampos, A. 'Marketing Strategy during an economic recession'. 2nd International Research Conference in Marketing. University of Strathclyde. April, 18-19 2013, Glasgow, UK