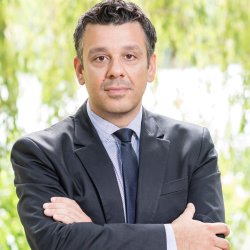 Dr Anastasios Siampos
---
Director of Undergraduate Programmes / Senior Lecturer in Marketing
PhD, MSc, BSc, FHEA
About
Biography
I joined Surrey Business School in September 2015 as a Teaching Fellow in Marketing. Before that, and during my PhD studies, I was a senior tutor and also graduate teaching assistant in a number of Marketing Programmes at Strathclyde Business School.
University roles and responsibilities
Executive Director of Undergraduate Studies
Research

Research interests

I am interested in Strategic Marketing, with a focus on market orientation and adaptive marketing capabilities.
Publications
Additional publications
Boukis, A. ; Kaminakis, K.; Siampos, A. & Kostopoulos, I. (2015). 'Linking Internal Marketing with Customer Outcomes', Market Intelligence and Planning, 33 (3), 394-413.
Siampos, A. & Gounaris S. 'Market and entrepreneurial orientation's effect on organisational performance through marketing capabilities'. The Academy of Marketing Conference 2015, June 7-9 July, 2015, Limerick, Ireland
Siampos, A. 'The Effects of Competitor Orientation on Employees' and Market Performance'. 43rd EMAC, June 3-6, 2014, Valencia, Spain
Boukis, A. & Siampos, A. 'Identifying key enablers of employee brand-supporting behavior'. International Research Conference in Marketing. University of Edinburgh Business School. September 19-20, 2013, Edinburgh, UK
Siampos, A. 'Marketing Strategy during an economic recession'. 2nd International Research Conference in Marketing. University of Strathclyde. April, 18-19 2013, Glasgow, UK