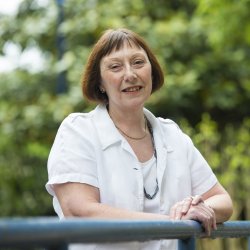 Biography
Having graduated with a first degree (BSc) in food, nutrition and marketing from the University of Surrey, Bridget followed a successful career in food and wellbeing publishing, including extensive project development and management experience. Bridget has also written extensively on food, cooking, diet and wellbeing for international book publishers.
In 2010 she returned to the University of Surrey to study for an MSc in Health Psychology, and then progressed to complete mixed-methods research into coping responses relating to diagnosis with multiple sclerosis, gaining a PhD in Health Psychology in 2014. The primary area for her post-doctorate research has been on the RHAPSODY project, an international and multidisciplinary research project into information and support provision for families coping with young-onset dementia. Bridget is also involved with other projects within the group, particularly those relating to neurological conditions, and she contributes to the Surrey Parkinson's Research Collaboration (SPaRC).
Bridget completed the postgraduate qualification in Health Psychology Practice in 2014 and is a chartered Health Psychologist and registered practitioner in the Health & Care Professions Council (HCPC). She is a fellow of the Higher Education Academy and lectures on health psychology and topics relating to her research into chronic neurological conditions.
Bridget has extensive career experience in collaboration, communication and public engagement alongside project management within international publishing, and her recent years of academic experience contribute to her appreciation of the importance of research-practice liaison, particularly across all aspects of health research.
Research
Research interests
Bridget's research interest is in chronic neurological conditions, including Parkinson's disease and dementia, particularly among younger age groups, where diagnosis has both acute and long-term implications at individual, familial and service-provision levels.