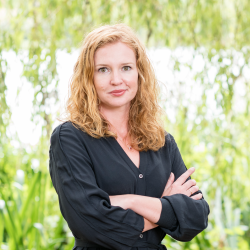 Dr Ekaterina Murzacheva
---
Senior Lecturer in Innovation and Entrepreneurship, Deputy Head of Department
PhD, MSc, BSc, FHEA
About
Biography
I joined Surrey Business School in September 2022 as a Senior Lecturer in Innovation and Entrepreneurship. I have started my academic journey in 2012 while doing my PhD at the University of Strathclyde, followed by Senior Lecturer positions in Entrepreneurship at the University of Hertfordshire, and later - University of Portsmouth. Throughout my career, I have been working closely with small businesses to support their growth, and students - to help them develop their entrepreneurial potential, and engage with real-world experiences.  
Areas of specialism
Entrepreneurial Finance;
Social Entrepreneurship;
Business Growth
University roles and responsibilities
Programme Leader BSc Business Management (Entrepreneurship)
Research

Research interests

My research interests lie mainly in the area of entrepreneurial finance, namely, informal capital, crowdfunding, peer-to-peer lending, and microfinance.  My recent work investigates informal funding mechanisms, innovations in the alternative finance markets, and the evolution of the finance escalator. Additionally, I have been exploring entrepreneurship in the local communities, gender entrepreneurship, and entrepreneurial growth.

I have been part of a number of collaborative projects, such as Global Entrepreneurship Monitor, Accelerating Women's Enterprise, as well as local initiatives, for example, working with Fareham Borough Council to create an Economic Development Plan to 2031.  
Teaching
I have been involved in the UK Higher Education since 2013, teaching mainly entrepreneurship-related subjects at undergraduate and postgraduate levels (including MBA programmes, and CIM qualification). Additionally, I am specialising in teaching research methods, statistical methods of analysis, and have a vast experience in supervising undergraduate and postgraduate dissertations, and MBA applied projects.
My materials are based on my accumulative experience in working with students, connections with the industry, my own research, especially in the area of entrepreneurial finance (equity crowdfunding in particular, as well as other forms of digital finance), and the research of others, where students are stimulated and challenged by being introduced to various standpoints and exposing them to various scenarios. 
Over the last 5 years my personal interest in social entrepreneurship (through working with social businesses), and innovative business model designs with the focus on new product development, and optimisation of business processes to enhance business growth and efficiency has largely driven my teaching practice. 
In 2021 I won the ESRC National Productivity Investment Fund (NPIF) Accelerating Business Collaboration Award to develop and deliver Hand-in-Hand: Awakening your Entrepreneurial Potential Programme. A 2-month entrepreneurship course, targeting people, who were made redundant, to develop their entrepreneurial skills and entrepreneurial identity, improving their chances of a successful start-up in the future.   
In 2022 I contributed to the research design and Online Toolkit development of Creative Students Creating Business project to encourage knowledge exchange and industry engagement for students in the UK Higher Education. 
I developed Advance HE/QAA Practice Guide helping students to transform communities and society through real life social action and environmentally responsible enterprise.