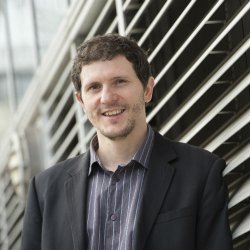 Dr Fabien Heliot
---
Lecturer in Wireless Communications
Dipl. Eng.; PhD
About
Biography
Fabien HELIOT received the Diplome d'ingénieur in Telecommunications from the Institut Supérieur de l'Electronique et du Numérique (ISEN), Toulon, France, and the PhD degree in Mobile Telecommunications from King's College London, in 2002 and 2006, respectively. He is currently a Lecturer at the Institute for Communication Systems (ICS) of the University of Surrey, formerly known as CCSR. He has been actively involved in European Commission (EC) funded projects such as FIREWORKS, ROCKET, SMART-Net, LEXNET projects and in the award-winning EARTH project. He is currently involved in the UK-funded 5GIC project, a UK funded project on shaping the future of wireless communication, and the EU-funded 5GRFEX project about determining the EM exposure generated by 5G Masive MIMO base stations. His research interests include energy efficiency, EM exposure reduction, cooperative communication, MIMO, and radio resource management. He received an Exemplary Reviewer Award from IEEE COMMUNICATIONS LETTERS in 2011.
Areas of specialism
Green & suistanable communication;
Electromagnetic exposure in wireless communication;
Cooperative and MIMO signal processing;
Mathematical Optimisation for wireless communication;
Terra-Hertz and visible communication;
Ultra-wide band communication
University roles and responsibilities
Module leader for EEEM062 - Applied Mathematics for Communication Systems
Affiliations and memberships
IEEE Member
Member of IEEE since 2003
Research

Research interests

EMF exposure reduction for 5G technology
Waveform design for Terra-Hertz communication
MIMO-based relay technology for 5G

Research projects

Current radiofrequency electromagnetic field (RF-EMF) exposure limits have become a critical concern for fourth generation (4G) and fifth generation (5G) mobile network deployment across Europe. Regulation is not harmonized and in certain countries and regions goes beyond the guidelines set out by the International Commission on Non-Ionizing Radiation Protection (ICNIRP). This project will produce specific RF-EMF exposure measurement guidance for 5G Massive MIMO (multiple-input-multiple-output) base stations which will be disseminated to technical, business and regulatory communities to support the development of effective regulation and enable 5G implementation that balances performance with public safety.

Research collaborations

Previous projects and collaborations:

2018 - ongoing: Electro-magnetic field exposure reduction/avoidance for the next generations of wireless communication systems (EPSRC project)
2012 - 2015: LEXNET (FP7 EU consortium)
2012 - 2013: Bandwidth floor study (Industry funded project: Interdigital)
2011 - 2012: SMART-NET (FP7 EU consortium)
2010 - 2012: EARTH (FP7 EU consortium)
2008 - 2010: ROCKET (FP7 EU consortium)
2006 - 2008: FIREWORKS (FP7 EU consortium)
Supervision
Postgraduate research supervision
Muhammad Ali JAMSHED
BEng/MSc/MEng/EuMSc Project Supervision
2020: Allan Abdulrahman, Sultan Al Harty, Maik Andy Noungoua-Kwendjeu, Chin Goon Tan, Zibo Zhang
Completed postgraduate research projects I have supervised
2019: Dr Diana DAWOUD
2018: Dr Ting YANG
2015: Dr Yusuf SAMBO
2012: Dr Oluwakayode ONIRETI
BEng/MSc/MEng/EuMSc Project Supervision
2019: Mohammed Ali Almusawa, Chang Qu, Roshan Shenoy;
2018: Marta VICARIO GODOY; Dhivyadharsan SELVARAJU; Yijun BIAN; Johnathan ADEDEJI; Tololupe OLABISI; Yubin DONG; Longxiang ZHANG;
2017: Chen YANG; Wenjing ZHANG; Fangkai XU; Ifenlota ONYEMEH; Jian GUAN; Kaiqiao CUI; Pengfei BIAN;
2016: Hongyun ZHANG; Kai ZHANG; Ugochukwu ANYANWU; Wenjun LIU;
2015: Evelyn DYE; Opeyemi OJAJUNI; Quang NGUYEN;
2014: Medinat SALAMI;
2012: Maksym IAROVYI;
2011: Yanming DONG; Yusuf SAMBO; Rakesh Teja MATA;
2010: Usama ASIF; Taimoor ZAHID;
2009: Salik IFTIKHAR; Adnan KHAN;
2005:Sahil BANSAL; Jegan KEVOLI; Roy TILAKASIRI;
2004: Jiangxi WANG
Teaching
EEEM017: Fundamentals of Mobile Communications (2016/17 - onwards)
EEEM062: Applied Mathematics for Communication Systems (2015/16 - onwards)
5G Communications Short Course (2015/16 - onwards)
Professional Training Year Tutor (2015/16 - onwards)
EEE1027/EEE1028: First Year Electronic Laboratories (2013/14 - onwards)
EEEM061: Advanced 5G Wireless Technologies (2015/16)
ENG1068: Electronic Instrumentation (2014/15)
Publications
Highlights
F. Héliot, R. Tafazolli, "Optimal Energy-Efficient Source and Relay Precoder Design for Two-way MIMO-AF Systems," IEEE Trans. Green Com. & Net., 2020.
D. Dawoud, F. Héliot, M. A. Imran, R. Tafazolli, "A Novel Unipolar Transmission Scheme for Visible Light Communication," IEEE Trans. Commun., 2020.
M. A. Jamshed, F. Héliot, T. W. C. Brown, "A Survey on Electromagnetic Risk Assessment and Evaluation Mechanism for Future Wireless Communication Systems," IEEE Journal of Electromagnetics, RF and Microwaves in Medicine and Biology, vol. 4, no. 1, pp. 24-36, March 2020.
M. A. Imran, F. Héliot, Y. A. Sambo, "Low Electromagnetic Emission Wireless Network Technologies: 5G and Beyond," IET Publishing, London, UK, Dec. 2019.
F. Héliot, R. Tafazolli, "Optimal Energy-Efficient Source and Relay Precoder Design for Cooperative MIMO-AF Systems," IEEE Trans. Signal Process., vol. 66, no.3, pp. 573-588, Feb. 2018.