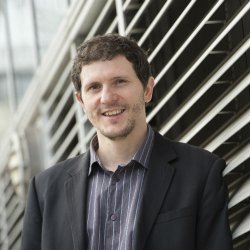 Dr Fabien Heliot
---
Lecturer in Wireless Communications
Biography
Biography
Fabien Héliot (S'05-M'07) received the MSc degree in Telecommunications from the Institut Supérieur de l'Electronique et du Numérique (ISEN), Toulon, France, and the PhD degree in Mobile Telecommunications from King's College London, in 2002 and 2006, respectively. He is currently a Lecturer at the Institute for Communication Systems (ICS) of the University of Surrey, formerly known as CCSR. He has been actively involved in European Commission (EC) funded projects such as FIREWORKS, ROCKET, SMART-Net, LEXNET projects and in the award-winning EARTH project. He is currently involved in the 5GIC project, a UK funded project on shaping the future of wireless communication. His research interests include green communication, EM exposure reduction, visible light communication, cooperative communication, MIMO, and radio resource management. He received an Exemplary Reviewer Award from IEEE COMMUNICATIONS LETTERS in 2011.
Research
Research interests
His current interests are:
Green & Sustainable Communication;
EMF exposure reduction;
Visible light Communication;
Cooperative communication;
Cellular/Hetnet system optimisation;
His broader interests are
MIMO / Precoding;
Space-time / lattice coding;
Ultra Wide-Band.
Research collaborations
Current collaborations:
5GIC project (ICS project on 5G)
Previous collaborations:
LEXNET (FP7 EU consortium)
Bandwidth floor study (Industry funded project: Interdigital)
EARTH (FP7 EU consortium)
SMART-NET (FP7 EU consortium)
ROCKET (FP7 EU consortium)
FIREWORKS (FP7 EU consortium)
Supervision
Postgraduate research supervision
PhD supervision
Ting YANG
Diana DAWOUD
BEng/MSc/MEng/EuMSc Project Supervision
2018: Marta VICARIO GODOY; Dhivyadharsan SELVARAJU; Yijun BIAN; Johnathan ADEDEJI; Tololupe OLABISI; Yubin DONG; Longxiang ZHANG;
Completed postgraduate research projects I have supervised
Phd Graduated
2015: Dr Yusuf SAMBO
2012: Dr Oluwakayode ONIRETI
BEng/MSc/MEng/EuMSc Project Supervision
2017:  Chen YANG; Wenjing ZHANG; Fangkai XU; Ifenlota ONYEMEH; Jian GUAN; Kaiqiao CUI; Pengfei BIAN;
2016: Hongyun ZHANG; Kai ZHANG; Ugochukwu ANYANWU; Wenjun LIU;
2015: Evelyn DYE; Opeyemi OJAJUNI; Quang NGUYEN;
2014: Medinat SALAMI;
2012: Maksym IAROVYI;
2011: Yanming DONG; Yusuf SAMBO; Rakesh Teja MATA;
2010: Usama ASIF; Taimoor ZAHID;
2009: Salik IFTIKHAR; Adnan KHAN;
2005:Sahil BANSAL; Jegan KEVOLI; Roy TILAKASIRI;
2004: Jiangxi WANG