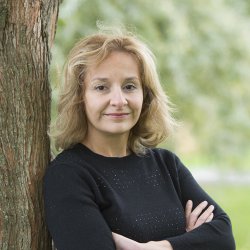 Dr Fatima Labeed
---
Senior Lecturer in Human Biology
BSc (Lond), MSc, PhD (Surrey)
About
Biography
Dr Fatima H. Labeed earned her first degree in Biochemistry from University of London, followed by a Masters in Clinical Biochemistry with Molecular Biology and a PhD, both from the University of Surrey. She has also worked in industry at Pfizer's Parke-Davis Research Centre in Cambridge, and holds visiting positions at both the University of Bergen and the University of California Irvine. She has received research income from NIHR, EPSRC, industry (e.g. Pfizer, Smiths Industries, Smith and Nephew, Labtech) and technology transfer bodies. She has given invited seminars at Stanford University, University of Bergen and UCI and is currently co-editing a book for the Royal Society of Chemistry on microengineered detection methods, and acts as Journal Administrator for IEEE Transactions on Nanobioscience. She is a member of the British and American Associations for Cancer Research and the Biophysical Society.
Research

Research interests

Dr Labeed principally leads research on the applications of dielectrophoresis (cell motion induced by non-uniform electric fields) to cell biology. One such application is the use of dielectrophoresis to detect oral cancer. This project, developed in conjunction with the Eastman Dental Institute over many years, uses dielectrophoresis to discriminate between normal and cancerous epithelial cells taken from a brush biopsy of suspicious sites. The detection mechanism has already shown a statistical significance between the two cell types when taken from patients presenting at the EDI, and the project has now received ca. £200k from NIHR for a clinical trial at two more hospitals in order to quantify sensitivity and specificity, as well as identify ways of discriminating confounding factors such as ulcers.

The second research line in applications is that of stem cells. Working with international collaborators in the universities of California Irvine and Bergen, Dr Labeed has work on discriminating neural-progenitor from astrocyte-progenitor neural stem cells (with the UCI group), and between different mesenchymal cell lines to form the basis of potential cell selection (with the University of Southampton), and observing differentiation in cancer-generating stem cells with the University of Bergen and the Queen Mary University of London in order to better understand the biology of tumour stem cells.

Finally, a third line of research has been the development of drug assays using DEP to monitor electrophysiological changes more rapidly or more accurately by other means. These include very rapid apoptosis measurement, effect of ion channel blockers on cytoplasm composition, drug resistance in cancer cells and antibiotic resistance in bacteria. This has involved working closely with a major, multinational pharmaceutical company. Current applications being explored include the measurement of cytoplasmic resistance in cardiac myocyes for cardiac action potential studies, which has shown that DEP is as accurate as tissue-strip measurement, and more accurate than other methods of suspended cell measurements.

Research collaborations

At the University of Surrey: Mike P. Hughes (Biomedical Engineering), Rita Jabr (Biochemistry and Physiology), Chris Fry (Biochemistry and Physiology), Malcolm von Schantz (Biochemistry and Physiology), Helen Coley (Toxicology), John Watts (Mechanical Engineering Sciences), Marie-Laure Abel (Mechanical Engineering Sciences), Constantina Lekakou (Mechanical Engineering Sciences), Joe Keddie (Physics).

National and International: Stefano Fedele and Stephen Porter (at Eastman Dental Institute, UCL), Mark Lewis (Loughborough University), Ian McKenzie (Queen Mary University of London), Lisa Flanagan (University of California at Irvine), Richard Oreffo (Southampton University), Daniela Costea and Ann Johanssen (University of Bergen).