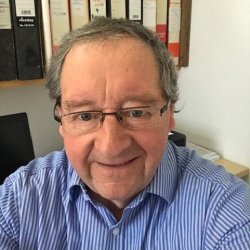 Professor John Shannon
---
Professorial Research Fellow
FREng, DSc, PhD, C.Phys, F.Inst.P, MIEE, C.Eng
About
Biography
John M Shannon was awarded a DSc (Doctor of Science) from Brunel University London in 1982.
From 1985 to 1994 he was head of Display and Large Area Electronics Groups at Philips Research Laboratories Redhill before sharing his time with the University of Surrey where he is a Professorial Research Fellow within the school of Electronics and Physical Sciences.
Professor Shannon has over 100 papers and 70 patents in the field of semiconductor devices. These include the auto registered MOSFET ( high frequency) , the planar doped diode and the bulk unipolar diode (low noise) for which he received the first Paterson prize for Physics awarded by the institute of Physics London in 1983. He was elected Fellow of the Royal Academy of Engineering in 2001.
Research

Research interests

Physics and engineering of semiconductor devices.

Recently he has concentrated on the Source-Gated Transistor which was invented in 2001. It is particularly useful for Pico-amp circuits and self powered circuits in highly disordered semiconductors used for large area electronics.
Publications
Stable transistors in hydrogenated amorphous silicon. App. Physics Lett Vol 85 No.2 pp.326-328 2004.