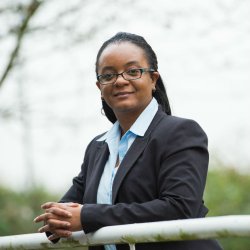 Dr Karen Dennis
---
Deputy Director of Teaching and Learning; Senior Lecturer in Operations Management
PhD, SFHEA,
About
Biography
Karen started her career in small business development working with the Jamaican Government after completing her BSc in Industrial Engineering at the University of the West Indies. For three years she worked with a number of small businesses in the area of process and production management as well as developing technical support programmes aimed at enhancing productivity as well as the viability of businesses. She then went on to pursue her MSc in Information Systems & Technology at City University London and later a PhD in Business Studies at Oxford Brookes University.
It was while reading for her PhD that Karen began a civil service career spanning six successful years working on renewable energy policy with the UK Government. Thereafter she made the transition into academia and joined the University of Surrey Business School in October 2016.
Research interests
Value Creation
Performance Management
Economic Value Added (EVA®)
Supply Chain Management
Teaching
Operations Management
Economics, Business and Sustainability
Supply Chain Management
Business Ethics
Affiliations
Fellow, Chartered Management Institute
Publications
Purpose This study identifies factors that managers can influence to improve effectiveness by examining the relationship between leadership and effectiveness in small and medium sized independent hotels. Design/methodology/approach 272 valid questionnaires were collected from managers of 83 small and medium sized independent hotels in the Netherlands using selective and snowball sampling techniques. A two-stage structural equation modelling approach was used to test the hypotheses. Findings Surprisingly, in contradiction to previous studies neither transactional nor transformational leadership had a direct effect on organisational effectiveness. Instead, the effect was through the intervening variables of ability to acquire resources and reward mechanisms. Research limitations/implications The contradiction between this and previous studies may be due to the constructs used in this study not having the universal applicability that is customarily assumed and further investigation is needed. Practical/implications Our study suggests that managers in this type of hotel, first, should be adaptable in their leadership style and not rely on transactional leadership alone; second, managers must pay attention to resource acquisition and, third, retain staff by using the right reward mechanism. Originality/value This study contributes to the literatures of leadership and effectiveness in small and medium sized independent hotels by being the first to focus on the impact of ability to acquire resources and reward mechanism. It also makes an important contribution to the growing body of hospitality literature that probes the supposed universal validity of organisational studies constructs.