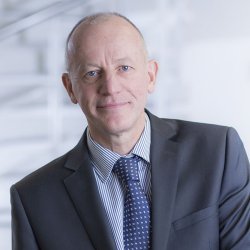 Keith Robson
---
Chief Operating Officer, 5GIC
About
Biography
After completing a degree in Electronic Engineering at Leeds University Keith's early career was with Schlumberger Industries as an electronic design engineer in the Aerospace sector becoming R&D Manager in Schlumberger Solartron and then MD of private industrial instrumentation company, Beta Instrument. He exited Beta via a successful trade sale to form own start up company in automated vision inspection systems for factory quality control. He then worked as MD of ThemoElectron company, Peek Traffic Systems, turning the business around, before moving into HE Sector in 2001.
Keith specialises in promoting industrial collaboration within the Higher Education sector, focusing on areas such as spin-out and start-up formation, fund raising, IP management and business incubation. He has personally raised several £millions in venture capital finance as well as public sector funding for seed funds and start-up companies and has held a number of company directorships and non-exec positions throughout his career. He currently also holds a number of public sector positions including membership of the Satellite Applications Catapult Commercial Advisory Group and Chair of Guildford Business Forum. He was founder of the Surrey 100 Business Angel Club.
Aims
Keith believes very strongly that UK Universities should have a major role in delivering tangible economic benefit to their regions in addition to their core responsibilities in teaching and research. He joined the University of Surrey because of its strong record in combining high quality research with commercial success, exemplified by the University's top spin-out company, Surrey Satellite Technology Ltd which was responsible for changing the economics of the global satellite industry with its innovative approach. Surrey's commitment to leading programmes such as the 5G Innovation Centre and its new School of Veterinary Medicine are aimed at producing the next generation of successful start-up and spin-out opportunities in collaboration with our major corporate and regional partners.