---
news
Published:
07 September 2022
Surrey and Hampshire space sector pulls together for deep dive workshop
Space South Central members met at Surrey Research Park on 31 August to establish the first benchmarks to drive the economic benefits the space sector offers in the region.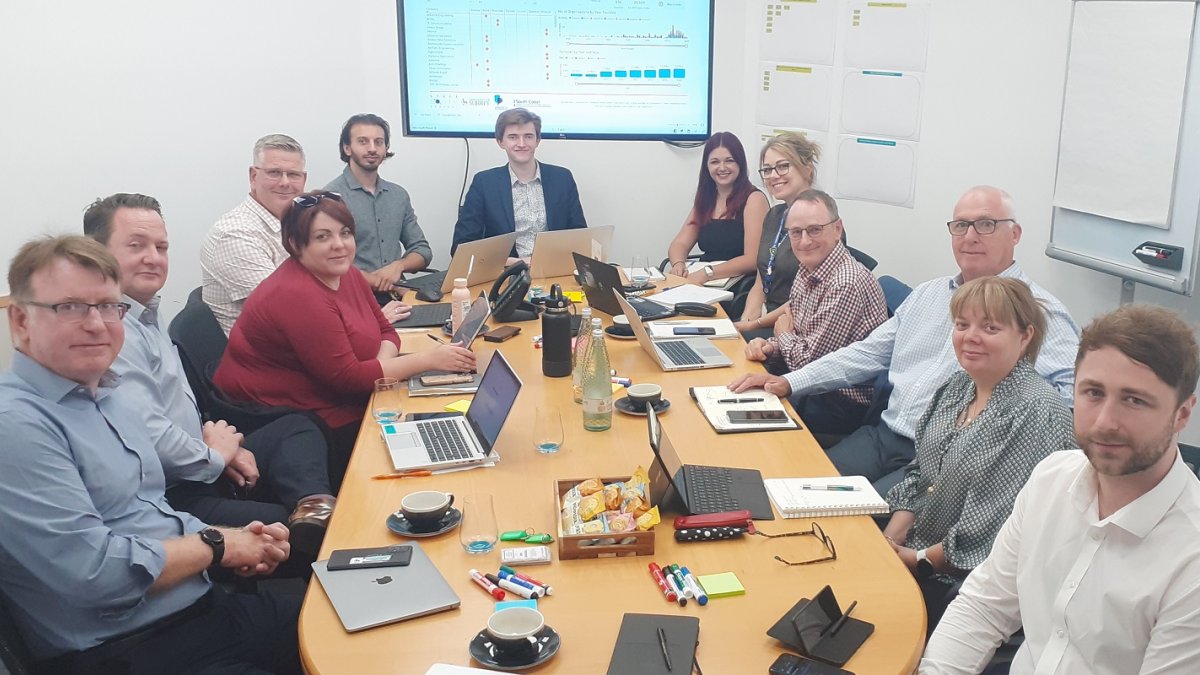 Leading space sector companies including Airbus, Farnborough Aerospace Consortium, Surrey Satellite Technology Ltd (SSTL) and UKSpace gathered with key enterprise partners for the Space South Central Capabilities Matrix Workshop.
The south central region of Surrey and Hampshire is unique in the UK space sector in terms of the mass and breadth of space activity it contains. Space South Central brings local organisations together to leverage opportunities and pool expertise to develop a cohesive future strategy for space.
The specific objective of the workshop was to agree the best way to present Space South Central's exceptional regional capabilities, contributing to a new dashboard which has been developed by experts at the Satellite Applications Catapult.
The event was organised by Keith Robson (Interim Head of Space South Central and Visiting Professor at Surrey) and Louise Butt, representing Space South Central. Professor Bob Nichol (formerly of University of Portsmouth and now Dean of Faculty of Engineering and Physical Sciences at Surrey) welcomed attendees on behalf of both Universities. (Portsmouth and Surrey are leading the Space South Central initiative).
The workshop brought together representatives from Satellite Applications Catapult (who led the workshop), Solent LEP Careers Hub, South Coast Centre of Excellence for Satellite Applications, UKSpace, SSTL, Airbus Defence and Space, Farnborough Aerospace Consortium and M3 LEP.
Roy Howarth of Airbus Defence and Space explained: "The challenge for our European mainland colleagues in France, Germany and Spain when they get a European Space Agency programme is the geographical return issue they have to solve, and one of the big problems is finding smaller UK suppliers that can feed into those international programmes."
Darren Coventry, Strategic Lead of Solent LEP Careers Hub, spoke about the need to make the sector accessible to people from all backgrounds. He said: "If we have someone who is a Year 8 or 9 student in an area of social deprivation, on free school meals, the question is how does that person raise their aspirations so that they can get into the space industry?"
Sam Read, Enterprise M3 LEP Sector Specialist, said:
"I think there's a great benefit for companies with similar growth challenges working together to solve them and to think about what they collectively need to do for the betterment of the industry in the future. Cluster organisations like this are critical for getting local companies to think in that manner."
Keith Robson, Interim Head of Space South Central, commented: "This workshop represents the first concrete step which the newly formed Space South Central initiative is taking to help coordinate an even stronger response from our region to the tremendous opportunity which the growing space sector provides. The individuals and organisation taking part today are truly impressive and we hope that the data model we develop from these discussions will also be able to be used by other clusters across the UK."