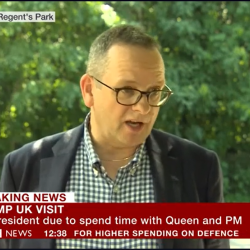 Dr Mark Shanahan
---
Associate professor/FASS Foundation Lead
BA Hons, MA with Distinction, PhD
About
Biography
A convert from industry to academia, I spent over 20 years in journalism and corporate communication before transitioning my career into Higher Education, first at Brunel University where I completed my PhD and took my first steps in teaching, and then between 2012 and 2022 at the University of Reading where I lectured in Politics and International Relations. I was Director of Teaching & Learning for Politics & IR from from 2016-2018 before becoming Head of Department from 2018-2021. In 2021-22, I was School Director of Recruitment, Admissions and Outreach for Reading's School of Politics, Economics & International Relations.
I Joined the University of Surrey in the Summer of 2022 to lead the FASS Social Sciences Foundation Programme and will also be teaching in the Politics Department.
I am a regular media commentator on UK and US politics, with numerous TV and radio appearances including for the BBC, ITN, CNN, CNBC, Sky, ABC (Australia), France 24, Arirang (South Korea), CGTN (China) and CTV (Canada).
Outside work I'm a keen follower of Wycombe Wanderers FC, London Irish RFC and Middlesex CCC.
Areas of specialism
I research in US presidential politics and am a regular commentator both on US and UK domestic politics. Additionally, I am interested in new developments in teaching and learning pedagogy, especially the use of social media.
Supervision
Postgraduate research supervision
I am currently supervising one PhD student working on authoritarianism in the GOP gay vote. I am interested in supervising further work around the US political system and the relationship between politics and the media.
Over the past decade I have supervised a dozen Masters dissertations and over 100 UG dissertations. 
Teaching
I lead the FASS Social Sciences Foundation Programme convening modules on tackling social issues and the social sciences research project. 
I have previously convened/taught modules in American Government & Politics, British Foreign & Defence Policy, US Foreign Policy, Parliamentary Studies, UK Politics and the Media & Politics.