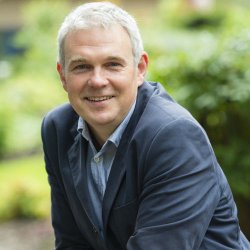 Professor Neil Rickman
---
Professor of Economics
BA (Durham), PhD (McGill)
About
Neil graduated from the University of Durham (BA (Hons) Econ) in 1988, before moving to McGill University (Montreal) to read for a PhD in Economics, which was completed in 1995. From 1991 to 1995 he was a Research Officer in Economics at the Centre for Socio-Legal Studies, Oxford, and a lecturer in Economics at Pembroke College, Oxford. He moved to Surrey in 1995, and became Professor of Economics in 2004 (serving as Head of Department from 2004-2009).  Neil was a Visiting Professor at the Research Institute of Law and Economics (Erasmus University, Rotterdam) from 2011-2015.  Between 2007-2018, Neil was an Executive Committee member of the Royal Economic Society, serving as Chair of the Society's Conference of Heads of University Departments of Economics (CHUDE) from 2007-2012 and as Conference Secretary from 2012-2018. He is currently a member of the Economics and Econometrics sub-panel for REF 2020 (for both the Criteria and Assessment phases of the exercise) and an Associate Editor of the International Review of Law and Economics.
Research

Research interests

Neil's research interests are in bargaining theory, principal-agent theory and the theory of regulation. He is particularly interested in applying these tools to the regulation of legal and health services. He has worked on NHS contracts, medical negligence, legal aid reform, contingent fees for legal services, legal expenses insurance, litigation, regulation of prices and investment and energy market structure. He had advised the Department of Constitutional Affairs, the Ministry of Justice, the Legal Aid Board, the Legal Services Commission, the Law Society, the Civil Justice Council and the Department of Health on matters relating to legal policy and medical negligence. He has also advised Ofcom on radio spectrum regulation. His work for the Civil Justice Council in 2003 (with Paul Fenn, University of Nottingham) helped establish the current regime of fixed recoverable costs in personal injury litigation in England and Wales. Neil was a member of the Civil Justice Council's sub-committee on Court Fees (2000-2002), the Advisory Panel for Sir David Clementi's Review of the Regulatory Framework for Legal Services in England and Wales (2004) and was a special advisor to the Civil Justice Council's committee on the uprating of Guideline Hourly Rates in civil litigation.  

Neil has published in the Economic Journal, the Journal of Public Economics, the Journal of Law, Economics and Organisation, Economica, Oxford Economic Papers, Oxford Bulletin of Economics and Statistics, the Journal of Health Economics, the Journal of Risk and Insurance, the Journal of Public Administration Research and Theory, Social Science and Medicine, the Scottish Journal of Political Economy, Fiscal Studies, the British Medical Journal, the International Review of Law and Economics, the Oxford Review of Economic Policy, the Geneva Papers on Risk and Insurance and the European Journal of Law and Economics. He has also written numerous book chapters and research reports.  Neil is currently an Associate Editor of the International Review of Law and Economics.
Teaching
ECO3049 Law and Economics (Semester 1, final year undergraduate option)
ECO1018 Principles of Microeconomics (Semester 2, first year undergraduate compulsory)
Publications
View more publications up to 2007
Current Publications
"Favouritism and financial incentives", (with R. Witt), Economica, Vol. 75(298), 296-309, 2008.
"Why are some care homes better than others? An empirical study of the factors associated with quality of care for older people in residential homes in Surrey, England." (with Bryan, K., Gage, H., Evans, J., Knibb, W. & P. Williams), Health and Social Care in the Community, Vol. 17(6), 599-609, 2009.
"Liability, risk pooling and health care quality" (with P. Fenn, A. Gray, D. Vencappa, O. Rivero & E. Lotti), Journal of Public Administration Research and Theory, Vol. 20, i225-i242, 2010.
"Fixed recoverable costs: A case study in policy and empirical legal studies" (with P. Fenn), Journal of Empirical Legal Studies. Forthcoming.
"Personal injury litigation" (with P. Fenn), in Ch. 10 in Oxford Handbook of Empirical Legal Studies, (P. Cane and H. Kritzer, eds), Oxford University Press, 2010.
"The empirical analysis of financial incentives in litigation" (with P. Fenn), Ch. 7 in New Trends in Financing Civil Litigation in Europe: A Legal, Empirical, and Economic Analysis, (M. Tuil and L.Visscher, eds.), Edward Elgar, 2010.