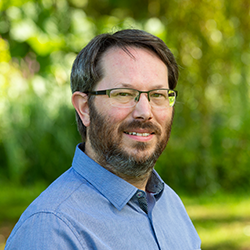 Dr Philip Jackson
---
Reader in Machine Audition
Biography
Biography
I am interested in what you can do with acoustical signals, including speech, music and the everyday sounds all around us. Through research on projects such as Nephthys, Columbo, BALTHASAR, DANSA, SAVEE, DynamicFaces, QESTRAL, POSZ, UDRC2 and S3A, I have contributed to active noise control for aircraft, speech aero-acoustics, source separation and articulatory models for automatic speech recognition, audio-visual emotion classification and visual speech synthesis, including new techniques for spatial audio and personal sound.
I joined CVSSP in 2002 after a UK postdoctoral fellowship at University of Birmingham, with PhD in Electronics & Computer Science from University of Southampton (2000) and MA from Cambridge University Engineering Department (1997). I now have over 100 journal, patent, conference and book publications (Google h-index=12) and serve as associate editor for Computer Speech & Language (Elsevier), and as reviewer for the Journal of the Acoustical Society of America, IEEE/ACM Transactions on Audio, Speech & Language Processing, IEEE Signal Processing Letters, InterSpeech and ICASSP.
Further details can be found on my personal web page.