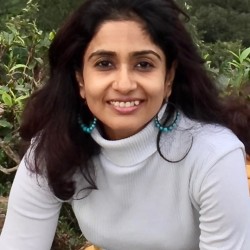 Dr Priya Sharma
---
Research Fellow in Hybrid Quantum Systems
About
Biography
I have an Engineering Physics degree from the Indian Institute of Technology Bombay, India. I got a PhD in theoretical condensed matter physics from Northwestern University, USA, working on the effects of disorder on superfluid helium-3.
I held a Leverhulme Early Career Fellowship at Royal Holloway University of London. Here, I studied the effects of surface roughness in confined helium-3.
Subsequently, I was awarded a Fellowship from the Department of Science and Technology, Government of India and worked at the Indian Institute of Science, Bangalore.
Research

Research interests

I am interested in one of the paradigms for complex symmetry-breaking in topologically ordered systems, superfluid helium-3. I have worked on the effects of disorder and confinement, which have fascinating consequences in this quantum system. I am a theorist and work on the mechanisms and implications of superconductivity and superfluidity. My recent work  is  on the interaction between superfluids and qubits, in which I aim to gain insights into the optimisation of quantum computers to increase efficiency.