Disability and neurodiversity
Find out how our team can help you with your disability and neurodiversity needs.
Supporting you
Our specialist staff are dedicated to ensuring you succeed in your studies and will encourage you to be an independent learner.
We provide support to all students at the University with a disability as defined by The Equality Act (2010). This includes: 
Autistic spectrum conditions
Long-term medical conditions
Mental health conditions
Physical disabilities
Sensory impairments
Specific learning differences (e.g. dyslexia, dyspraxia).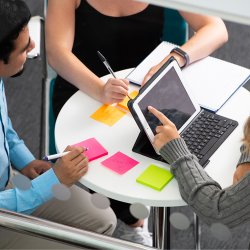 "When I left college I had learning difficulties but did not want to admit it. University is a big step up from college work... as soon as I went to the team, my marks improved and I gained confidence."
Reg Sookee, BA (Hons) Media Studies
Our services
We provide a wide variety of support and services to you. We can liaise with University departments and external agencies to ensure we can provide the best support arrangements for your needs.
We are able to support in many ways, including:
Arranging and putting into place reasonable adjustments for any aspect of your time at Surrey
Implementing exam arrangements and adjustments
Providing screening for specific learning differences
Providing advice on the Disabled Students' Allowance (DSA)
Providing one-to-one study skills and mentoring sessions.
Study tuition
Our learning support tutors can help you develop your learning and study skills individually in the following areas:
Time management and organisation
Note-taking techniques 
Lecture guidance
Planning presentations
Efficient reading skills
Exams and assignments
Addressing learning anxiety.
Student support communities
We have a diverse community at Surrey and understand that everyone has different needs and requirements.