Environment and sustainability CPD and short courses
Our modules form the basis of our continuing professional development (CPD) offering. You may choose to join a module simply for the experience of the teaching or choose to undertake assessment of learning, and gain credits.
Sustainability is key to building resilient organisations
Organisations are increasingly being judged on non-financial performance.  Environment, social and governance factors are of growing importance when organisations are considering choices about products and services and their environmental implications.
Through our CPD provision, we help organisations integrate sustainability into decision making, look at ways to minimise their environmental impact and help them actively work towards a global sustainable future. 
There is a wide range of tools, support and guidance to ensure individuals select the most appropriate modules to help with career development within sustainability. Support is provided via our personal development plan that enables you to identify key areas of development to enhance knowledge and performance in your current role or address career aspiration towards a future role.
Our CPD training draws on sustainability specialists from all backgrounds (engineering, sociology, psychology, natural sciences, business studies etc) who combine their specialist insights with broader knowledge of sustainability.  Classes are enriched with masters' students, research students and individuals from our business network ensuring dynamic interactions between students from different disciplines, backgrounds and experience.  Additionally, our modules incorporate a host of external professional speakers from industry, non-governmental organisations and government to ensure our teaching is practice based and relevant.
We partner with businesses to help address sustainability challenges by collaborating with companies on research projects - smaller projects are appropriate for our master students via an industrial placement or larger dissertation project. 
#Build Back Better
These modules can be taken as standalone or as part of building up to a certificate, diploma or master's degree. You can take up to three standalone modules before deciding whether you want to work towards any of these.
If you do decide to build up to a qualification, then you will need to complete and pass the following amount of modules within a five year period: four modules for a certificate; eight modules for a diploma; eight modules and a dissertation for a degree. Please note that certain modules will be compulsory depending on the degree you opt to take.
If you would like to gain a qualification then you will need to register onto one of our master's courses:
Our tailored training packages can be delivered in-house or at the University to meet the requirements and needs within your organisation or your department.
To ensure the most appropriate training is delivered to you and your staff we build your training package via a series of meetings between our subject experts and our Continued Professional Development team.
Having embarked on the first module I was introduced to a student mentor, who kindly guided me and provided invaluable support as I completed my, first ever, academic essay. I enjoyed every moment of the module and can't thank the CPD team, lecturers, mentor and support staff enough for their guidance and assistance.
CPD student, Nick Clifton-Welker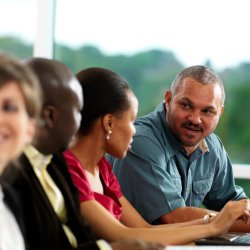 Find a module
You are welcome to register for any of our timetabled modules listed below, they are intensive five day modules making them ideal for blending with your work and other commitments.
If you are interested in the personal development plan, training packages, want to register your interest on a module, or have a query about our modules then please contact Caroline Stuart (caroline.stuart@surrey.ac.uk).