6pm - 8pm
Wednesday 17 November 2021
Daphne Jackson Day – The science of food
Join us for Daphne Jackson Day to celebrate equality, diversity and inclusion in science and engineering research.
Online and in-person
Lecture Theatre 1, Rik Medlik Building
University of Surrey
Guildford
Surrey
GU2 7XH
To book your place please register to either attend online or in person.
Overview
Science and engineering are part of our everyday life, and Daphne Jackson Day celebrates equality, diversity and inclusion in science and engineering research, and aims to inspire everyone to find their passion for science, regardless of identity, background or circumstance.
It is only due to greater diversity and inclusivity in research that we can face and solve some of the big problems of today and of the future, including the Covid-19 pandemic that we all are experiencing at this present time.
Daphne Jackson Day is held in conjunction with the University of Surrey and the Daphne Jackson Trust, a charity dedicated to realising the potential of returners to research careers following a career break of two years or more taken for a family, caring or health reason.
Speakers
Dr Maria C. Hernandez-Soriano
Allison Esperanza
On the day
We're proud to work with the Daphne Jackson Trust to celebrate equality, diversity and inclusion in science and engineering research. This year, in this free event we're lifting the lid on food science to look at how our food is made and how it works. How can biology, chemistry, physics and engineering help us eat better, and more sustainably How can we use what we know about food to lead healthier lives? And distinctly: just how can we make ice cream in an instant?
Register your place
We're welcoming attendees to register to join us online or in person. If you attend in person, we'd be delighted to host you for a drinks reception after the main programme.
About Professor Daphne Jackson OBE (1936-1991)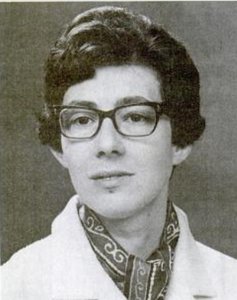 Daphne Jackson graduated in Physics from Imperial College in 1958. She moved to Battersea College of Technology (now the University of Surrey) where she began her research career in theoretical nuclear physics.
She was awarded a PhD in 1962 and was appointed Professor of Physics at the University of Surrey in 1971 – the first female Professor of Physics in the UK. As well as being a distinguished physicist in nuclear, medical and radiation physics, she served on such diverse bodies as the Institute of Physics, the Women's Engineering Society, the University Grants Committee, the Board of the Meteorological Office and regional and district health authorities.
She was a lifelong campaigner, encouraging women into STEM and devised a Fellowship scheme to help individuals get back to their chosen careers after having a family, caring for elderly relatives or because of their partner's relocation. In 1987 she was awarded an OBE in recognition of her work in this area. Following her untimely death in 1991, the Daphne Jackson Trust was established in 1992 in her memory to continue her inspired work.
Visitor information
---
Find out how to get to the University, make your way around campus and see what you can do when you get here.
Related events