6:30pm - 8pm
Thursday 25 May 2023
A Future for Sleep
Join us for this special public lecture from Distinguished Professor Derk-Jan Dijk, celebrating 20 years of sleep research at the University of Surrey.
Rik Medlik Building
University of Surrey
Guildford
Surrey
GU2 7XH
This event is free but booking is recommended
Speakers
---
Sleep is an important determinant of the health of our brain, mind and body. New insights and new technologies to monitor and improve sleep are emerging rapidly.
On the occasion of the 20th anniversary of the creation of the Surrey Sleep Research Centre at the University of Surrey, Professor Dijk will share his views on how the future of sleep could look like.
About Professor Derk-Jan Dijk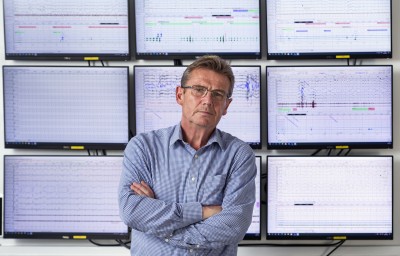 Derk-Jan Dijk has been 'obsessed' with sleep for more than 35 years. It is a journey which has taken him from his native Netherlands and has involved stops in Switzerland (University of Zurich) and America (Harvard Medical School), all in search of knowledge that could help uncover the secrets behind sleep.  
His passion for understanding more about sleep and its relation to our biological rhythms led him to establish the Surrey Sleep Research Centre at the University of Surrey in 2003.
His current research interests include the circadian and homeostatic regulation of sleep; the contribution of sleep to brain function in healthy ageing and dementia; the role of circadian rhythmicity in sleep regulation; identification of novel-biomarkers for sleep debt status and circadian rhythmicity, susceptibility to the negative effects of sleep loss; understanding age and sex related differences in sleep physiology and sleep disorders.
His research has been or is is funded by the Dementia Research Institute, the Biotechnology and Biological Science Research Council, the Wellcome Trust, The Air Force Office of Scientific Research, Philips Lighting and several major pharmaceutical companies.
A Sleeping Giant
Tucked away in an inconspicuous building in Guildford, Surrey, lies one of the world's leading centres of expertise in sleep and its impacts on human health.  
For nearly 20 years, the Surrey Sleep Research Centre has been home to a forward-thinking team of physiologists, molecular biologists, neuroscientists, psychologists and engineers. Even with a broad, in-house multi-disciplinary team, the Surrey Sleep Research Centre has relentlessly sought partnerships with scientists that operate outside of the health sciences arena, including mathematicians, artificial intelligence experts, and biomedical engineers, to get to the bottom of the eternal question of why and how we sleep. 
FAQs
Will this event be Live Streamed / recorded?
Subject to any technical difficulties, we will be streaming Professor Dijk's lecture via Zoom. If you would prefer to watch the live stream, please register to join the Zoom webinar. The event will also be recorded and shared on demand afterwards.
Will there be car parking available?
Where possible we ask that you travel to the University by public transport. The Number 1 and 17 bus comes onto campus from the town centre and stops near to the event site.
Free car parking is available in the University's main car park after 5pm. Please use any available bay. Please follow the signage for Event Parking. The Car Park is a short walk from the lecture theatre.
What time can I arrive?
Doors will be open from 6.00pm. The event begins at 6.30pm.
Will there be food and drink available?
Our Lakeside Coffee Shop will be open for the purchase of refreshments before the Lecture starts. Please note that the University has moved to cashless payments only. By which we mean contactless or card.
What facilities are on site?
We have toilets including disabled, and baby changing facilities available at the venue. Please follow the signage or ask one of our Event Staff to direct you.
Do you have a cloakroom?
No, we will not have a cloakroom for this event. We ask visitors to keep their belongings with them at all times and to avoid bringing large bags with them.
Are there provisions for people with access needs and wheelchair users?
Yes, our venue is wheelchair accessible. So that we can help you to enjoy the event, please e-mail us in advance with details of any specific needs. View the University's accessibility information which also includes advice on our AccessAble app to support you during your visit. 
Will I be able to use a hearing device?
Yes, we have Sennheiser MobileConnect. The Sennheiser MobileConnect enables assisted listening from your smartphone. 
To access a live stream you simply need to download and install the free MobileConnect app (available for iOS and Android) and connect to the appropriate room's assisted listening network on your device.
The system is compatible with:
Hearing aids
Cochlea implants
Headphones
Will latecomers be admitted?
Yes, we will allow latecomers into the lecture theatre. They will be directed to the seats at the back to limit disruption.