---
press release
Published:
05 January 2023
Chobham Common joins Painshill Park and Quarry Hangers as pioneer site for Surrey's ground-breaking habitat-mapping project
Chobham Common near Woking is to become one of the first locations to test a trailblazing combination of satellite Earth Observation, Artificial Intelligence (AI) and citizen science as part of the new People's Postcode Lottery-funded Space4Nature scheme run by Surrey Wildlife Trust, the University of Surrey, Buglife and the Painshill Park Trust.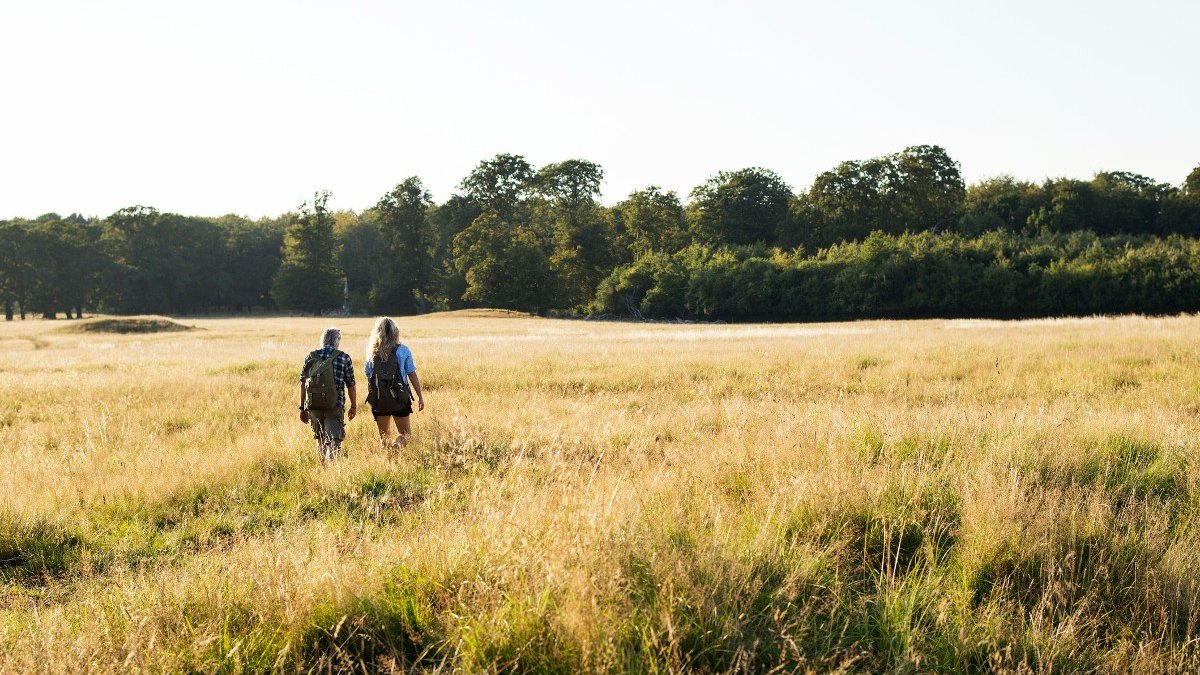 One of the largest nature reserves in south-east England and nationally significant due to its diversity of plants and animals, including Dartford Warblers, Raft Spiders and Sand Lizards, Chobham Common is owned by Surrey County Council and managed for nature by Surrey Wildlife Trust. For over 200 generations, rural communities have carefully managed this open countryside, creating a rich patchwork of mini-habitats from ponds to woodland to open grassland, as well as dense patches of heather and gorse.  
As the climate changes and the risk of droughts and wildfires increases, heathland like Chobham will require more protection in the years ahead. Space4Nature will lead the way in providing scientists with a far better map of the mosaic of habitats and their sub-categories on the site and eventually across the county – enabling them to work with landowners to re-connect important sites for nature to make it easier for wildlife to move to access food, safe havens from predators and opportunities to breed. 
The Space4Nature team will use past and current very high-resolution satellite imagery of the site to analyse and map Chobham's palette of diverse terrain and will use 'ground level' survey information gathered by conservationists and local volunteers to help teach AI software to accurately predict similar pockets of habitat across the site. This will enable the team to recognise and pinpoint which areas of land should be joined up to other habitats of similar type.  
Professor Richard Murphy, Director of the Centre for Environment & Sustainability at the University of Surrey, said: 
"With nature in crisis, we want Surrey to lead the way in improving how we manage and protect our wild places. By using images from space, now available in unprecedented sharpness of detail, Space4Nature will help us develop a more accurate understanding than ever before of our natural environment and what we can do to preserve it.  
"Chobham Common is a perfect place to start combining our Earth Observation capabilities with Artificial Intelligence to map and then connect the diverse habitats there, at other places in Surrey, and ultimately on a hugely ambitious scale." 
Another key site for trialling Space4Nature's satellite mapping project will be project partner Painshill Park in Cobham, an 18th Century landscape garden designed as a 'living canvas' by Charles Hamilton and boasting a large lake, woodland, arboreta, a vineyard and grassland. This range of environments will be ideal for testing and refining the satellite imagery and AI – and through Space4Nature, schoolchildren who visit as part of Painshill's programme of curriculum-based outdoor learning activities will learn how to record species and investigate nature as they examine the park's plants and animals and their habitats. 
Space4Nature is also carrying out early mapping and restoration work at Quarry Hangers, a Site of Special Scientific Interest near Caterham. Adjacent to Surrey County Council's Park Ham site and within the Surrey Hills Area of Outstanding Natural Beauty, the site is another excellent 'proving ground' for testing S4N's methods for precision mapping and linking similar habitats. 
Owned and managed by Surrey Wildlife Trust, the 29-hectare chalk downland site combines woodland and scrub with several types of grassland habitats, including intensively grazed pasture, rougher pasture, as well as more pristine species-rich habitat that is managed to maintain a wide diversity of plant and animal species. In some areas, as many as 40 different wildflowers and grasses have been identified within a square metre, including Common Bird's-foot-trefoil, Wild Marjoram, Common and Chalk Milkworts, Wild Thyme, Wild Basil and Wild Strawberry. These plants provide habitats for a rich diversity of invertebrate species, including the Round-mouthed Snail, the Common Plume and Black-striped Longhorn moths and the Green Dock-beetle. 
Thanks to Space4Nature funding, Quarry Hangers is also benefiting from urgent habitat enhancements. Buglife's Louis Harrington-Edmans will carry out essential scrub clearance to open up sensitive grassland habitats and strengthen Buglife's nationwide network of insect superhighways or 'B-Lines', helping pollinating insects move around and feed safely across the UK. 
###
Notes to Editors  
In spring 2023, the Space4Nature team will be asking hundreds of local volunteers to help survey and assess habitats across Surrey. To register your interest in advance, please visit: 
https://www.surreywildlifetrust.org/what-we-do/conservation-projects/space4nature 
Chobham Common is a National Nature Reserves (NNR). NNRs are established to protect some of our most important habitats, species and geology, and to provide 'outdoor laboratories' for research. Thanks to its rich biodiversity, Chobham Common has regularly been used by researchers from the University of Surrey and the University of Reading to inform studies into biodiversity, conservation and land management. 
Space4Nature is a three-year partnership between the University of Surrey, Surrey Wildlife Trust, Buglife and Painshill Park Trust which will use satellite imagery, artificial intelligence and the power of volunteering to help map, connect and restore wildlife habitats across Surrey. We will work with schools, landowners, public bodies and communities to engage more people in conservation and deliver a healthier, more resilient and more biodiverse environment for everyone. For more information, visit www.surreywildlifetrust.org/what-we-do/conservation-projects/space4nature 
Space4Nature is funded by the People's Postcode Lottery Dream Fund. The Dream Fund gives organisations the chance to deliver the project they have always dreamed of but never  
had the opportunity to bring to life. For more information visit: www.postcodedreamfund.org.uk 
For further information, please contact Oliver Fry at Surrey Wildlife Trust on 07855 456 4543 or oliver.fry@surreywt.org.uk 
Media Contacts
---
External Communications and PR team
Phone: +44 (0)1483 684380 / 688914 / 684378
Email: mediarelations@surrey.ac.uk
Out of hours: +44 (0)7773 479911