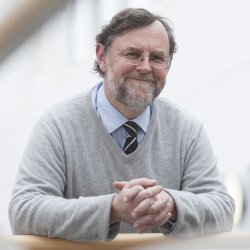 Professor Richard Murphy FIMMM, FRSA
---
Professor of Life Cycle Assessment, Programme Director - CES Practitioner Doctorate in Sustainability, University Sustainability Research Theme Champion
About
Biography
Richard Murphy joined the Centre for Environment and Sustainability as Professor of Life Cycle Assessment in February 2013.
He has a background in biological sciences with a BSc in Botany with Zoology from King's College London and a PhD in Pure & Applied Biology from Imperial College London. Richard has undertaken Post-Doctoral work in New Zealand and The Netherlands and, prior to joining CES, was a Reader in Plant Sciences at Imperial College London.
Richard is a past President of the Institute of Wood Science (now part of the Institute of Materials) and is a member of DEFRA's Hazardous Substances Advisory Committee, BRE's Advisory Panel and BSI committees. He is a founder and Director of LCAworks Ltd and was Chief Scientific Officer of Mycologix Ltd. He has advised the UK Climate Change Committee on LCA for bioenergy systems.
Richard received a Rector's Award for Excellence in Teaching at Imperial College London in 2011.
Research

Research interests

Richard's research focuses on two main areas:

Use of plant-based materials for bioenergy and biomaterials (including construction and packaging uses)
Use of Life Cycle Assessment (LCA) since 1992 to incorporate environmental and sustainability analysis in our scientific research on bio-materials, bioenergy and biofuel products.

In the first area, his group's research is concerned with the pretreatment and enzymatic conversion of plant material (particularly lignocellulosics) into biofuels, the microbial decomposition of bio-based materials (e.g. bio-packaging, timber) by aerobic composting and by anaerobic digestion (AD) systems, the structure and organisation of plant cell wall materials (wood, bamboo, coir, hemp), the physiology/ecology of wood decay fungi and wood protection using biocides and other means. Specific IP related to biofuels production was commercialised through a spin-out company Mycologix Ltd.

In the second area, academically-focussed LCA and related sustainability assessments such as Techno-Economic Assessment and Social LCA, increasingly integrated through Life Cycle Sustainability Assessment (LCSA) approaches, are a significant aspect of the group's research. These are conducted jointly with colleagues in CES and the Porter Alliance and Centre for Environmental Policy at Imperial College amongst others. Richard also contributes to commercially-facing LCA and related work through LCAworks Ltd.

Overall, Richard has undertaken LCA work for the National Non-Food Crops Centre (NNFCC), the Building Research Establishment (BRE) UK and for various international companies, including BT, Coca Cola and Braskem. Richard has acted as an independent Chairperson and as a member of LCA Critical Review Panels to ISO 14040/44 for a variety of studies.

Research projects

This project will develop a rapid alternative cultivation system for dedicated bioenergy feedstocks.

Start date: 1 August 2021
End date: 31 January 2022