---
news
Published:
29 September 2023
Five reasons to study midwifery at Surrey
Our midwifery course is ranked 8th in the UK by The Times and The Sunday Times Good University Guide 2024. Find out how you'll develop your skills as a midwife at Surrey.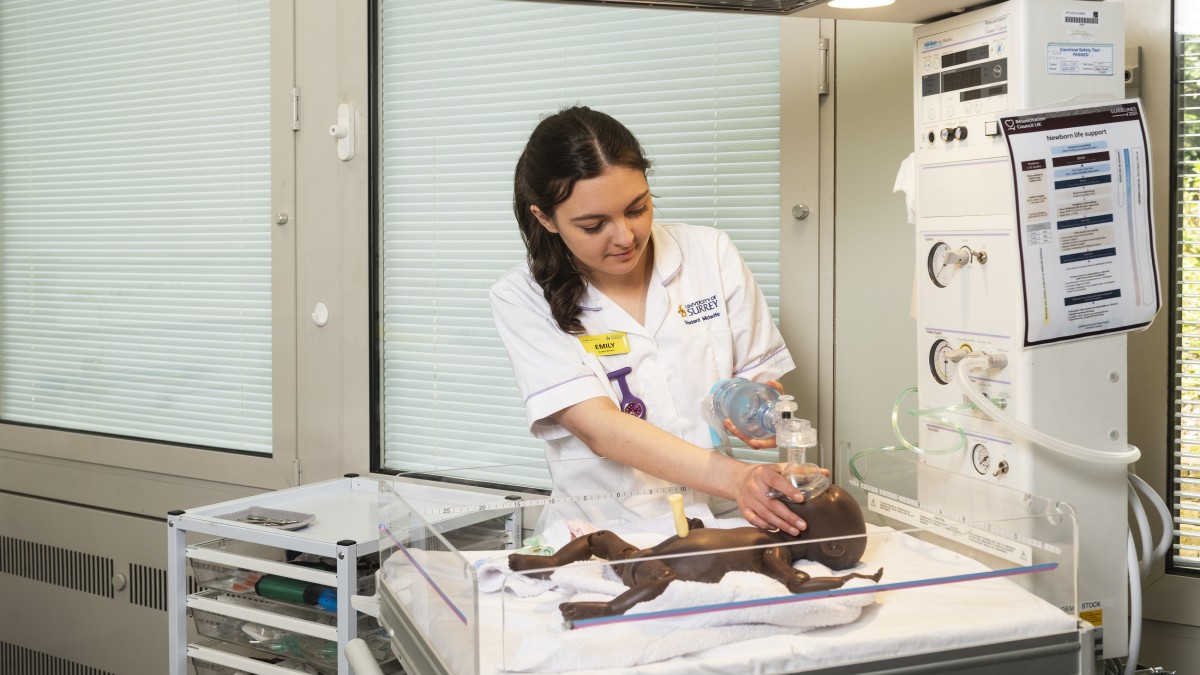 1. Develop as an autonomous midwife
On our course, you'll gain experience of caring for women throughout the antenatal, labour and postnatal periods. You'll study topics that are fundamental to midwifery throughout your studies, including: 
Concepts of caring 
Physical health sciences 
The politics, philosophy and practice of midwifery  
Complex midwifery care 
How to effectively deal with emergencies such as breech births 
Sexual and reproductive health. 
You'll receive support from Professional Midwifery Advocates (PMAs) throughout your course both within the clinical environment and University setting. This provides an opportunity to talk about practice experiences and anything that may be impacting your wellbeing. The PMA will be able to signpost you to further support if this is needed. 
2. Study a 'Baby Friendly' curriculum 
Every aspect of our course is 'Baby Friendly' in conjunction with the Unicef UK Baby Friendly Initiative. This means that you'll learn all the skills and knowledge needed to apply 'Baby Friendly' principles to your role as a midwife, across various healthcare settings. 
You'll understand all the principles of breastfeeding and will support infant feeding. You'll nurture close and loving relationships, promoting good communication, while managing potential challenges to this. 
3. Benefit from an immersive learning environment
As a midwifery student, you will have access to our Clinical Simulation Centre, including our Critical Care Unit equipped with birthing pools, to practise real scenarios on lifelike manikins and actors. You'll get to use equipment found in the NHS to learn how to deliver babies and you'll get exclusive access to our independent clinical learning room, to practise the techniques you've learnt. 
4. Learn from practitioners
We have a clinical-led focus to our teaching, ensuring everything you learn is up-to-date and relevant to an NHS care setting. You'll be taught by a multidisciplinary team of lecturers who have a range of clinical expertise. Your lecturers may include: 
Dr Alison Callwood, midwife and researcher with over 30 years' experience. Alison has won multiple awards and grants for her innovative work around equity, diversity and inclusion in health professions selection and recruitment. This was recognised in the highest honour in 2023 with a Fellowship awarded by the Royal College of Midwives. 
Sam Harrison, a midwife with over 20 years' experience. Sam's previous work covers all aspects of midwifery including all clinical areas, maternity risk and education. Her most recent post was as a Practice Development Midwife for Chelsea and Westminster NHS trust. Sam has always been interested in education and supporting students, and maintains her clinical work through helping with NIPE (Newborn Infant Physical Examination) clinics and being a Resus UK trainer for NLS (Newborn Life support). 
Vikki Saravia, a registered midwife with over 20 years' diverse clinical experience as a community midwife, case-loading midwife, labour ward coordinator, clinical risk management midwife, CNST midwife and practice development midwife. Vikki is an academic integrity officer at the University of Surrey, field lead for the Midwifery programme and the lead subject-matter expert for midwifery for the NMC's test of competency. In 2018, Vikki won an NHS 70 Women Leaders Award from the NHS Leadership Academy for her contribution to educating students on perinatal mental health. 
You'll also be taught by guest lecturers, made up of local doctors, nurses, midwives and other healthcare workers.  
To ensure our students get valuable insight from external practitioners, we invite guest lecturers to teach on the course. These may be local doctors, nurses, midwives and other healthcare, professional services or charity workers.   
5. Enhance your employability
Our midwifery course is accredited by the Nursing and Midwifery Council (NMC), giving you the academic requirements needed to register to work as a midwife once you've graduated. 100% of graduates on this course go on to full-time employment or further study (Graduate Outcomes 2023, HESA) and our alumni can be found working for NHS trusts across the UK. 
Visit the NHS Careers website for further information about the different opportunities and specialisms within midwifery.  
Discover more about our BSc Midwifery.