---
news
Published:
28 September 2022
Guildford Living Lab team celebrates Car Free Day in Guildford
GCARE (which runs Guildford Living Lab) collaborated with Zero Carbon Guildford to play a leading role in Guildford's Car Free Day on 25 September 2022 – taking the opportunity to engage the public in the importance of understanding and combatting air pollution.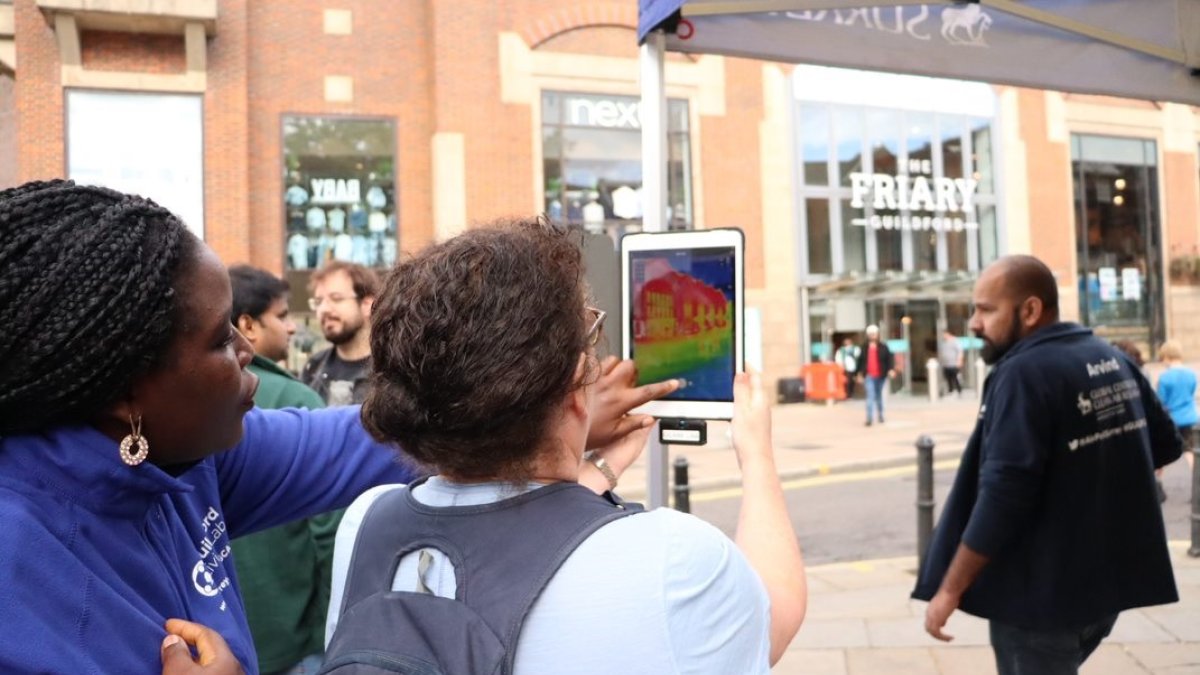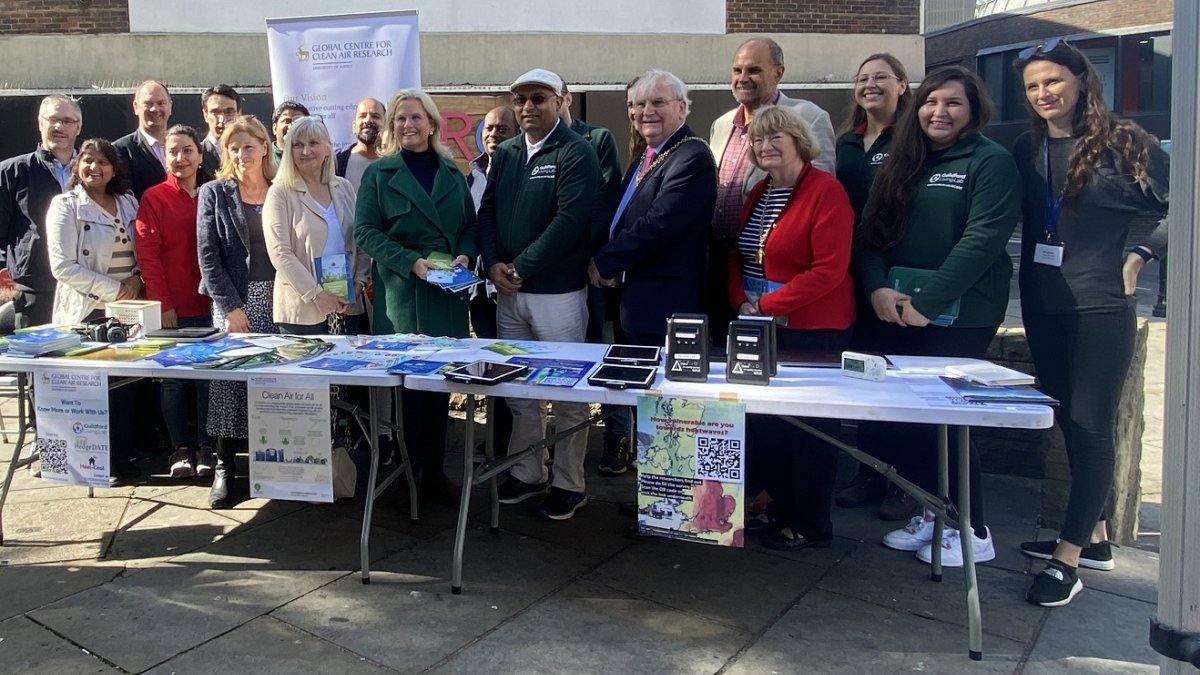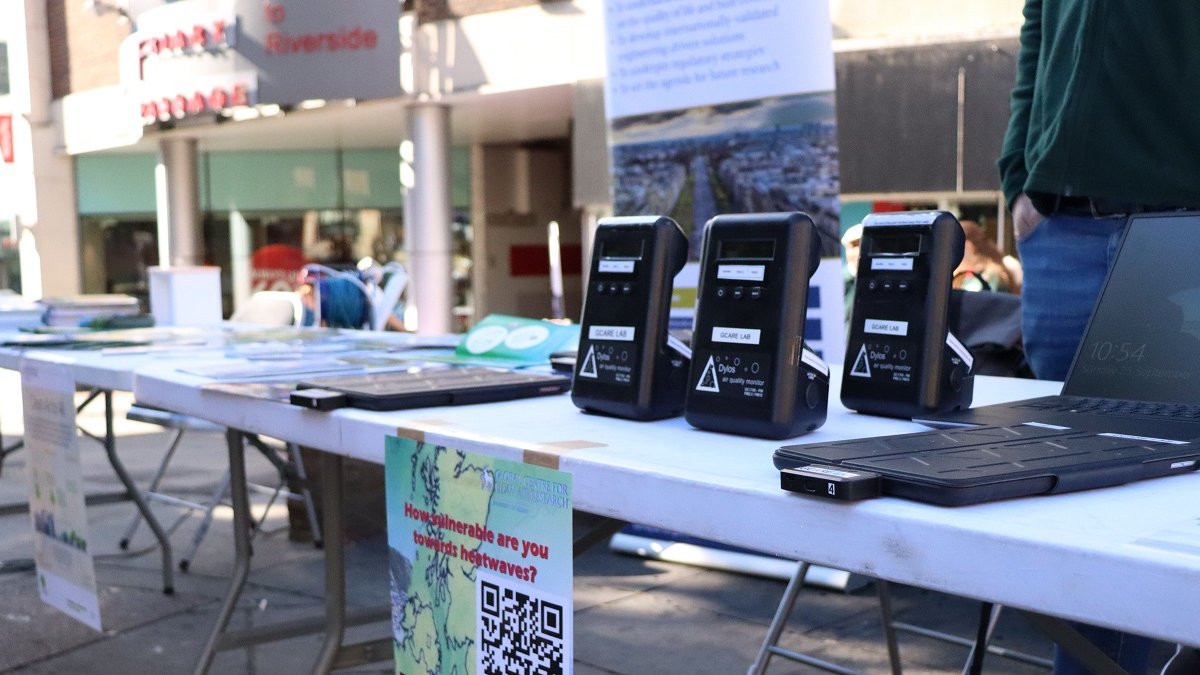 A team of researchers from the University's Global Centre for Clean Air Research (GCARE) presented their work on a stand in Guildford's town centre. Using an interactive display, leaflets and other tools, they shared their hands-on experience of air pollution and climate literacy, talking with visitors about projects the Centre has undertaken on green infrastructure and air pollution in schools. The day was organised in collaboration with Zero Carbon Guildford, a community-led climate action plan.
PhD student Abidemi Kuye said: "It is my first year joining the Car Free Day. Participating in the event has helped me to build new contacts and develop my public engagement skills. I discussed my PhD research on emissions from domestic heating stoves with visitors, and most of those I interacted with were happy to participate in my field study, providing data to support my research."
Second year PhD student in GCARE, Nidhi Rawat, commented: "Car Free Day was a great day for our team. We were able to interact with the local community and showcase some of the work we are doing locally through Guildford Living Lab and worldwide. Helping individuals learn more about air pollution and how it might influence their life is really satisfying, and it was also very interesting to meet council members and observe their interest in the issue."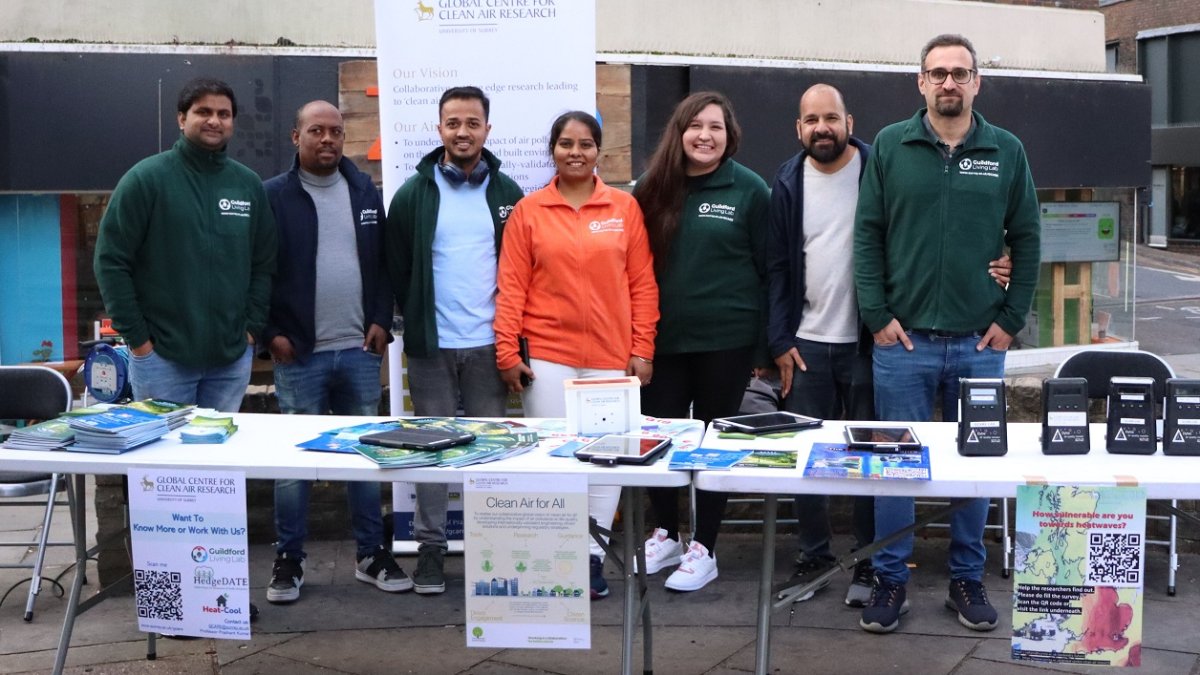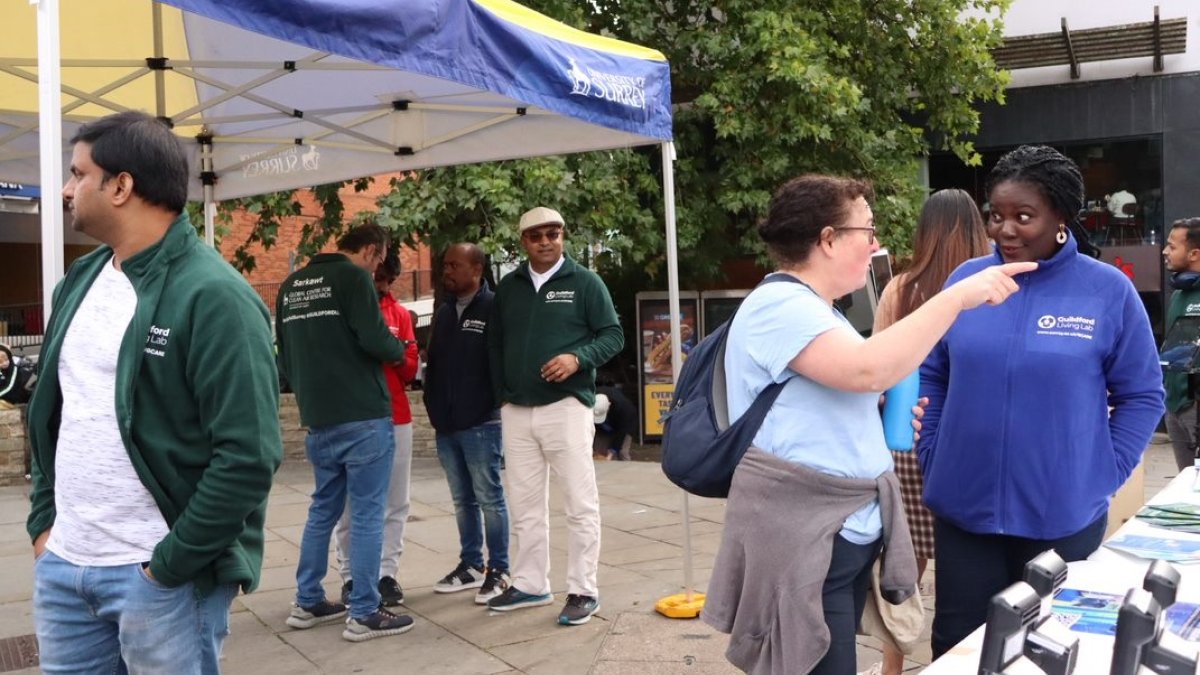 The team engaged the public through interactive experiences including a hands-on activity designed for parents and children on GCARE's Heat-Cool project for schools.
Another highlight on the stand was the Centre's HedgeDate tool, which allows people to design their own hedge and discover how much it could reduce pollution exposure and which species of hedge would be most suitable for different situations. Other equipment such as air pollution and carbon dioxide sensors was available, giving visitors the chance to get hands-on experience of measuring air pollution in the nearby environment.
There was also an air pollution quiz which enabled visitors to learn about their exposure to pollution while commuting from home to work or school, in an interactive way.
Post-doctoral researcher Dr Sisay Debele said: "Car Free Day was a great opportunity to engage with diverse stakeholders, raise awareness and disseminate information about the adverse effects of car emissions, climate change and natural hazards (flood, drought, and heatwaves) on people and the environment."
Professor Prashant Kumar commented: "What an excellent day to spend with our GCARE team and local community – and thanks to our MP Angela Richardson, Guildford Mayor, councillors and environmental groups for their excellent discussion and engagement. While we shared learnings from a range of our projects, it was equally important to hear people's views on how to co-design new projects with the local community and stakeholders through the Guildford Living Lab platform. I'm proud of the whole GCARE team!"
Follow Guildford Living Lab on Twitter, LinkedIn and YouTube.