---
press release
Occupants, councils and builders can all help clean the air in kitchens: new guidance published
Advice on improving indoor air quality when cooking is today published by the University of Surrey's Global Centre for Clean Air Research (GCARE), with roles of occupants, builders, landlords and local councils across the globe. This global initiative by 34 co-authors from 19 countries included 10 generic and 10 evidence-based targeted measures.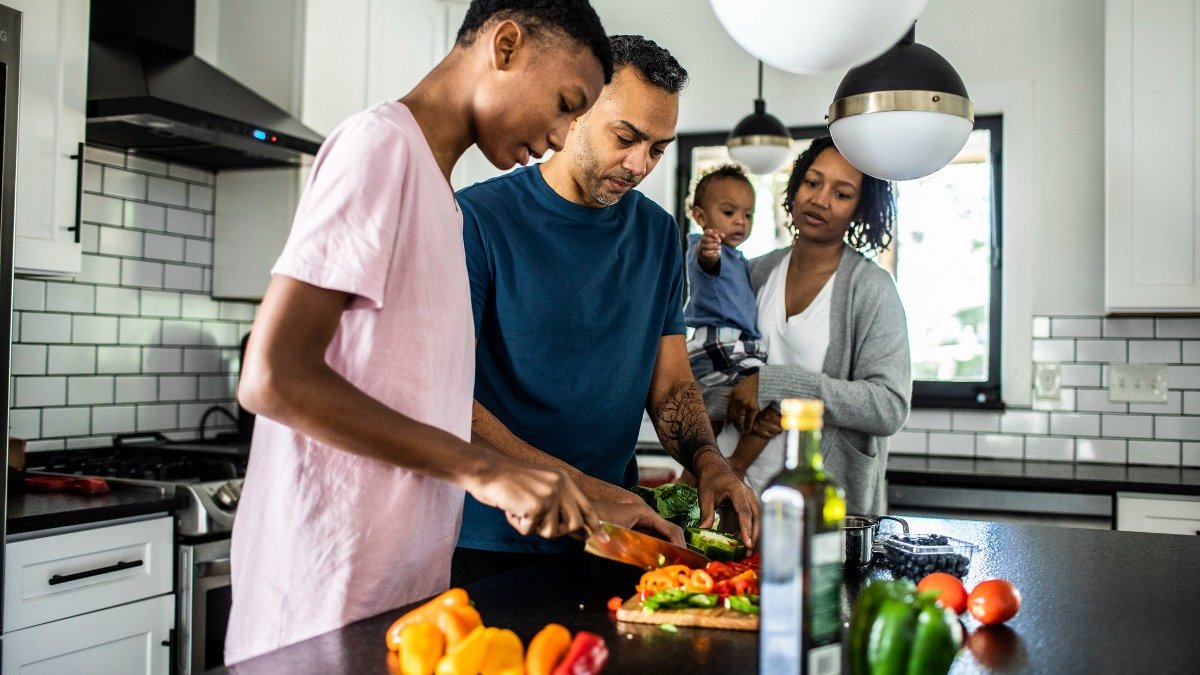 Cooking is the leading contributor to poor indoor air quality, contributing to four million premature deaths each year and is linked to illnesses including heart disease, lung cancer and strokes. In a ground-breaking study of 60 low-income kitchens across Asia, South America, the Middle East and Africa, GCARE researchers found that unhealthy cooking practices such as frying resulted in more than a 50% increase in harmful fine particulate matter emissions.  
Professor Prashant Kumar from the University of Surrey, who led the research that informed the guidelines, said:  
"Few people think about the fumes generated by cooking meals for their family, but the associated health risks are all too real. However, simple actions can improve home health significantly. For example, opening a window, steaming rather than frying, and keeping those who aren't actively cooking out of the kitchen can protect people from inhaling harmful toxins."  
Frying is the most particle-emitting activity that can contribute to more than 50% of the total harmful fine particulate matter emissions during cooking. Using extraction fans and keeping doors and windows open during cooking can reduce exposure to harmful fumes by 2-times compared to keeping just the doors open.   
Some of the actions recommended in the new guidance are for home cooks, others are for policymakers, builders, landlords and local authorities.  
Professor Kumar continued:  
"In the UK, housing authorities could include a safety sheet in kitchens advising on healthy and safe cooking practices and facilitate the installation of extraction fans in their properties. Architects could design kitchens with a separate but spacious area adjacent to where toddlers can be supervised during cooking without breathing fumes. In some countries, priority must be given to phasing out harmful fuels like charcoal and kerosene and subsidising cleaner cooking fuels and options.  
"A holistic approach, with communication and participation among home occupants, homeowners and builders, and local councils are crucial for overall change and effective exposure reduction."  
Dr Anwar Ali Khan, a co-author of the guidance from the Department of Environment, Government of Delhi, who is supporting the implementation of the guidance in India, said:   
"The user-friendly kitchen emission guidelines will support individual households, builders, and policymakers to bridge the knowledge gap and inform themselves about efficient ways to mitigate the harmful impacts of kitchen emissions on health and the environment. I believe that in the Indian context, such guidelines can be a significant resource to develop inventories of air pollution from household kitchens and create a similar novel framework document on kitchen emission safeguards." 
Her Excellency Dr Yasmine Fouad, Egypt's Minister of Environment, who is leading the dissemination of the guidelines in Egypt, said:  
"Indoor air pollution is a grave issue that affects everyone. We need to be conscious of the risks, and scientific research and knowledge sharing are key to driving behavioural changes. This guideline takes positive steps towards achieving a holistic approach, emphasizing communication and participation among home occupants, homeowners, builders, and local councils, which are crucial for overall change and effective exposure reduction." 
Read the full guidelines here. The guidance has also been published in several different languages, including Hindi, Portuguese and Arabic.
We're keen to see how this guidance is used, so please share updates on social media using the hashtag #CleanAirKitchens.  
To arrange for the guidelines to be translated into your local language, contact Professor Prashant Kumar (p.kumar@surrey.ac.uk). 
### 
Notes to editors 
Reference: Kumar, P., Abbass, R.A., Abulude, F.O., Adelodun, A.A., Aghamohammadi, N., Andrade, M.F., Asfaw, A., Aziz, K.H., Castañeda, D.M.A., Cao, S.J., deSouza, P., El-Gendy, A., Gurjar, B.R., Fankam, B.T., Hama, S., Jain, S., Kakosimos, K.E., Khan, A.A., Khare, M., Khaiwal, R., Kota, S., Larrahondo, J.S., McNabola, A., Mor, S., Morawska, L., Muula, A.S., Nardocci, A.C., Ngowi, A.V., Nogueira, T., Olaya, Y., Omer, K., Osano, P., Pant, P., Parikh, P., Rojas, N., Salam, A., Shiva Nagendra, SM., Wu, H.W., 2023. Mitigating Exposure to Cooking Emissions in Kitchens of Low-Middle Income Homes - A guide for Home Occupants, Owners, 
Builders & Local Councils. pp. 24. https://doi.org/10.15126/900568 

Professor Kumar is available for interview upon request. 

For more details please contact the University of Surrey press office via mediarelations@surrey.ac.uk 
Media Contacts
---
External Communications and PR team
Phone: +44 (0)1483 684380 / 688914 / 684378
Email: mediarelations@surrey.ac.uk
Out of hours: +44 (0)7773 479911