---
news
Published:
18 August 2020
Placement students become employees and mentors in 'virtuous circle' at SME
Founded by two Surrey alumni in 2006, public sector digital solutions specialist Fivium has since taken on 52 placement students and employed 21 graduates from Surrey's Department of Computer Science, as well as donating an annual Fivium Prize.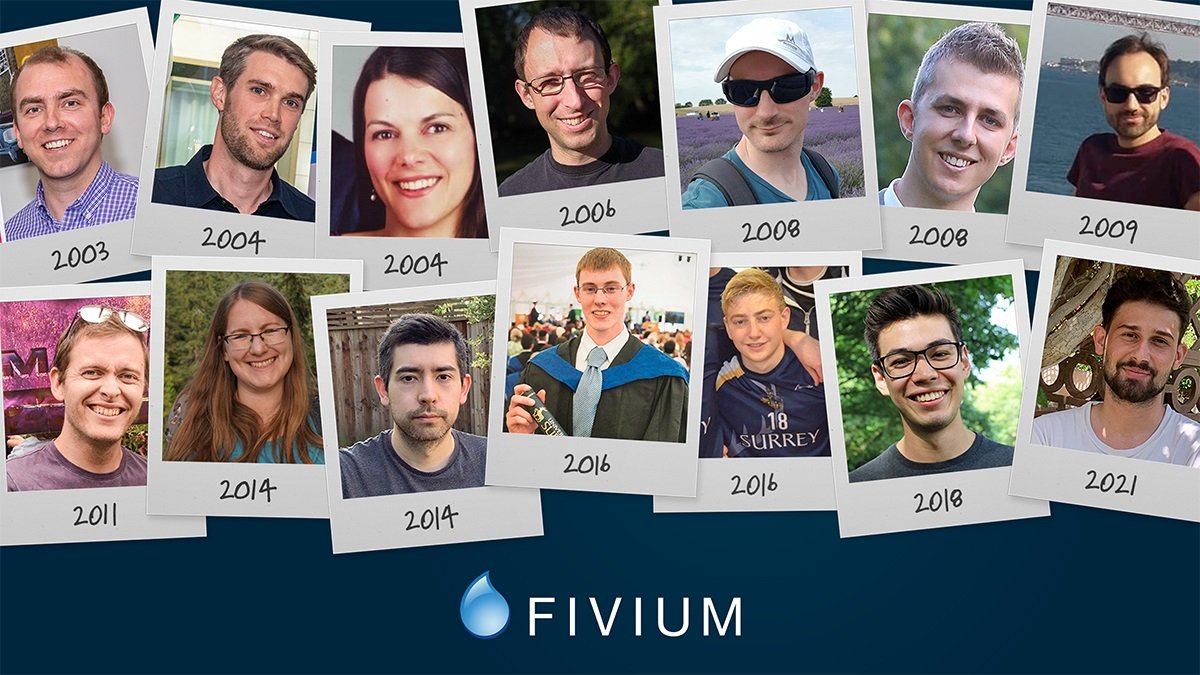 Based in London, Fivium provides digital solutions that help the UK public sector to reduce their risks and costs. Founders Anthony Ashton and Matt Fletcher saw this gap in the market while working at the then Department of Trade and Industry (DTI), having both graduated from Surrey with a computer science degree in 2003 and 2004 respectively.
"We were working on a large system to help the government regulate the North Sea," says Matt Fletcher. "We were approached to save a failing export licencing project which had already had millions of pounds of public money sunk into it with a large global systems integrator and was running spectacularly over time and over budget and didn't look likely to even deliver a working system."
The two realised that a smaller, more agile company which could work in partnership with the client to evolve the software would give the DTI a far better return on investment, and save the project. Fivium was set up and has since developed numerous solutions for the public sector, including eCase – a SaaS platform which enables government to manage freedom of information requests from the press and public, and is now used by more than half of all central government departments.
Over the years, Fivium has maintained close links with Surrey, and currently counts 14 Surrey graduates as members of staff. One of these is Sam Warner, Lead Software Developer at Fivium on the eCase team, who graduated from Surrey's Computer Science course in 2014.
She comments:
"One of the main reasons I chose Surrey was its great placement scheme. The University has one of the best records for graduate employment and I think the placement year plays a key role here. I spent my placement at the Department of Energy and Climate Change which is how I came into contact with Fivium."
Having received a job offer after her Professional Training placement year, Sam joined the company and now leads small teams of developers on customer projects. Like many former placement students, she quickly became a mentor to new placement students, helping to create the 'virtuous circle' of knowledge and training in soft skills which is at the heart of Fivium's placement scheme.
"I think it's important to give students real responsibility and this is one of the reasons that the students want to come back after graduating," she says.
Dan Roy, who graduated from Surrey in 2018, benefited from spending his placement year at Fivium, returning for his final year of study with a job offer as a software developer.
He says: "Fivium's placement year training programme has been developed over the last 10 years and helps to translate skills from University into building applications for real users. Very early in my placement year I wrote code that was deployed and made a notable difference to end users, which was very validating."
Working on eCase, Dan is based in a sub-team focused on its technical road-map. "It's an exciting time to be part of the team as I'm now laying the foundations and setting standards for what eCase will look like for the next 10 to 15 years."
Ben Basson, Technical Architect for eCase, is another Surrey alumni, having graduated from the Computing and Information Technology course in 2008. He believes that the course prepared him well for the demands of his leadership role within an SME.
"One of the best things about the course was the breadth of content. By covering such a wide range of topics, including marketing and management, but also various fields of mathematics and core computer science theory, I gained a well-rounded education that has stood up to the challenges of my current role," says Ben.
Matt Fletcher agrees that this is a vital skillset for a company like Fivium. "We find that Surrey offers graduates who aren't just about writing code but also understand business needs, which is vitally important in our company."
Discover our courses in computer science, including our BSc (Hons) Computing and Information Technology and BSc (Hons) Computer Science.