---
press release
Published:
10 October 2022
Plant-based food sales are up, but meat sales not affected 
UK's craving for meat is not affected by campaigns for plant-based alternatives, according to new research by the University of Surrey.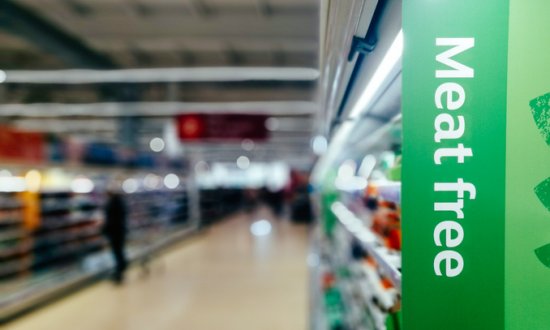 The study looked at UK supermarket sales during the 'Veganuary' period and found that while the average weekly sales of plant-based foods increased significantly by 57%, there was no reciprocal reduction in meat sales.  
The research monitored sales of plant-based and meat products in January 2021, with figures compared to sales before and after the Veganuary campaign period in November 2020, February, and March 2021.  
Joanna Trewern, lead author of the study from the University of Surrey, said: 
 "Our study suggests that while retail-led campaigns are driving increased sales of plant-based, we are not yet seeing meat replacement at scale, which is key to drive progress toward healthy, sustainable diets. 
"Retailers have an important role to play in enabling the adoption of healthier, more sustainable consumer diets. It's great to see them taking action, but more is needed to reduce our reliance on meat and dairy." 
The increase in plant-based product sales was most significant at superstores, and in low-income areas, suggesting that the retailer's efforts to make plant-based products more affordable paid off.  
Current figures show UK individuals' meat consumption far exceeds UK Government recommendations, and the National Food Strategy recommended a minimum 30% reduction in meat consumption to support our nation to reach Net Zero by 2050 in line with Government climate commitments.  
Joanna Trewern commented: 
"For there to be any chance of meeting UK climate change targets, Government, food companies, civil society, scientists, and health professionals need to work together urgently to implement action plans and policies that can deliver swift and sustained change." 
 
 
The research has been published in the journal Public Health Nutrition.  
[Ends] 
 
 
Notes to editors 
Joanna Trewern is available for interview upon request.  
Contact the University press office via mediarelations@surrey.ac.uk or contact Dalitso Njolinjo, Media Team Manager on 07720767399.  

The University of Surrey is a research-intensive university, producing world-leading research that transforms lives and changes the world for the better. Sustainability is an institution-wide area of focus, delivering multi-disciplinary research to tackle the many challenges of climate change. The University is also committed to improving its own resource efficiency on its estate and being a sector leader. It has set a commitment to be carbon neutral by 2030. A focus on research that makes a difference to the world has contributed to Surrey being ranked 55th in the world in the Times Higher Education (THE) University Impact Rankings 2022, which assesses more than 1,400 universities' performance against the United Nations' Sustainable Development Goals (SDGs). 
Featured Academics
---
Media Contacts
---
Katherine Ingram
Media Officer (Faculty of Engineering and Physical Sciences)
Phone:
External Communications and PR team
Phone: +44 (0)1483 684380 / 688914 / 684378
Email: mediarelations@surrey.ac.uk
Out of hours: +44 (0)7773 479911