---
press release
Research collaboration between CAST Xian and ICS at University of Surrey announced
The Xian-based China Academy of Space Technology (CAST) has signed a two-year research contract with the University of Surrey's Institute for Communications Systems (ICS) in the area of High Throughput (Capacity) Satellite and 5G mobile satellite systems.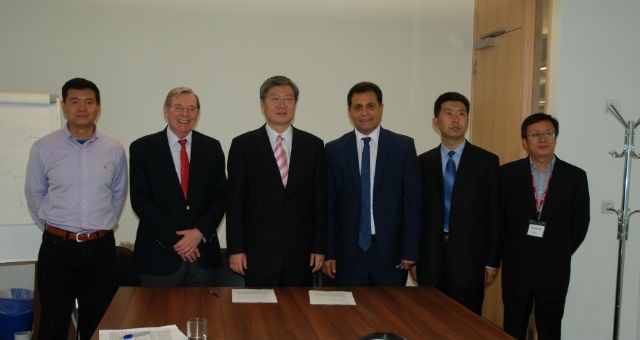 The collaboration includes support for researchers in ICS, as well as providing research visitors from CAST Xian to work with the ICS team, led by Professor Barry Evans and Professor Pei Xiao. 
The announcement follows less formal but highly successful CAST Xian research visits to ICS over the past two years. 
The visiting CAST Xian delegation, led by Vice President Professor Wei Wang (in picture), also signed a Memoranda of Intent with the University of Surrey's Director of ICS and 5GIC, Professor Rahim Tafazolli. 
The signing will expand the collaboration into a future joint laboratory at the University between the two institutes. 
Professor Rahim Tafazolli said: "We welcome this research collaboration with CAST Xian, as it brings together experts from two strong organisations to work towards the next generation of satellite communications. 
"The collaboration will include training and advanced radio and networking research. 
"The joint lab will cement our relationship with CAST and make it a long-term cooperation between China and UK on the strategically important area of satellite communication networks."
Media Contacts
---
External Communications and PR team
Phone: +44 (0)1483 684380 / 688914 / 684378
Email: mediarelations@surrey.ac.uk
Out of hours: +44 (0)7773 479911