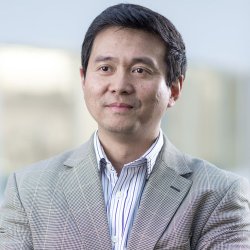 Professor Pei Xiao
---
Professor of Wireless Communications
About
Biography
Pei Xiao is a Professor in Wireless Communications at ICS, home of 5GIC. He received the B. Eng, MSc and PhD degree from Huazhong University of Science & Technology, Tampere University of Technology, Chalmers University of Technology, respectively. Prior to joining Surrey in 2011, he worked at Newcastle University and Queen's University Belfast and had held positions at Nokia Network in Finland. He is the technical manager of 5GIC, leading and coordinating research activities and overseeing major projects in 5GIC. His main research interests and expertise span a wide range of areas in communications theory and signal processing for wireless communications.
Teaching
EEEM061 Advanced 5G Wireless Technologies
EEEM020 Microwave Engineering
EEEM004 MSc Project Coorindator
Research

Research projects

EPSRC EP/P03456X/1. Principle investigator, 2017-2020

EPSRC EP/R001588/1. Co-investigator, 2017-2020

H2020. Co-investigator, 2017-2020.

H2020. Co-investigator, 2017-2019.

EPSRC EP/N020391/1. Principle investigator, 2016-2019

EPSRC EP/P008402/1. Co-investigator, 2017-2020

Full Duplex Radio for Local Access (DUPLO)

EU FP7, Co-investigator, 2012-2015.

EPSRC, Principle investigator, 2012-2014.

EPSRC EP/X013162/1, Principle Investigator, April 2023 -- March 2026
Publications
Additional publications
Jia Shi, Pei Xiao, et. al. "Energy Efficient Resource Allocation in Hybrid Non-Orthogonal Multiple Access Systems," IEEE Transactions on Communications, vol. 67, no. 5, pp. 3496-3511, May 2019.