---
press release
Published:
03 October 2019
Royal Academy of Engineering crowns Surrey students world champions
A team of chemical engineering students from the University of Surrey has been crowned winners of a prestigious international competition hosted by the Royal Academy of Engineering.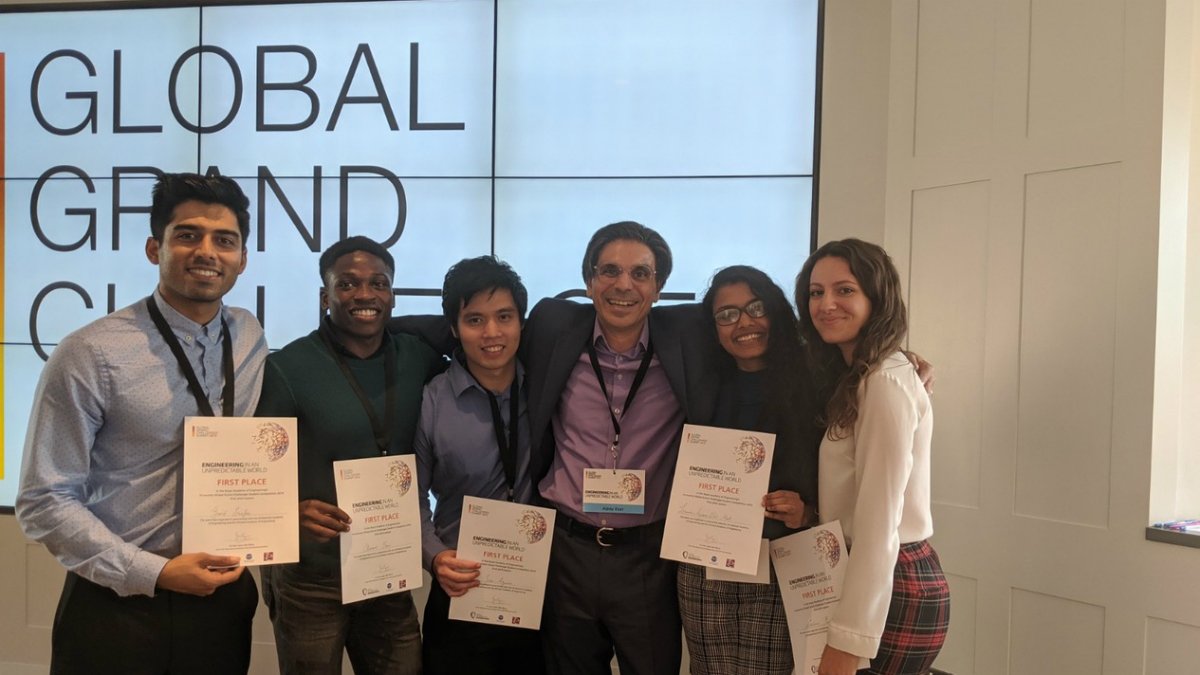 The victorious students – John Azurin, Ishanki De Mel, Clement Ibeh, Nikolina Pieri and Zarif Shafiel – took part in the Global Grand Challenges Summit Competition beating tough competition from the United States and China.
The Global Grand Challenges Summit is an annual event jointly hosted by academies of engineering in the United Kingdom, United States and China. The event brings together world leaders with the next generation of engineers and change makers to build creative collaborations and solve the grand challenges our future world of 10 billion people will face.
The Surrey team were tasked with presenting an idea that could answer the question – how do we feed 10 billion people? They refined the pitch that won them the UK leg of the Global Grand Challenges Competition earlier in the summer, and presented the creation of a post-harvest storage system – essentially an Airbnb for grains.
Ishanki De Mel, team leader, said: "Attending the competition and Summit was a fantastic experience for us, because we got to witness first-hand how collaboration, diversity and overcoming obstacles can lead to solving some of the greatest challenges. Although we are delighted and humbled that we won, we are more grateful that we got to witness some incredible ideas and take this journey with inspiring people from around the world. We have formed friendships and connections with other teams that I'm sure will last throughout our lives. We would like to thank our mentor, Professor Esat Alpay, for his unwavering support throughout this project.
Professor Esat Alpay, Associate Dean for Education in the Faculty of Engineering and Physical Sciences at the University of Surrey, said: "We are incredibly proud of what the team have achieved. This is all down to their hard work, dedication and innovative thinking. The team showed great professionalism at all stages and were completely in their element amongst elite international competition."
Professor Max Lu, President and Vice-Chancellor of the University of Surrey, said: "Congratulations to Team Surrey who did our University -- and the UK -- proud at the Global Grand Challenges Summit. In their belief in the power of innovation, the team embodies this University's ethos of life-changing impact across the globe."
Media Contacts
---
External Communications and PR team
Phone: +44 (0)1483 684380 / 688914 / 684378
Email: mediarelations@surrey.ac.uk
Out of hours: +44 (0)7773 479911