---
news
Published:
11 October 2022
Surrey space experts out in force at IAC2022
The 73rd International Astronautical Congress (IAC) in Paris was an excellent opportunity for Surrey to reconnect with the international space community and consolidate its position as a leader in space research and education on the world stage.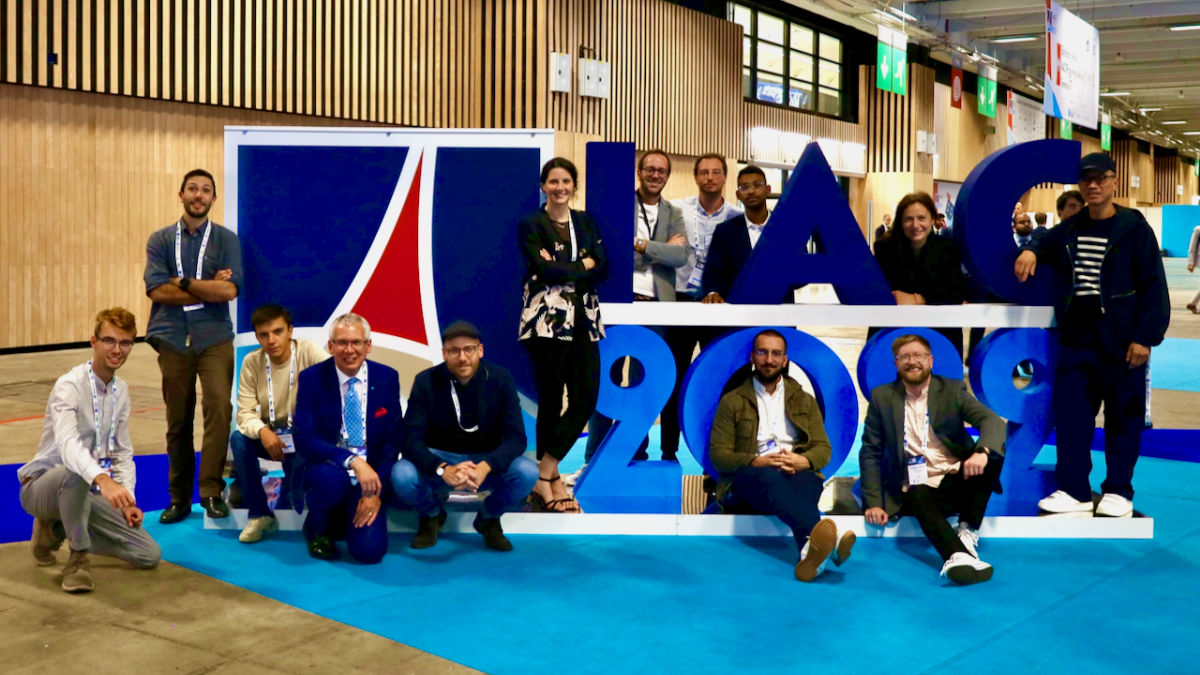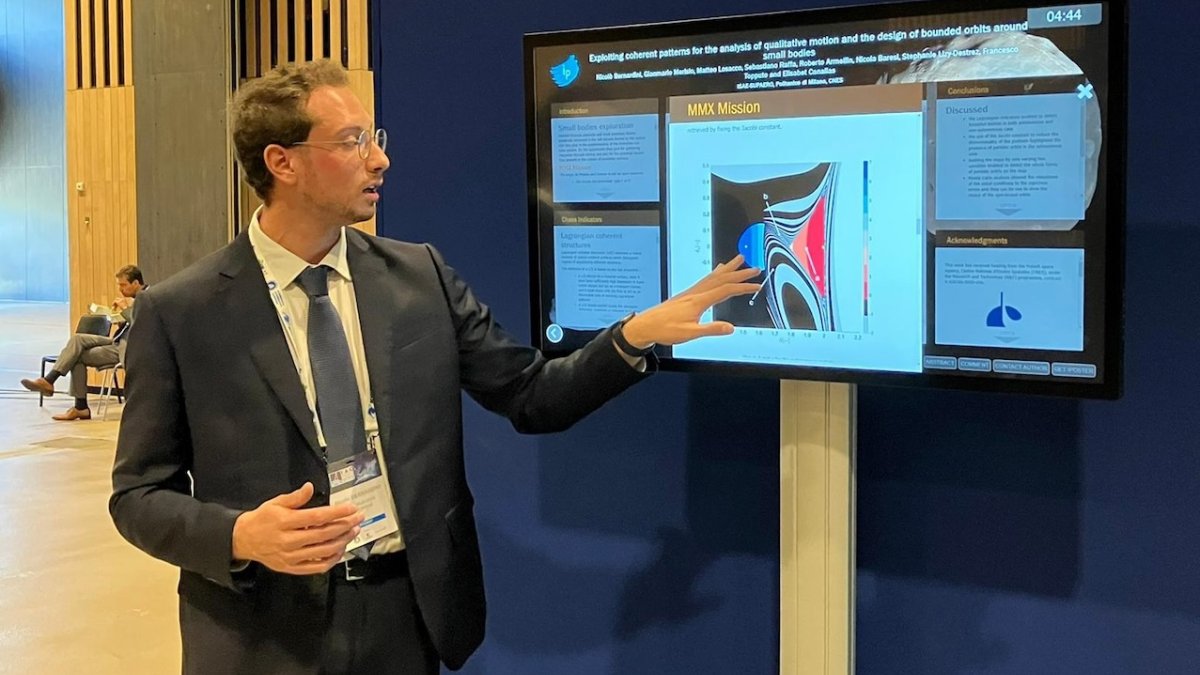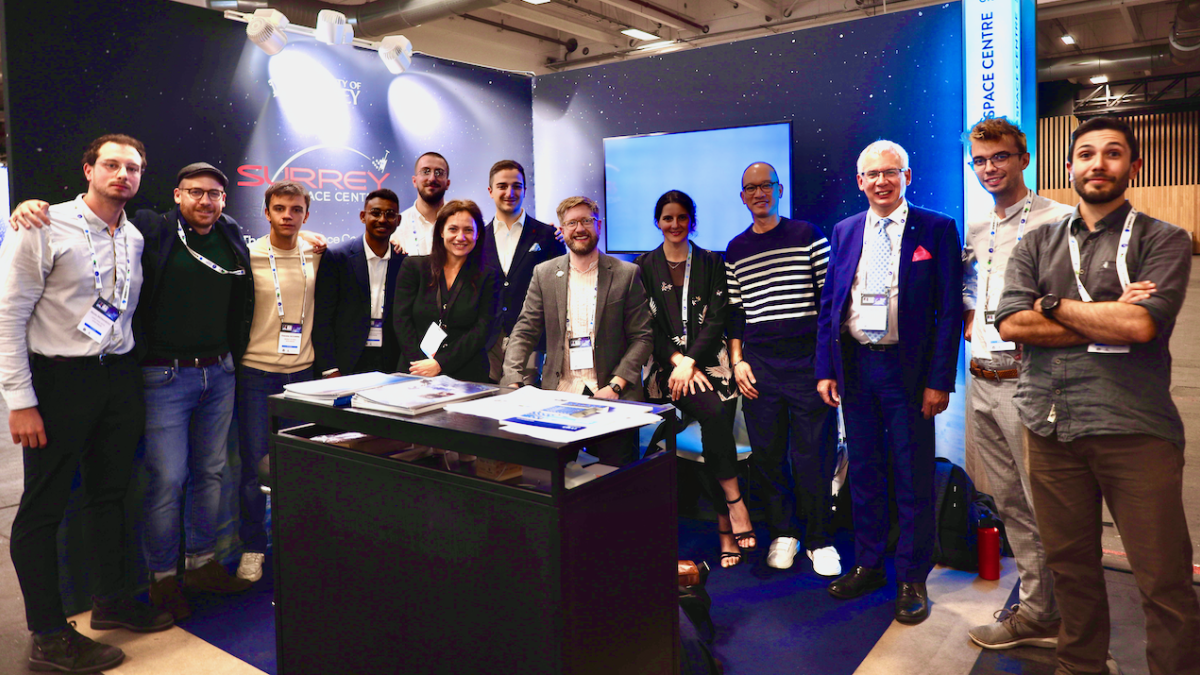 Held from 18 to 22 September at the Paris Convention Centre, IAC2022 was the first physical congress for the space industry since 2019 and therefore an invaluable platform for reconnection. The event attracted a record attendance of 6,500 delegates from around the world and brought together national space agencies and major players from industry including NASA, UK Space Agency, Boeing, Airbus and Surrey Satellite Technology Limited (SSTL).
IAC2022 encompassed both high profile conference – including a public day – and a large exhibition, and the 13-strong delegation from Surrey Space Centre (SSC) played a visible role throughout the five-day event. Six academics and researchers presented papers at the conference. These included a presentation by Emeritus Professor Craig Underwood on the UK Space Energy Initiative, a collaboration of 65 member organisations which aims to industrialise Space Based Solar Power, potentially making an important contribution to meeting the UK's target of Net Zero by 2050.
Dr Raffaella Guida gave a talk on a satellite-based solution for maritime surveillance which is being developed at Surrey in collaboration with the Mauritius Research and Innovation Council. The project, which has been awarded funding from the United Nations Development Programme, aims to develop and validate a nearly real-time monitoring tool which can detect illegal, unreported and unregulated fishing activities.
Dr Chris Bridges, Reader in On-Board Data Handling, said: "One of the major things I saw was how the real-world issues that our industrial colleagues are tackling can be worked on in our own facilities at Surrey. This is unique to the UK and is reflected in the student and research papers that Surrey presented at IAC – from solar power generation to advanced astrodynamics, and from new electric thruster technologies to future megaconstellation requirements."
Surrey also manned a busy stand over the five days of the concurrent exhibition, with screens showcasing key research projects such as RemoveDebris. As well as highlighting Surrey's research in the field of small satellites, this was an excellent opportunity for the University to communicate its high quality space engineering course offering to an international audience.
Throughout the event, the Surrey stand was visited by former students now working for space agencies and space industry companies around the world, including the Thai and Turkish space agencies and Korea Advanced Institute of Science and Technology (KAIST). The KAIST staff trained at Surrey in 1991-2 and Surrey Space Centre was instrumental in launching the first South Korean Microsatellite (KITSAT-1)This was followed by further missions which led to the country's major space programme today.
Professor Underwood commented: "The huge amount of goodwill generated by our training of personnel from around the world – through our degree programmes, short courses and Know-How Transfer and Training programmes with Surrey Satellite Technology Limited – cannot be overstated. Maintaining a presence at the IAC helps to remind everyone of the world-class nature of space education at Surrey."