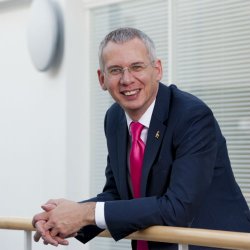 Professor Craig Underwood
---
Emeritus Professor of Spacecraft Engineering
BSc PGCE PhD FBIS MIEEE MIAA
About
Biography
Professor Craig Underwood is Emeritus Professor of Spacecraft Engineering and is a leading expert on spacecraft systems design and instrumentation for radiation detection, optical, and radar remote sensing.
Professor Craig Underwood graduated from the University of York in 1982 with a BSc in Physics with Computer Science. After gaining a postgraduate certificate in education in 1983, he began a teaching career at Scarborough Sixth-Form College where he developed satellite activities. In January 1986, Craig joined the University of Surrey as a research fellow/engineer developing space education programmes and working on the UoSAT series of spacecraft, where he was responsible for the generation and maintenance of software for the UoSAT Satellite Control Ground-Station, mission analysis, thermal design and radiation environment and effects analysis and mitigation. From 1990 he has been Surrey's Principal Investigator of Space Radiation Environment and Effects, completing his PhD in this area in 1996.
In 1993, Craig became a Lecturer in Spacecraft Engineering advancing to Senior Lecturer in 1999, Reader in April 2003, and Professor in April 2012. Craig was Deputy Director of the Surrey Space Centre from 2007 to 2014 and he currently heads the Environments and Instrumentation Group developing the concepts, instruments and techniques to investigate the Earth and other planetary environments from space.
Craig is author or co-author of some 200 scientific papers and teaches or has taught undergraduate and postgraduate courses on Spacecraft Engineering, Communications Payload Engineering, Satellite Remote Sensing, Planetary Exploration and Astronomy at the University of Surrey.
Research

Research interests

Radiation environment and effects (Cosmic Rays, Van Allan Belts, Space Weather, Atmospheric Radiation)
Remote sensing instrumentation (UV-VIS-NIR multi- and hyper-spectral imaging, Thermal IR imaging, UV-VIS-NIR radiometry and SWIR atmospheric spectroscopy, low-power SAR Radar, GNSS Reflectometry)
Micro-nano-satellite technologies (SNAP, PalmSat, AAReST, RDV and Docking Systems)• Planetary Exploration (Mars VTOL Aerobot, Ramon Spectroscopy)
Space power systems (Supercapacitors, Thin-Film Solar PV, RTGs, solar-thermal power).

PhD Topics are available in any of these or related areas.

Take a look at the Group's personnel and research interests.

Craig heads the Environments and Instrumentation Group within the Surrey Space Centre, which has the remit of developing the instruments, systems and data processing techniques needed to investigate the Earth and other planetary environments from space. A particular focus of the group is on the development of low-mass, low-volume and low-power "micro-instrumentation" suitable for use on micro/nano-satellite technology platforms. Current research activities include the analysis of the space and atmospheric radiation environments and their effects on commercial-off-the-shelf (COTS) avionic technologies; the development of miniaturised instrumentation for ionising-radiation detection, UV-VIS-NIR and thermal-IR satellite remote sensing; micro-satellite-based radar imaging; a Mars VTOL unpopulated micro-air-vehicle, and micro-nano-satellite technologies.

Radiation environment and effects

over the past 25 years Craig has gained considerable expertise in understanding the space radiation environment and its effects in low, medium and high Earth orbit (out to 60,000 km). The deleterious effects of the ionising radiation environment is of particular concern when using COTS technologies in space, thus, particular emphasis has been given to a programme of monitoring "space weather" in terms of the high energy proton and heavy-ion cosmic-ray environment these spacecraft encounter, and to observing and analysing its effects - particularly with regard to single-event effects - upon the COTS devices on-board. The extended period of research has enabled a wide variety of conditions to be observed ranging across an entire solar cycle, and standard models to be verified or challenged. He was the first to show clearly the effect of the SAA trapped proton environment on COTS memories operating in LEO (UoSAT-2), and through his work with QinetiQ using the QinetiQ's CREDO (UoSAT-3) and his own CRE (KITSAT-1, PoSAT-1) instruments has shown the limitations of the AP8 and CREME models. He is now performing similar work for the MEO environment through the analysis of flight data from Surrey's CEDEX and QinetiQ's MERLIN payloads flown on GIOVE-A. It has recently delivered two miniaturised radiation monitors (MuREM, RM) for the UK's TechDemoSat-1 mission, launched in 2014. These payloads comprise solid-state (RadFET) dosimeters, ionizing dose-rate-diode detectors, and PIN-diode -based multi-channel analysers for measuring proton and heavy-ion LET spectra. The work has also been applied to the aerospace sector via the SPACERANE project.

Remote sensing instrumentation optical

Craig has had a long-term interest in remote sensing instrumentation design: He developed stratospheric ozone monitoring UV radiometers for the FASAT-Alfa (1995) and FASAT-Bravo (1998) satellites, and an ultra-compact Earth-observation CMOS video camera for the Thai Paht (1998) satellite. He also provided the pre-flight optical and radiometric calibration of the tri-band (NIR, Red, Green) imaging sensors for the Disaster Monitoring Constellation (DMC) Satellites: AlSAT-1 (2002, UK-DMC (2003) and NigeriaSat (2003).With his PhD students, Craig has developed prototype designs for a micro-bolometer array-based thermal-IR imager (B. Olerich, 2005) and for a UV spectrometer for monitoring volcanic plumes (SO2) and ozone (J. Fernandez-Saldivar, 2008). He has a strong interest in the application of Spatial Heterodyne Spectroscopy (SHS) and, through PhD studies, has applied this technique to an ultra-compact Ramon spectrometer for the analysis of Martian rocks (T. Nathanial,2011) and to the SWIR detection and measurement of atmospheric CO2 (I. Ikpaya, 2013). He is also interested in compact hyperspecteral instruments for micro-sat and UAV application.

Radar

He has proposed a bistatic Synthetic Aperture Radar (SAR) imaging concept for micro-satellites (2000) and, through PhD programmes, has developed the concept of applying low-power CWFM bi-static and mono-static SAR to micro-sat platforms (~100-150kg) (O. Mitchell, 2001; T. Wanwiwake, 2011; N. Ahmed, 2012; A. Cai, 2013). He also worked on the airborne demonstrator for the NovaSAR S-Band SAR (2010).He has also supported PhD research into GNSS Reflectometry (P. Jales, 2013; E. Simons, 2014; J. Tye); Image Data Compression (P. Hou, 1999); Machine Vision for Pose and Relative Orbit estimation (A. Cropp, 2001); and working with the National Physical Laboratory is researching Vicarious Calibration/Validation of Remote Sensing Instruments and Radiometric Uncertainty modelling (A. Bialek, J. Gorrono).Micro-Nano-Satellite Technologies.

Craig began Surrey's nano-satellite activities in 1995, through setting and supervising a series of student projects aimed at developing a "soccer ball" sized spacecraft. As Chief Architect of the SNAP concept, he played a pioneering role in developing the UK's first operational nano-satellite, SNAP-1, Surrey's 6.5 kg nano-satellite, launched in June 2000, which carried out experiments in autonomous orbital manoeuvring and remote inspection of other spacecraft. For his work on SNAP, Craig and the Surrey Space Centre achieved the award of "Finalist" in the 2001 Flight International Awards in the Space and Missiles Category. He subsequently developed the PalmSat, ~1kg pico-satellite concept in 2000, designed to play a similar rôle, and he is currently the UK PI for the AAReST multiple-mirror space telescope demonstrator concept, working with CalTech/NASA-JPL, where he is also developing a novel electro-magnetic rendezvous and docking system. AAReST is designed to demonstrate the autonomous in-orbit construction of a space telescope using multiple-mirror elements, which can change shape to form a coherent optical surface. Craig has also worked on Super-Capacitor based power systems (T. Shimizu, 2013); Thin-film solar PV systems; data-handling and RF systems (V.Asenek, 1998; S. Maqbool, 2006).Planetary Exploration

Away from orbit, Craig is working on a vertical take-off and landing (VTOL) "flying wing" aerobot concept for the exploration of Mars (J. Fielding, 2004; H. Song, 2008; W. Zhao, 2013; N. Collins, current). He has also worked on studies for Lunar microsatellite missions, spaceborne radio astronomy, Mars sample returns and NEO investigations.
Teaching
Over the last 30 years, Craig has played a key role in developing and teaching Surrey's spacecraft engineering postgraduate, undergraduate and industrial-training courses. He was the recipient of the Department of Electrical and Electronic Engineerings Tony Jeans Inspirational Teaching Prize, 2013. Currently he teaches:
Level 1 (FHEQ 4) Mathematics
Level 2 (FHEQ 5) Space Engineering and Mission Design
Level 3 (FHEQ 6) Space Systems Design
Level M (FHEQ 7) Spacecraft Systems Design
Level M (FHEQ 7) Launch Vehicles and Propulsion
Level M (FHEQ 7) Space Environment and Protection
Short Course: Spacecraft Systems Design.