---
feature
Published:
29 January 2021
Surrey's Dr Paul Vlitos releases sensational new thriller
Surrey's English Literature with Creative Writing Programme Leader, Dr Paul Vlitos, has co-authored a sensational new thriller that has taken the UK and the USA by storm.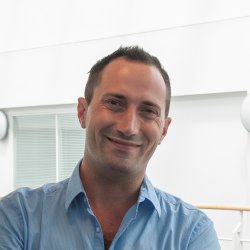 Dr Paul Vlitos
Dr Paul Vlitos has co-authored a sensational new novel, People Like Her: a dark and timely thriller centred on the world of Instagram and social media influencers, already tipped as one of the top reads of 2021 by The Guardian.
The novel was co-authored with his wife Collette Lyons, a journalist and former content editor of Elle, under the pseudonym Ellery Lloyd. It has just been released in the UK and the USA after a five-way auction amongst publishers, while the film and television rights to the book have already been sold, as well as translation rights for 14 territories. A second Ellery Lloyd novel is due to be released in 2022.
Paul has been the Programme Leader for the English Literature with Creative Writing BA (Hons) at the University since 2011 and although he already has two books to his name – Welcome to the Working Week (2007) and Every Day is Like Sunday (2008) – this is the first he has written collaboratively.
Alongside his practice as an author, he is deeply engaged in the academic discipline and a passionate teacher.
Paul said:
"One of the great strengths of the Creative Writing programme at Surrey is that all our lecturers are published poets or novelists themselves, which means we bring to our classes not just our personal experience of the challenges (and pleasures!) of writing in a particular form or mode, but can also offer insight into the practicalities of publishing and of building a career as a writer.
"One thing teaching on the programme has taught me over the years is how important it is for writers to be able to respond positively and productively to feedback and suggestions. It's a hugely valuable skill for all professional writers, but absolutely vital when you are collaborating on a novel with another person, as I did with Collette on People Like Her.
"It is a huge privilege for me to be able to spend so much of my working life talking about books and about writing with such a diverse and talented group of people as our students. It is always really inspiring to watch (and help) them develop as writers, experimenting with different ways of writing, finding their voices – and then to go out into the world and flourish!"
 Professor Bran Nicol, Head of the School of Literature and Languages, said:
"In People Like Her, Paul and Collette have not only produced a thrilling work of fiction but really captured the zeitgeist. Co-authored novels are rare – but as well as being innovative, their novel provides a sharp insight into something preoccupying so many these days: the effects of social media culture. Paul is an inspiring teacher and programme leader, and having such a successful practitioner actively engaged in teaching the craft of creative writing is a huge asset to our students as well as something the whole University community can take pride in."
Explore the careers of our English literature and creative writing alumni.
We run a full programme of exciting writing and literary events over the course of each year, including the annual Morag Morris Poetry Lecture and the annual Surrey New Writers Festival.