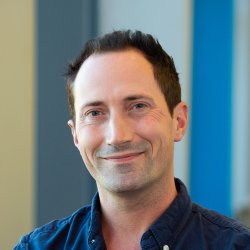 Dr Paul Vlitos
---
Senior Lecturer in Creative Writing
Biography
Biography
Paul Vlitos studied English Literature at the University of Bristol before undertaking graduate study at University College London and the University of Cambridge. He has taught English Literature and Creative Writing at a variety of institutions, including the University of Oxford, the University of Cambridge, Goldsmiths and Tohoku University in Sendai, Japan. Since 2011 he has been Programme Leader for the English Literature with Creative Writing programme here at the University of Surrey.
Research interests
Creative Writing (Prose)19th & 20th Century British FictionPostcolonial Fiction
Teaching
I currently teach on a variety of modules at MA and BA Level including: 'Understanding the Novel', 'Elements of Narrative', 'Contemporary Literature: Postcolonial Fictions', 'Creative Writing and Professional Practice', 'Realism and Its Critics'.
My publications
Publications
That Sunday feeling... The weekend's over, there's nothing on TV except for the Antiques Roadshow. The only thing you can do is face the fact that the working week is just around the corner. And for Matt Bletch, the working week is not a prospect to be relished. He's moved to middle of nowhere and taken a job at the only school that would have him. Surrounded by social misfits, clowns and psychopaths (and that's just his fellow teachers) he's left his girlfriend, social life and sanity back in London in the hope of earning some cash and maybe even finishing off his novel in the school holidays. Unfortunately, no one told Matt that a year spent in the dead-end town of Buxdon is unlikely to get the creative juices flowing. Walking through town before the first week of term, everything is grey, damp and smells slightly dubious. Will he ever tempt his girlfriend down to stay? Will the kids lynch him? And will Matt survive a year in the place where every day is like Sunday?
Taking as its subject matter the unsolved killings, in August 1892, of Andrew Borden and his wife Abby Borden at their home in Fall River, Massachusetts, Angela Carter?s short story ?The Fall River Axe Murders? (1981) deliberately tests and teases the line of demarcation between prose fiction and historical discourse. Scrupulously specific in its descriptions of the clothes, objects, sounds and smells of life in a New England mill town on one particular day in the late Nineteenth Century, ?The Fall River Axe Murders? can most productively be read, I suggest, as a text in conscious dialogue with Roland Barthes? essay ?L?effet de réel? (1968), as an investigation of Barthes? claim that ?modern realism? (as exemplified by the writings of Flaubert and Michelet) is characterised by a commitment to representing the contingent, the inconsequential and the insignificant ? a commitment which in seeming to collapse the distinction between referent and signifier produces what Barthes calls the ?reality effect?. The role of such details in Carter?s story, I propose, is contrariwise to puncture our confidence in the referential status of the text and to prompt the reader to reflect uncertainly upon the relationship between Carter?s fiction and documented historical events. Keywords: Roland Barthes; Angela Carter; Gustave Flaubert; ?The Fall River Axe Murders?, ?L?effet de réel?; ?Mise-en-Scène for a Parricide?; detail; Lizzie Borden
?It is a pity?, laments the narrator of The History of Mr Polly (1910), that human beings ?are not more transparent?. For were the dyspeptic Mr Polly ?even passably translucent? he might have more insight into the gastric turmoil and internal unrest that blight his afternoons, ?those grey spaces of time after meals? when all his courage has ?descended to the unseen battles of the pit?. Wells?s novel is far from the only text of its period to bemoan the general public?s ignorance of how the body functions - particularly in regard to digestion. Indeed, this paper will argue that the fascination with the digestive processes evident in Wells?s work places it in conscious dialogue with contemporary medical and scientific writings on health and digestion, and in particular with the theories of autointoxication propounded by the American diet reformer Horace Fletcher (1849-1919), the celebrated British surgeon Sir William Arbuthnot Lane (1856-1943) and the Nobel-Prize-winning Russian immunologist, zoologist and anatomist Elie Metchnikoff (1845-1916). Published in The Wellsian, this paper was awarded the Giles Hart Memorial Prize for 2013.
When an eccentric pop star who has been missing for twenty years is spotted alive and well in Thailand, East London?based private eye Alex Blizard is dispatched halfway around the world to investigate. From Bethnal Green to Bangkok to Bali, this is a case which will draw the dapper detective further and further outside his comfort zone ? and ever deeper into danger. Tensely plotted, crisply narrated, MISTER NOONE is gripping contemporary crime fiction with a wry twist, from acclaimed novelist Paul Vlitos. This exclusive 25,000-word Kindle Single is available to download now.
Vlitos PMJ
(2014)
The Unravelling,
Kindle Edition
Wit. Dandy. One-hit wonder. Man about Town. Private investigator. Meet Alex Blizard, a detective like no other. His tongue is sharp, his jeans skinny, his methods very much his own. And when Alex Blizard is hired to recover a valuable missing heirloom he soon finds himself in far more trouble than he could possibly have anticipated& THRILL as Alex Blizard faces danger without flinching (much). SWOON as he pouts and saunters his way through this gripping adventure. GUFFAW as he skewers contemporary peccadilloes on the rapier of his wit. WONDER as he unravels a mystery as puzzling as they come. Combining crisp observational humour with a compelling mystery-driven plot, THE UNRAVELLING is a contemporary crime story with a wry twist, from acclaimed novelist Paul Vlitos. Paul Vlitos is the author of two novels, WELCOME TO THE WORKING WEEK (2007) and EVERY DAY IS LIKE SUNDAY (2008). Both are now available in Kindle editions. The Daily Telegraph has described him as 'a witty writer' whose work is 'curiously gripping', while the New Statesmen complimented his 'easy comic touch'. He lives in London.
Introduction Open to the public from 2 July to 18 October 2009, the National Portrait Gallery?s Gay Icons exhibition aimed to explore ?gay social and cultural history through the unique personal insights of ten high profile gay figures who have selected their historical and modern icons? (National Portrait Gallery 2009). The ten selectors - Sandi Toksvig, Lord Waheed Ali, Billie Jean King, Chris Smith, Ben Summerskill, Sarah Waters, Sir Elton John, Jackie Kay, Sir Ian McKellen and Alan Hollinghurst - were each asked to choose six ?icons? for the exhibition: ?The chosen icons, who may or may not be gay themselves, have all been important to each selector, having influenced their gay sensibilities or contributed to making them who they are today? (National Portrait Gallery 2009). Alongside such diverse figures as the poet Gerard Manley Hopkins and Joe Dallesandro - actor, Warhol superstar, and the owner of the crotch pictured on the cover of The Rolling Stones? Sticky Fingers LP - Alan Hollinghurst?s personal gay icons also included the novelist Ronald Firbank (1886-1926). Firbank, Hollinghurst commented, ?is celebrated as a master of high camp, but he was also a radical technician and radical homosexualiser of the novel? (National Portrait Gallery 2009). Hollinghurst has written extensively in appreciation of Firbank: publishing an essay on ?The Shy, Steely Ronald Firbank? in the Times Literary Supplement in 2006, composing Firbank?s entry in the 2004 Oxford Dictionary of National Biography, editing a Penguin edition of three of Firbank?s novels in 2000, writing the introduction to a collection of The Early Firbank in 1991, and as early as 1979 dedicating a chapter to Firbank in the 50,000 word dissertation on ?The Creative Uses of Homosexuality in the Novels of E.M. Forster, Ronald Firbank and L.P. Hartley? he submitted as part of his Oxford University MLitt degree. The first section of this chapter will use Hollinghurst?s critical writings to explore what makes Firbank?s literary techniques so ?radical? - and to ask in what ways they can be said specifically to constitute a ?homosexualisation? of the novel. Firbank is also an insistent - we might even say iconic - presence in Hollinghurst?s first novel, The Swimming-Pool Library (1988), which takes its epigraph from Firbank?s 1923 novel The Flower Beneath the Foot. Not only does Hollinghurst?s narrator, Will Beckwith, read Firbank?s Valmouth (1919), The Flower Beneath the Foot and Prancing Nigger (192
In the century and more since Joseph Conrad first published ?Falk: A Reminiscence,? his tale has been examined from a variety of critical perspectives. I would like to begin by reviewing some of these responses in order to locate this paper's perhaps surprising claim that ?Falk? is a story about dining.
A missing girl. A stolen dog. A frazzled detective. THE SCARLET CEREMONY sees sardonic London private eye Alex Blizard embark on his WEIRDEST, WILDEST adventure yet! Imagine THE WICKER MAN rewritten by Raymond Chandler and set in East London. Join our baffled hero as he attempts to unravel a case that is as BIZARRE as it is COMPELLING,
The novel portion of this project, Life in a Pear Tree, is a fictional autobiography that tells the story of the American author?s short time managing a London pub. To assist in understanding the experience, a fairy tale story is woven through the real life events, inviting the reader to question truth and fact, fantasy and reality. Chapter one of the accompanying critical portion provides a background of fairy tale stories and the issues with defining the term. It also introduces P.L. Travers as an expert in the study of fairy tale and examines her little-known writings on fairy tale and related topics. Chapter two discusses autobiographical writing and its construction, examining the idea of truth vs. fact in regards to memory and creating a personal narrative. Chapter three introduces Travers? Mary Poppins novels as potential fairy tale writing, and explores the idea of subversion within the books. Lastly, Chapter four binds together the previous chapters? discussion of fairy tale, autobiography, reality, memory, and truth with the idea of looking beyond the surface. This chapter invites the reader to consider the duality of human nature by examining Travers, fairy tale stories, Mary Poppins, and Life in a Pear Tree. The background of the novel?s creation and examination of the various characters and themes is the main focus.
This project consists of a creative component in the form of a novel and a critical commentary that investigates white working-class representation in mainstream media, politics and literature, and its links to socio-economic and political inequality in a purportedly democratic society. The creative component of this thesis, Another London, is a novel in six parts of approximately 91,000 words. It is set on a council estate in East London between 1991 and 2011 and follows the social and psychological development of a white working-class boy into adulthood as he lives through fictionalised parallels of real-life events, such as the London terrorist attacks in 2005. At the age of eleven he witnesses a racially-motivated murder that affects his relationships with his friends, family and local community. Unable to find a job, he turns to a violent gang for work. Influenced by far-right political party rhetoric, the gang begins to perpetrate hate crimes, which forces the protagonist to confront his own ethnic and class identity. The critical component uses a series of case studies and close readings of political speeches to analyse how media and political elites use the white working class as scapegoats for socio-economic inequality and systemic racism. Using Fredric Jameson?s theory of the ideologeme it traces representations of working- and white working-class characters from the Victorian era through to contemporary literary texts and shows how they have been influenced by, and fed back into, mainstream representations of the (white) working class. The thesis then examines the use of free indirect discourse in literary texts and how it feeds back into stereotyped representations of the (white) working class. The creative component, by juxtaposing free-indirect discourse and first person narration, exposes the ideologemes of white working-class literary representation by providing a space in the public arena for white working-class voices to be heard, and therefore challenging the stereotypical representations of the white working class as espoused by media and political elites.
The novel renames Nikos Kazantzakis as Cosmas Eleftherakis and follows him during the last six months of his life. It dramatises imaginary meetings between Eleftherakis and Albert Camus, Eleftherakis' trip to China, conspiracies against him orchestrated by the Church of Greece and the Greek Writers Society. The critical component surveys the historical novel and Kazantzakis' own historical novels.
Horror fiction, much like other ?popular? genres, has many a stigma attached to its creation and enjoyment. Both experiences are considered by a number of literary critics to be less complex than that of literary fiction and, as a result, less rewarding for readers. These critics cite the repeated use of particular tropes in several works across a single genre, crediting works that introduce elements strongly associated with other genres with ?transcending? their popular origins. This thesis, which is composed of both a practical and critical component, argues that such tropes do not preclude a work of genre fiction reaching the same levels of depth and originality as literary fiction, and that in fact it is the subversion of familiar tropes and their synthesis with tropes of other genres which can create opportunities for readers to alter their expectations of what each genre can achieve. The practical portion of this thesis, the novel Janus, is intended as an example of the synthesis of horror and literary fiction, including elements of sci-fi and weird fiction as well. My goals for this novel include the exploration of such themes as monstrosity, evil, love, fear, and identity through the use of a split-perspective narrative set in both the past and present. The portion of this thesis that is critical commentary will examine aspects of genre theory with respect to the horror and literary genres using Stephen King?s The Shining and Toni Morrison?s Beloved as representative of work that adheres to certain generic tropes while subverting others, with which tropes are kept to, which are reshaped, as well as the genre each novel is ultimately confined to, being predominantly dependent upon each novel?s respective goals concerning the reader.
Creative: The Garden of Perfect Brightness Set in 1700s China, at the court of the Qing dynasty, this historical novel focuses on the life of Giuseppe Castiglione, a painter recruited by the Jesuits to serve in their Mission in Beijing. As Castiglione struggles artistically in an unfamiliar culture, he finds himself drawn to Niuhuru, concubine to a prince and mother to a future emperor, who lives in the Yuan Ming Yuan, the Garden of Perfect Brightness, a country estate. Told in alternate chapters, the novel follows the relationship between the two and the changes made to the Garden. Castiglione is tasked with being the architect who will turn the simple country retreat into an imperial wonderland as Niuhuru sees her home turn into a place she no longer recognises. Critical: Playing in the Garden of Perfect Brightness David Harlan asks why reviewers of historical novels ?almost never (venture) beyond the most obvious questions of factual accuracy.? In this thesis I propose that historical fiction can be seen as a ?playframe?, an idea transposed from Jackson and Kidd?s work in heritage performance (e.g. setting a play about slavery within a museum on the topic), where the framework of a historical setting and the playful exploration of a fictional element combine to create what author Hannah Kent calls ?work(s) of possibility,? resulting in strong audience/reader engagement. I propose the word playframe as a hybrid concept for a hybrid genre. Using the framework of history, the fictional element of the narrative can then be seen as a playful engagement with the past, whereby an author pursues their own concept or vision. Rather than exclusively focusing on factual accuracy, I suggest that we should also pay attention to what an author has chosen to ?play? with, rather than potentially dismissing the fictional element as a historically inaccurate intrusion. I have identified three types of authors and named them the Ventriloquist, the Mosaic-Maker and the Magician, for their different approaches to playing with the past. Whatever their choice, my argument is the same: in choosing to write or read a novel in this hybrid genre rather than, say, a textbook of history, the experience should be one of playful engagement and exploration rather than exclusively interrogating for accuracy. ?The museum does not have all the answers. The museum plays a potentially far more important role& it has questions,? suggests Bradburne. I would argue that the same is true of historical fiction, and that we should value and explore the fictional element as well as the historical in this hybrid genre.
This thesis seeks to understand the relationship between satire, parody and genre. The project is based on the principle that satire is a mode of rhetorical discourse that uses parody to distinguish itself from other modes, as well as perpetrate a specific socio-political message. Whereas, genre is a type of literature that is defined by distinct codes. A novel was written to test these principles and to discover if a genre can be changed by the inclusion of satire. Two genres were included in this novel, one that traditionally contains a satiric purpose (campus fiction) and one that does not (crime fiction). The satirical message used in the novel focuses on the barriers that marginalised groups face when participating in higher education, which is included in the campus fiction stream of the novel. The crime fiction stream features a man-eating monster. The novel is entitled The Life and Times of a Doctoral Thesis.