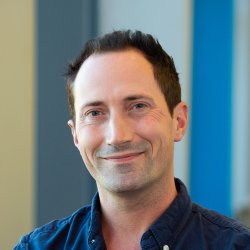 Dr Paul Vlitos
---
Senior Lecturer in Creative Writing
Biography
Biography
Paul Vlitos studied English Literature at the University of Bristol before undertaking graduate study at University College London and the University of Cambridge. He has taught English Literature and Creative Writing at a variety of institutions, including the University of Oxford, the University of Cambridge, Goldsmiths and Tohoku University in Sendai, Japan. Since 2011 he has been Programme Leader for the English Literature with Creative Writing programme here at the University of Surrey.
Research interests
Creative Writing (Prose)19th & 20th Century British FictionPostcolonial Fiction
Teaching
I currently teach on a variety of modules at MA and BA Level including: 'Understanding the Novel', 'Elements of Narrative', 'Contemporary Literature: Postcolonial Fictions', 'Creative Writing and Professional Practice', 'Realism and Its Critics'.