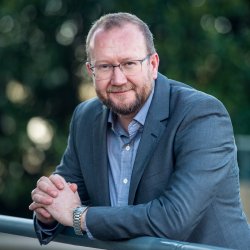 Professor Bran Nicol
---
Head of the School of Literature and Languages, Professor of English Literature
MA, PhD
Personal Assistant: Mrs Milda Balse
Biography
Bran Nicol is Professor of English Literature and Head of the School of Literature and Languages. He joined the University of Surrey in 2012, having previously been Director of the Centre for Studies in Literature at the University of Portsmouth. His books include The Private Eye (Reaktion, 2013), Postmodern Fiction: An Introduction (Cambridge University Press, 2009), and Stalking (Reaktion, 2006), which was translated into Italian, Japanese and Korean, Iris Murdoch: The Retrospective Fiction (Palgrave, second edition, 2004), and two edited collections: Postmodernism and the Contemporary Novel (Edinburgh University Press, 2002) and Crime Culture (Bloomsbury, 2010). His main interests are in modern and contemporary British, European and American fiction, literary theory, and 'crime culture', and he has presented his research in these areas at universities around the world. He welcomes applications from postgraduate students in any of these areas. He is currently working on the 'Novel Transmissions: The Global Novel' project which brings together specialists in nineteenth-century, twentieth- and twenty-first century fiction at both the University of Surrey and the University of São Paulo, Brazil, funded by The University Global Partnership Network (UGPN). His teaching at undergraduate and master's level has reflected these research interests, including modules on postmodernism, literary theory, psychoanalysis, and detective fiction. He has supervised PhD students working on a wide range of topics in the areas of contemporary British and American fiction, literary theory, and literature and translation.   
Areas of specialism

Twentieth-Century Fiction;

Modernism;

Postmodernism;

Psychoanalytic theory;

Crime culture;

Detective fiction;

Contemporary fiction
University roles and responsibilities
Head of the School of Literature and Languages
My qualifications
1995
PhD English Literature
Lancaster University
1990
MA in English and Contemporary European Studies
University of Dundee
Previous roles
2001 -
2012
Reader in Modern and Contemporary Literature
Senior Lecturer in English Literature
University of Portsmouth
1996 -
2001
Lecturer in English
University of Chichester
Research
Research interests
My main interests are in modern and contemporary British, European and American fiction, literary theory, and 'crime culture'. I welcome applications from postgraduate students in any of these areas.
Please note: e-versions of some of the publications listed on the tab on the right can be found on my academia.edu webpage: https://surrey.academia.edu/BranNicol
Or here: https://www.surrey.ac.uk/englishandlanguages/staff_list/complete_staff_list/bran_nicol/
Research projects
Novel Transmissions: The Global Novel
In partnership with the University of São Paulo, this project brings together specialists in nineteenth-century, twentieth and twenty-first century literature. Through a series of workshops held at both institutions, researchers will create a 'laboratory' to study one of the most enduringly popular yet hard-to-define cultural forms: the novel.
My publications
Publications
Since the early days of cinema, the private eye has been one of its most memorable characters, often viewed as a romantic hero, a ?lone wolf? who confronts and tries to make sense of a violent and chaotic modern world. In The Private Eye Bran Nicol challenges this stereotype, offering a fresh take on iconic figures such as Sam Spade, Philip Marlowe and Jake Gittes, and a cogent reappraisal of film noir.
Analysing a wide range of films, including classics such as The Maltese Falcon, The Big Sleep, Chinatown, and The Long Goodbye, Nicol traces the history of the private eye movie from the influential film noirs of the 1940s, through innovative 1970s neo-noir cinema, to the presence of the private eye in movie mythology today. He reveals that although these films are exciting thrillers, they are nevertheless preoccupied by ?domestic? issues: work, home and love. Rather than fearless investigation, Nicol argues, the private eye?s job is really about unveiling the private lives and private spaces of others, an achievement which comes at the expense of his own private life.
Combining a lucid introduction to an under-explored tradition in movie history with a novel approach to the detective in film, this book casts new light on the private worlds of the private eye.
Nicol BJ
(2011)
Police Thy Neighbour: Crime Culture and the Rear Window Paradigm,
In: Nicol BJ, Pulham P, McNulty E (eds.), Crime Culture: Figuring Criminality in Fiction and Film
11
pp. 192-209
Continuum Books
Nicol BJ
(2010)
Reading Spark in the Age of Suspicion,
In: Herman D (eds.), Muriel Spark: Twenty-First Century Perspectives
5
pp. 112-128
Johns Hopkins University Press/Modern Fiction Studies
Nicol B
(2012)
In the Private Eye: Private Space in the Noir Detective Movie,
In: Miller V, Oakley H (eds.), Cross-Cultural Connections in Crime Fictions
pp. 121-140
Palgrave McMillan
Nicol BJ
(1999)
Iris Murdoch: The Retrospective Fiction,
Macmillan
Nicol B
(2010)
Patricia Highsmith (1921-1995),
In: Rzepka CJ, Fang KY (eds.), A Companion to Crime Fiction
pp. 503-509
Wiley-Blackwell
Nicol BJ
(2010)
Murdoch?s Mannered Realism: Metafiction, Morality and the Post-War Novel,
In: Rowe A, Horner A (eds.), Iris Murdoch and Morality
pp. 17-30
Palgrave Macmillan
This volume, featuring contributions from a number of leading scholars, explores the ways in which the moral positions Iris Murdoch adopts in her philosophy and theology can be aligned with her fiction, demonstrating how Murdoch's work can ...
Nicol BJ
(2013)
Sherlock Holmes Version 2.0: Adapting Doyle in the Twenty-First Century,
In: Vanacker S, Wynne C (eds.), The Cultural Afterlives of Sherlock Holmes and Arthur Conan ...
pp. 124-139
Palgrave Macmillan
By broadening the focus beyond classic English detective fiction, the American ?hard-boiled? crime novel and the gangster movie, Crime Cultures breathes new life into staple themes of crime fiction and cinema.
Leading international scholars from the fields of literary and cultural studies analyze a range of literature and film, from neglected examples of film noir and ?true crime?, crime fiction by female African American writers, to reality TV, recent films such as Elephant, Collateral and The Departed, and contemporary fiction by J. G. Ballard, Kazuo Ishiguro, and Margaret Atwood. They offer groundbreaking interpretations of new elements such as the mythology of the hitman, technology and the image, and the cultural impact of ?senseless? murders and reveal why crime is a powerful way of making sense of the broader concerns shaping modern culture and society.
Nicol BJ
(2015)
Those Who Follow: Homosocial Choreography in Highsmith?s Queer Gothic,
Clues: a journal of detection
33
(2)
pp. 97-108
Nicol BJ
(2015)
The Hard-Boiled Detective: Dashiell Hammett,
In: The Bloomsbury Introduction to Popular Fiction
14
pp. 241-253
Bloomsbury Academic
An introduction to Hammett which considers his credentials as a 'popular' and 'literary' author.
Nicol BJ
(1996)
Anticipating Retrospection: The First-Person Retrospective Novel and Iris Murdoch?s The Sea, The Sea,
Journal of Narrative Theory
26
(2)
pp. 187-208
Nicol BJ
(2006)
Iris Murdoch,
In: Kastan DS (eds.), The Oxford encyclopedia of British literature
Nicol BJ
(2004)
The Flâneur and the Stalker,
In: Leisure, Media and Visual Culture
LSA Publication 83
4
pp. 61-72
Leisure Studies Association/University of Brighton
Nicol B
(2004)
Iris Murdoch: The Retrospective Fiction (2nd Edition),
Palgrave Macmillan
This new edition includes detailed readings of novels not discussed in the original (The Bell, The Sacred and Profane Love Machine, and The Philosopher's Pupil) and includes a new preface, an updated bibliography and three new chapters ...
Nicol BJ
(2015)
X-Ray Detectives: Ishmael Reed, Clarence Major and Black Postmodern Detective Fiction,
In: Platt L (eds.), Postmodern Literature and Race
4
pp. 65-81
Cambridge University Press
Nicol B, Council B
(2004)
D.M. Thomas (Writers and their Work),
Northcote House Publishers Ltd
D. M. Thomas is one of the most controversial writers of our time - considered by some a major voice in contemporary fiction, by others a dubious literary 'impostor' who repeatedly appropriates female sexuality, the holocaust, and the work ...
Nicol BJ
(2006)
The Memoir as Self-Destruction: A Heartbreaking Work of Staggering Genius,
In: Gill J (eds.), Modern Confessional Writing
6
pp. 100-114
Routledge
Contributors discuss a range of poetry, prose and drama, including the work of John Berryman, Anne Sexton, Ted Hughes and Helen Fielding.
Nicol B
(2006)
Stalking,
Reaktion Books
Bran Nicol traces here the history of stalking and chronicles how acts of extreme obsession have created a public fixation of their own.
Nicol B
(2007)
Postmodernism,
In: Bradshaw D, Dettmar KJH (eds.), A Companion to Modernist Literature and Culture
62
pp. 565-570
Wiley
Nicol B
(2009)
Quando la passione diventa ossessione. Stalking,
Ananke
Translation into Italian of Stalking (Reaktion Books, 2006)
Nicol BJ, Pulham P, McNulty E
(2011)
Introduction: Crime Culture and Modernity,
In: Nicol BJ, Pulham P, McNulty E (eds.), Crime Culture: Figuring Criminality in Fiction and Film
Introduction
pp. 1-9
Continuum Books
Nicol BJ
(2007)
The Curse of The Bell: The Ethics and Aesthetics of Narrative,
In: Rowe A (eds.), Iris Murdoch: A Reassessment
8
pp. 100-112
Palgrave Macmillan
The book not only questions established critical and philosophical positions, but also Murdoch's own pronouncements about her work. It suggests fresh influences and interpretations, and celebrates Murdoch's interdisciplinary modernity.
Poe?s ?The Man of the Crowd?, as Patricia Merivale has observed, be justifiably be considered a counterpart to ?The Purloined Letter? in its significance in cultural theory. It has been particularly valued as a kind of sociological document which reveals and critiques aspects of the scopic and material conditions of the modern city.Yet despite an almost universal acknowledgement that the tale is about ?reading?, most critics have worked with a rather impoverished model of reading. Following the example of Tom Gunning, who has argued that the tale provides premonitions of a range of spectator positions in cinema, this essay argues that the story dramatizes typical responses to the literary text which are more complex than the flan flanerie. To place the text in a more explicitly literary context opens it up to an analysis which takes account of how complex its structure is, and the fact that the narrator has typically-Poe-esque ?delusional? credentials, and acknowledge how this might compromise or complicate some of the arguments about urban reading. As such it demands to be considered in terms of the capacity of Poe?s fiction to seduce readers into what Joseph Kronick has called, ?identifying the intepretation with the text?, particularly in relation to the particular self-reflexive effect Garrett Stewart has termed the ?gothic of reading?.
Postmodern fiction presents a challenge to the reader: instead of enjoying it passively, the reader has to work to understand its meanings, to think about what fiction is, and to question their own responses. Yet this very challenge makes postmodern writing so much fun to read and rewarding to study. Unlike most introductions to postmodernism and fiction, this book places the emphasis on literature rather than theory. It introduces the most prominent British and American novelists associated with postmodernism, from the 'pioneers', Beckett, Borges and Burroughs, to important post-war writers such as Pynchon, Carter, Atwood, Morrison, Gibson, Auster, DeLillo, and Ellis. Designed for students and clearly written, this Introduction explains the preoccupations, styles and techniques that unite postmodern authors. Their work is characterized by a self-reflexive acknowledgement of its status as fiction, and by the various ways in which it challenges readers to question common-sense and commonplace assumptions about literature.
Nicol B
(2002)
Postmodernism and the Contemporary Novel: A Reader,
Edinburgh Univ Pr
Postmodernism and the Contemporary Novel: A Readeris the first book to collect the most important contributions to the theory of the postmodern novel over the last forty years and to guide readers through the complex questions and wide ...
James Ellroy is an eccentric and divisive popular novelist. Since the publication of his first novel Brown?s Requiem in 1981, Ellroy?s outré ?Demon Dog? persona and his highly stylised, often pornographically voyeuristic and violent crime novels have continued to polarise both public and academic opinion. This study considers Ellroy?s status as an historical novelist, critically evaluating the significance and function of voyeurism in his two collections of epic noir fiction The L.A. Quartet and The Underworld U.S.A. Trilogy. Using a combination of psychoanalysis, postmodern and cultural theory, it argues that Ellroy?s fiction traces the development of the voyeur from a deviant and perverse ?peeping tom? into a recognisable, contemporary ?social type?, a paranoid and obsessive viewer who is a product of the decentred and hallucinatory, ?cinematic? world that he inhabits. In particular, it identifies a recurring pattern of ?ocularcentric crisis? in Ellroy?s texts, as characters become continually unable to understand or interpret through vision. Alongside a thematic analysis of obsessive watching, this project also suggests that Ellroy?s works - particularly his later novels - are themselves voyeuristic, implicating the reader in these broader narrative patterns of both visual and epistemophilic obsession. While principally a study on Ellroy?s work, this thesis also attempts to situate his texts within the broader contexts of both the contemporary historical novel and our pervasive ?culture of voyeurism?. This thesis will therefore be of interest not only to Ellroy critics and readers, but also to scholars of both contemporary fiction and contemporary cultural studies.