---
news
Vice-Chancellor's Alumni Awards winners honoured
We were delighted to welcome the Vice-Chancellor's Alumni Award winners this week for a celebratory dinner and presentation ceremony.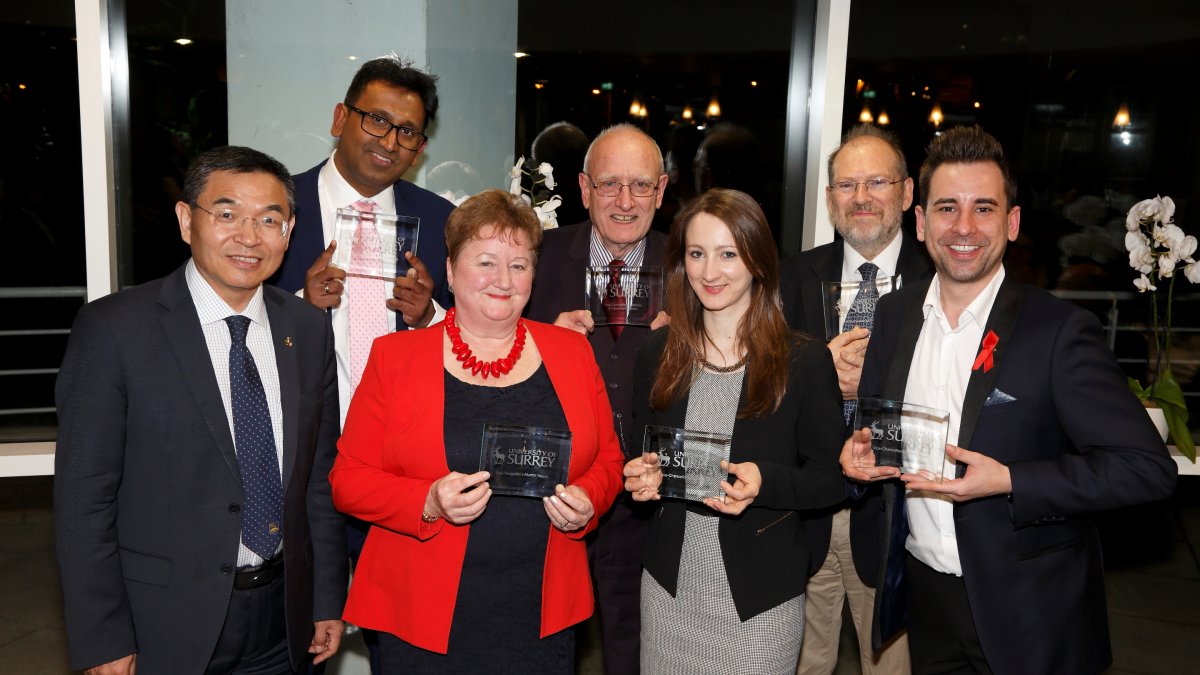 Six of our seven winners were able to join us, with their family and friends, to receive their awards from Professor Max Lu, who paid tribute to their many achievements.
He said: "My warmest congratulations to all of our winners who have demonstrated what it means to make an impact, and they inspire us all to make the very most of our lives and potential."
Our Alumna of the Year for 2018 is Dr Cheryll Adams CBE, who has been working in family and public health for more than 30 years. She co-founded the Institute of Health Visiting in 2012 to raise standards in health visiting through education and research, and has worked with the government on a number of initiatives to improve children's lives. She is also an adviser for UNICEF Europe, supporting the introduction of a health visiting-type role into 25 countries in Eastern Europe and Central Asia.
On learning of the award, she said:  "I was completely flabbergasted but it was a wonderful surprise as I had no idea I had been nominated. My years at Surrey were incredibly happy ones and the University has been a really significant part of my life."
The winner of our Lifetime Achievement Award is Professor David Lane who has been recognised for his outstanding contribution to the field of applied psychology. His innovative approach has supported young people and enhanced developments in education throughout his career, combined with clinical practice. He is co-founder and director of the Professional Development Foundation, a non-profit initiative which set up the first work-based learning awards with practitioners supporting each other's learning.
Dr Prasanna Sooriakumaran is the winner of the Alumni Achievement Award. He is a leader in prostate cancer surgery at University College London Hospital, the largest centre for robotic prostate surgery in the UK. He is among a handful of UK surgeons performing the novel operation that has revolutionised care for thousands of men globally, performing more than 150 robotic prostatectomies a year.
The Vice-Chancellor recognised three of our graduates in the Young Achiever category. At 31, Robert Gryn is CEO and owner of CodeWise, the second fastest growing company in Europe (FT1000), a highly profitable AdTech company that develops smart traffic and tracking tools for performance marketers. He has won many international business awards and in 2017, became the youngest self-made man to make the Forbes 100 richest Poles List. 
Andrew Keates is an acclaimed theatre director who, at 32, has directed and produced many productions in the West End. He is well known for directing plays and musicals that give social and ethnic minority groups a voice and is a champion for HIV awareness and acceptance. He is the Artistic Director for Arion Productions – a theatre company dedicated to giving a platform for the next generation of theatre-makers.
Our final Young Achiever is Lydia Walpole has progressed rapidly in her engineering career and is now Construction Manager responsible for the project on London Underground's Paddington Station to construct a passenger link tunnel from the Bakerloo Line to the new Crossrail Station. Lydia is a mentor for other young women in the industry and gives regular careers talks to both primary and secondary schools.
Nick Amott has been named as the Volunteer of the Year. He is a Senior Manager in Process Engineering at global engineering and construction company Fluor is a Royal Academy of Engineering Visiting Professor at the University. Nick has long been an advocate for our Department of Chemical and Process Engineering, and continues to energetically work to build Surrey's partnership with the company into the future.
Read our winners' profiles on our website and watch out for their stories in the annual Forever Surrey magazine in July.