---
news
Published:
24 November 2021
Which economics masters is right for you?
You'd like to do a postgrad in economics? Great. And you're reading this article… so you're probably interested in the University of Surrey. Even better. Over the next five minutes, we'll take you through four postgraduate courses – Economics MA, Economics MSc, Economics & Finance MSc, and Economics MRes – so you know what makes them special. Of course, they all have some attractive things in common too, so we'll run through those at the end. Sound good? Then, let's do this…
MA vs MSc
It really comes down to your level of technical knowledge before you start. After all, both are designed to help you pursue a career in economics. Our MA is a conversion course, open to all applicants, regardless of your previous degree subject. It's a great way to break into this exciting and rewarding field.
We welcome students onto our MA course with a background in journalism, business, languages, sciences – you name it. All you need is a good academic track record, a fascination for economics and the desire to take your career in that direction.
Our MSc attracts graduates or professionals who already have notable experience in economics. While the MSc course studies microeconomics, macroeconomics and econometrics in the first semester, the MA will cover the foundations of those three subjects.
The MA is certainly not easier than the MSc, but it is less technical, without the same reliance on mathematical and statistical knowledge. However, to help MSc students brush up their quantitative methods, we provide excellent support with a credit-bearing module in the first semester. The MSc might also be suitable for non-economists with a technical background, such as engineers, mathematicians and statisticians.
Economics MSc vs Economics & Finance MSc
Both courses share the same first semester, studying microeconomics, macroeconomics and econometrics. However, in the second semester, the Economics MSc will move on to advanced microeconomics, macroeconomics and econometrics. The Economics & Finance MSc group will study modules on the theory of finance, financial markets and investments – with a view to joining the fast-moving financial industry upon graduation.
The Economics MSc programme is designed more for people who want to go into consultancy or work for the government. They have the option to take different pathways into economic policy, macroeconomics or international economics. These pathways reflect the high levels of expertise among our staff and also our PhD students, who discuss their specialist knowledge with postgraduates. 
That leaves the MRes…
We think of the MRes as the first year of our PhD programme. It's the initial step, but also a self-standing programme in its own right. We introduced it several years ago to give students the flexibility to continue on to a PhD if they so wished or leave with a masters after an intensive and fulfilling year of study.
You'll learn from academics at the frontier of their research fields, allowing you to develop specialist skills and techniques, in a vibrant research-focused department. We offer generous studentships for the duration of the MRes/PhD course for those with strong research potential.
Surrey is known as a research-intensive school, ranked sixth in the latest Research Excellence Framework – and we expect to rise further when the next results are published.
Plenty in common too
The School of Economics is recognised for excellent leadership in teaching and learning. We have embraced hybrid and guided teaching methods, providing video recordings and stimulus such as press articles or digital polling in advance of workshops, so students come prepared for more hands-on tuition in the face-to-face sessions.
The University of Surrey secured £1.7m from the Alan Turing Scheme, which is designed to provide "life-changing experiences" for its students, including postgraduate research placements and internships. With extensive links with industry, postgraduate economics students could use that funding to work on four-week projects in, for example, a corporate bank, government institution or even a fintech, to get first-hand experience of working with policy, Big Data or blockchain technology.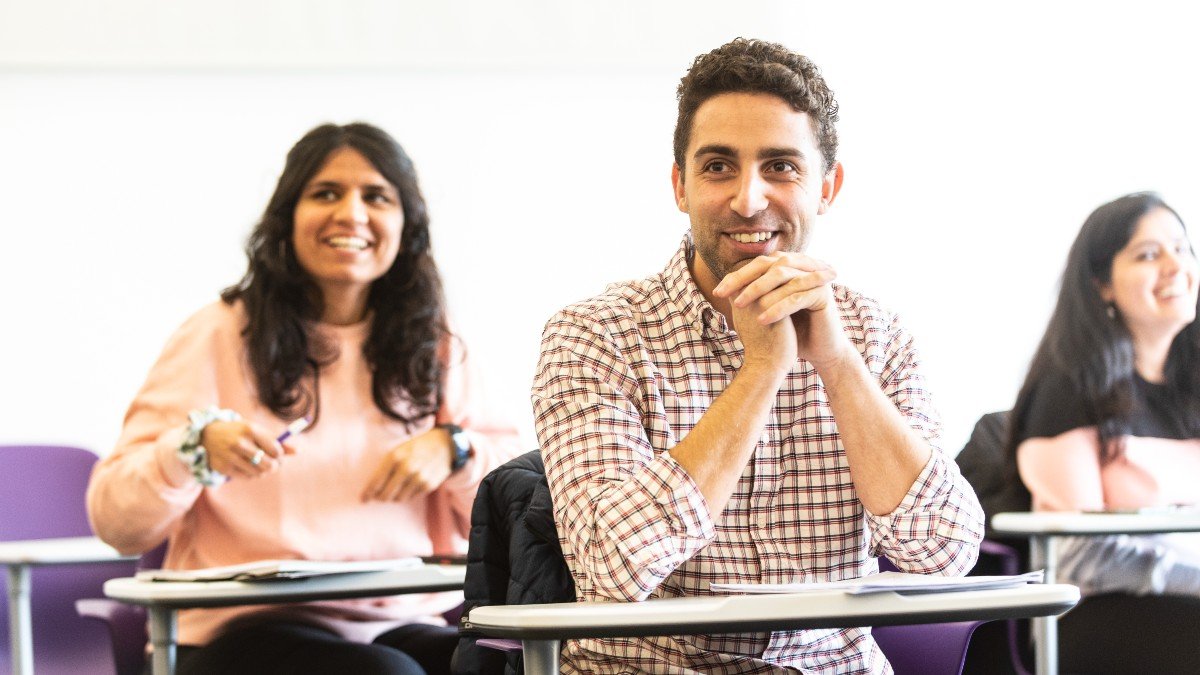 Welcome to a vibrant community
Naturally, our postgrads do more than study at the School – they are part of a vibrant community, united by a passion for economics. Our course leaders are easily available, as we connect openly with students on Microsoft Teams. Postgraduates are impressed by the high ratio of staff to students, typically 1:1. So, there is every chance to chat through ideas at length. Stopping the discussions is the hard bit!
All students have access to a calendar of regular seminars that feature top academics, who publish in the leading journals worldwide. In December, we hold a large annual workshop where the course leaders present the work that won this year's Nobel Prize for economics. Postgrads and final year undergraduates are invited, so it's a fascinating and popular get-together in the biggest theatre on campus.
Our postgraduate social is a highlight of the year, with good food and drinks, where everybody can mingle in a relaxed environment. There's the Masters' Dinner too – a black-tie event that brings together all of the students in the University for a proper party. The pandemic tried to puncture our community spirit at Surrey, but it failed – and we have come back closer than ever. 
Launch your career as an economist
While the courses are different, the destination for our students is the same: a good job as an economist. Our School of Economics produces graduates who are sought-after by leading economics departments, central banks, research institutions, consultancies and think tanks around the world.
We have a cosmopolitan cohort of students, with an international outlook. The last time we counted, our staff included 70 nationalities! We are especially proud of our Women in Economics events, which launched in recent months. It's important to change the profile of economists away from middle-aged white men…
Economics is about life. This field reveals our human instincts for gathering resources and survival. It goes back to the very basic of what a person is. With the challenges of the modern world, from climate change to health security, globalisation to digitalisation, there's no better time to call yourself an economist.
And Surrey is the place to make your name. You will be taught by dedicated economists and feel a strong sense of community. We are innovating fast, with a clear vision for the future. Our postgraduates in economics are a vital ingredient in the mix.
Explore 
Visit our course pages to discover more. 
Economics MA Economics MSc Economics and Finance MSc Economics MRes