---
news
Published:
09 November 2021
World-famous jazz artists host Music Masterclass at Surrey
The Department of Music and Media were delighted to host Grammy Award-winning saxophonist Tim Garland and pianist Jason Rebello, for an afternoon jazz masterclass and Q&A session with students and members of the public. The session, promoted by Guildford Jazz, took place before a stunning evening performance of their new concert 'Duology' in PATS Studio 1.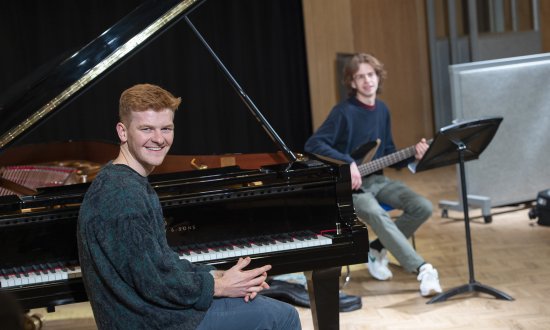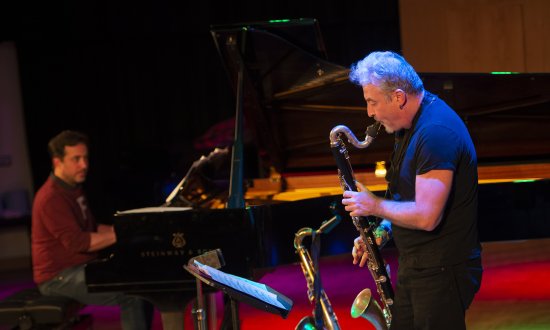 Students studying the Music BMus course on piano, bass guitar and percussion were encouraged to improvise under Jason's expert critique and guidance, and members of the public had the opportunity to also ask questions and get involved. Jason discussed the importance of listening, dialogue, risk-taking and technical preparation in improvisation, bringing his passion for music-making and engaging personality to make for a memorable occasion at Surrey.
The evening concert featured Garland on tenor, soprano and sopranino saxophone and bass clarinet, with Rebello on piano and celeste. The acoustic performance is a testament to a long-lasting friendship and pursuit of musical depth, humour, soulful melancholy and exhilaration.
'Duology' features several brand-new compositions from both artists and stunning renditions of material that they have known and shared over 30 years of friendship and collaboration.
Both artists have had illustrious careers; Rebello working for many years with Sting, and Jeff Beck, as well as Wayne Shorter and many others. Garland famously working with Chick Corea and has produced over 20 well-received albums of his own.
Dr Tom Armstrong, Director of Learning and Teaching, in the Department of Music and Media, said:
"We are thrilled to have made this connection and look forward to welcoming more high-profile jazz musicians to the Department. The evening performance was gripping from first note to last, and the term 'jazz' does not do justice to the range of styles, nor approaches, to composition and improvisation on display. Tim and Jason are not only world-class performers but great raconteurs - their concert inspired, moved, dazzled and entertained in equal measure."
See other events in the Department of Music and Media, here
Learn more about the courses you can study in the Department of Music and Media, here.