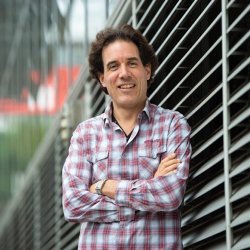 Dr Tom Armstrong
---
Senior Lecturer in Music, Director of Learning and Teaching, Senior Personal Tutor
BA (Hons) Music, DPhil in Composition (University of York)
About
Biography
Tom Armstrong studied composition with George Nicholson and, at York University, Roger Marsh. Performers of his music include the Fidelio Trio, Jane Chapman, Jakob Fichert, Simon Desbruslais, Notes Inégales, Gemini, the New Music Players, Psappha, the Delta Saxophone Quartet, the BBC Philharmonic and the Royal Scottish National Orchestra, playing in venues such as Kings Place, the Wigmore Hall, the Southbank Centre and the Lowry as well as Europe and China.
Tom has frequently worked collaboratively, not only with other art forms (dance in particular), but also with performers, very often 'through the score' using loosely determined notation as in Shadow Variations (2019) for ukulele ensemble and The Gramophone Played (2019-21) for cello, spoken word and fixed media electronics developed with renowned ukulele exponent Samantha Muir and New York based cellist Madeleine Shapiro respectively. Tom's CD Dance Maze (Resonus Classics 2018) presents pieces in different versions involving radically different approaches to the same materials that highlight his interest in the creative potential of musical recycling. Tom is also interested in borrowing from other composers: JPR, Distant Beauties (commissioned by Images Ballet Company) and Tänze each originate from pre-existing music, subjecting it to processes of erasure to bring forth new material. Tom is currently at work on a major set of Bartók transcriptions and reworkings for the Hungarian guitarist Katalin Koltai.
Tom is a Senior Lecturer in Music at the University of Surrey. In 2016 he directed the AHRC-funded research network 'Music Composition as Interdisciplinary Practice' and recently served as head of the organising committee for the 2022 Performance Studies Network International Conference held at the University of Surrey.
September 2022
Areas of specialism
Music composition ;
Practice-led research in music ;
Composer/performer collaboration;
Autoethnography;
Musical borrowing, recycling and revision
University roles and responsibilities
Director of Learning and Teaching, Department of Music and Media

Senior Personal Tutor, Department of Music and Media
Music on CD
My diptych Opened Spaces to original texts by Jim Morris for baritone and piano is available on Meridian Records.
Much of my work on revision and reworking is available on the CD Dance Maze released on Resonus Classics.
Music Online
Spotify streams the CDs described above 
The British Music Collection (formerly at the BMIC, now hosted by the University of Huddersfield) have digitised copies of my scores from 1992-2005. 
Research

Research interests

My research is led by my practice as a composer. Since around 2015 my music and research have centred on processes of musical borrowing. Sometimes I make self-borrowings in the form of revisions and reworkings of extant works so that (in the case of reworkings) they may present several different versions of the same materials. On other occasions (in pieces like JPR, Tänze or Berceuse 1917) I am borrowing music by other composers. In-progress projects exist in the overlap between composing and arranging; I am interested in gentle and yet evident interventions in pre-existing material (now usually by others). I am also interested in overlaps between composing and programming - compositional curation if you will. In the process of assembling a programme as a composer I am working with much larger scale materials, e.g. whole pieces or sections of pieces by other composers. My interest in indeterminacy continues to inform my work depending upon the musical backgrounds and expertise of performers I work with.  Collaboration now tends to be a 'given' in my work although to varying degrees of intensity within each project. As an artist in academia, although I now have several academic publications to my name, I am interested in making a much stronger case for the artwork as research, not by insisting it 'speak for itself' but by ensuring that writing is tightly focussed on the research dimensions of the work and is sufficient enough to bring those out and no more. 
Supervision
Postgraduate research supervision
Ruth Hansford What does it Mean to have a Musician's Ear? Listening to Musicians. A PhD researching ways in which orchestral musicians cope with hearing loss. 
Paul Newbold Musical Refractions of the Mundane: the Transformation of Time and Place. A practice-led PhD exploring the creation of a musical language based on time- and location-specific data. 
Ornella Strologo Improvising Voices: Practices, Techniques and Wellbeing in Free Vocal Improvisation. A practice-led PhD investigating the application of 'free voice' improvisational techniques in a community music workshop setting.  
Completed postgraduate research projects I have supervised
Philip Singleton (2016) Spectralism Today: a Survey of the Consequences for Contemporary Composition of the French Spectral School of the 1970s and 1980s. 
Spyridon Tsilimparis (2016) An Analysis of Luciano Berio's 'Sequenza VI' for Viola (1967) and a Folio of Nine Compositions.  
Neil Carey (2018) Intuition and Reason: Decision-Making in Compositional Processes. 
Octavius Longcroft-Wheaton (2020) The Stylistic Development of the Grateful Dead: 1965-1973. This was supervised jointly with Chris Wiley.
Steve Tromans (2020) Rhythmicity and the Deleuzian: Investigating a Notion of the Musical-Philosophical in Practice as Research. This was supervised jointly with Laura Cull.  
Teaching
First year undergraduate: Module Leader for Pathways in Musicianship A and B.
Final year undergraduate: Module Leader for Composition 3A and 3B; supervision of Individual Project work mainly related to composition and performance.
Postgraduate taught: Module Leader for Research Training for Practitioners A and B.
All years/levels: performance seminars, convenor of Music Professional Practice (careers) seminars, occasional coaching, ensemble direction and accompanying.