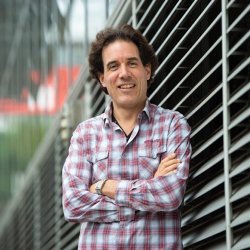 Dr Tom Armstrong
---
Senior Lecturer in Music, Music BMus Admissions Officer
BA (Hons) Music, DPhil in Composition (University of York)
Biography
Tom is a composer whose music is performed throughout the UK and in Europe. Performers with whom he has worked include Jane Chapman, Melanie Pappenheim, the Delta Saxophone Quartet, Notes Inégales, the Fidelio Trio, the Endymion Ensemble, the New Music Players, the Royal Scottish National Orchestra and the BBC Philharmonic. His output is notable for its diversity of medium, technique and aesthetic; it includes music for both amateurs and professionals, draws influences from post-war modernism, through European post-miminalism to non-Western music, and embraces both 'fixed' and open notions of the musical work.
Tom has worked on a number of large-scale collaborative projects. Black Maria, by acclaimed children's author Diana Wynne Jones, was created with choreographer Susan Crow and screenwriter Zara Waldeback and premiered at the Lilian Baylis Theatre, Sadlers Wells. The same year (2007) he composed the one-woman show Catching the Sun with the playwright Stephanie McKnight. Other collaborations with writers include The Cathedral on the Marshes (2010-12, with Sarah Diamond) commissioned by the Crossness Engines Trust and funded by the PRSF, the RVW Trust, the Britten-Pears Foundation and Arts Council England, Opened Spaces (with Jim Morris) released on the CD Songs Now (Meridian Records) in 2012, and Do the Right Thing (with Bridget Minamore) premiered at the Linbury Theatre in 2012 as part of the Royal Opera House's 'Exposure' series.
In his recent instrumental music Tom has been experimenting with notational approaches that open up broader avenues for performer creativity and bring a more collaborative approach to the composer/performer relationship. Albumleaves (2013) for the Ligeti Quartet and trumpeter Simon Desbruslais (scheduled for release on Signum Classics in 2015) and his work in progress for Trio Aporia (Stephen Preston, flute, Richard Boothby, viola da gamba and Jane Chapman, harpsichord) utilise indeterminacy and open form to confer on the performers greater responsibility for determining the configuration and overall sound of a piece in performance.
Tom studied composition with George Nicholson before reading music at York University, remaining to pursue a DPhil with Roger Marsh. He studied with Vinko Globokar at Dartington Summer School and with Magnus Lindberg, Colin Matthews and Oliver Knussen at the Britten-Pears School. He attended the prestigious International Course for Professional Choreographers and Composers at Bretton Hall working with, amongst others, Kenneth Tharp and Wayne MacGregor. In 2011 Tom was selected for VOX3, part of the opera development programme at the ROH, where he worked with Dominic Muldowney and John Lloyd-Davies.
News and Events
My diptych, Opened Spaces, to original texts by Jim Morris for baritone and piano has recently been released on Meridian Records.
Web Links
The British Music Collection (formerly at the BMIC, now hosted by the University of Huddersfield) have digitised copies of my scores from 1992-2005. The link below should access the list of composers held in the collection (do not confuse me with Thomas Armstrong!):
Research
Research interests
Much of my current research is driven by the desire to challenge the traditional values of composer authority and notational determinacy that informed my compositional practice until comparatively recently. I have adopted various approaches aimed at a more dialogic relationship between composer and performer including use of devising techniques, improvisation, formal openness and various kinds of instructional notation. I present and write on my own practice using a broadly ethnographic approach in which I use multiple data - performer interviews, rehearsal recordings, journal entries and sketch materials - within a qualitative methodology to draw out and explain collaborative processes inherent in recent works. I am currently preparing a project centred around the revision process in composition, its presence and function in extant pieces as well as the creation of multiple versions of new works. A large scale community work looking at how mobile technologies can encourage performer participation in the creative process is in the early stages of planning. Both these projects will expand my research into areas cognate to those around composer authority.
My teaching
Level 4: Practical MusicianshipLevel 5: Orchestration and ArrangingLevel 6: CompositionLevel 7: Composition, Research Training for Practitioners.